Fidelio, Insula Orchestra, Barbican review - truth and justice brought to light |

reviews, news & interviews
Fidelio, Insula Orchestra, Barbican review - truth and justice brought to light
Fidelio, Insula Orchestra, Barbican review - truth and justice brought to light
Sturdy singing and human drama enrich a fuss-free staging of Beethoven's only opera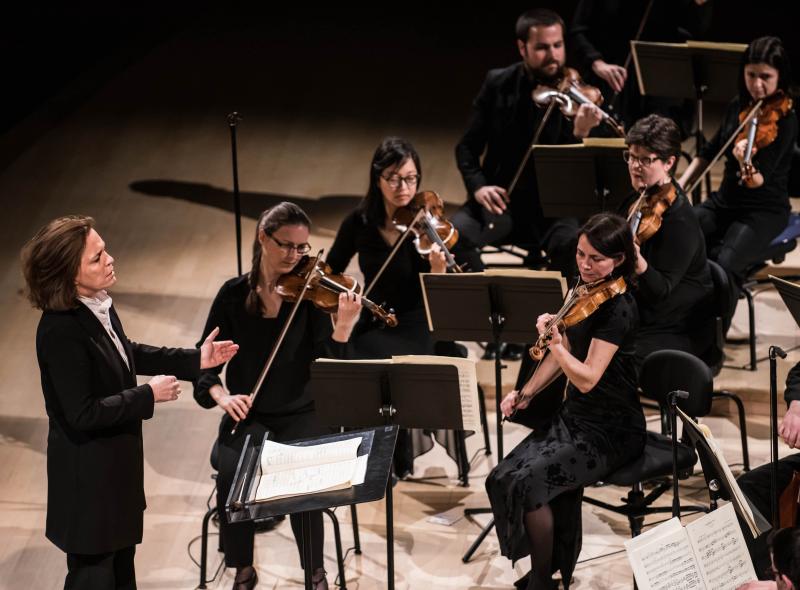 Period pleasures: Laurence Equilbey and the Insula Orchestra
Thanks to the pandemic, the planned tidal surge of Fidelio productions never quite happened during Beethoven's anniversary year of 2020. Instead, the birthday's boy's sole opera – beset by glitches and re-thinks ever since its creation – has rolled on intermittent waves into houses and halls around the world.
Mounted by the Insula Orchestra with the accentus choir (based in the western Paris suburbs of the Hauts-de-Seine), the version conducted by Insula's founder Laurence Equilbey arrived at the Barbican last night as something of a straggler.
It had, all the same, much to offer and please even jaded Fidelio buffs: deft, elegant but still meaty playing from Equilbey's period-instrument ensemble, and an unfussy concert staging by David Bobée that delivered no-frills, gimmick-free effects. Above all, we had the emotional intelligence conveyed by a cast who, at their best, convinced you of the story's truth as a human drama rather than a solemn, static hymn to liberty and love.
Limits can prove blessings. Because this touring Fidelio (which came to London from Brussels) did not have the option of a full-dress staging, Bobée was spared the conceptual traps that await directors of Beethoven's tale of the loyal wife who rescues her political-prisoner husband from the dungeon of a wicked governor's jail. We did have costumes of a sort: modern prison drab, or tattered rags for the jailed whistle-blower Florestan – a grim palette only brightened at the close by the angelic glamour of the saviour Don Fernando's white cloak. The singers moved around, and sometimes through, the orchestra, with key moments unfolding at the rear as well as front of the stage.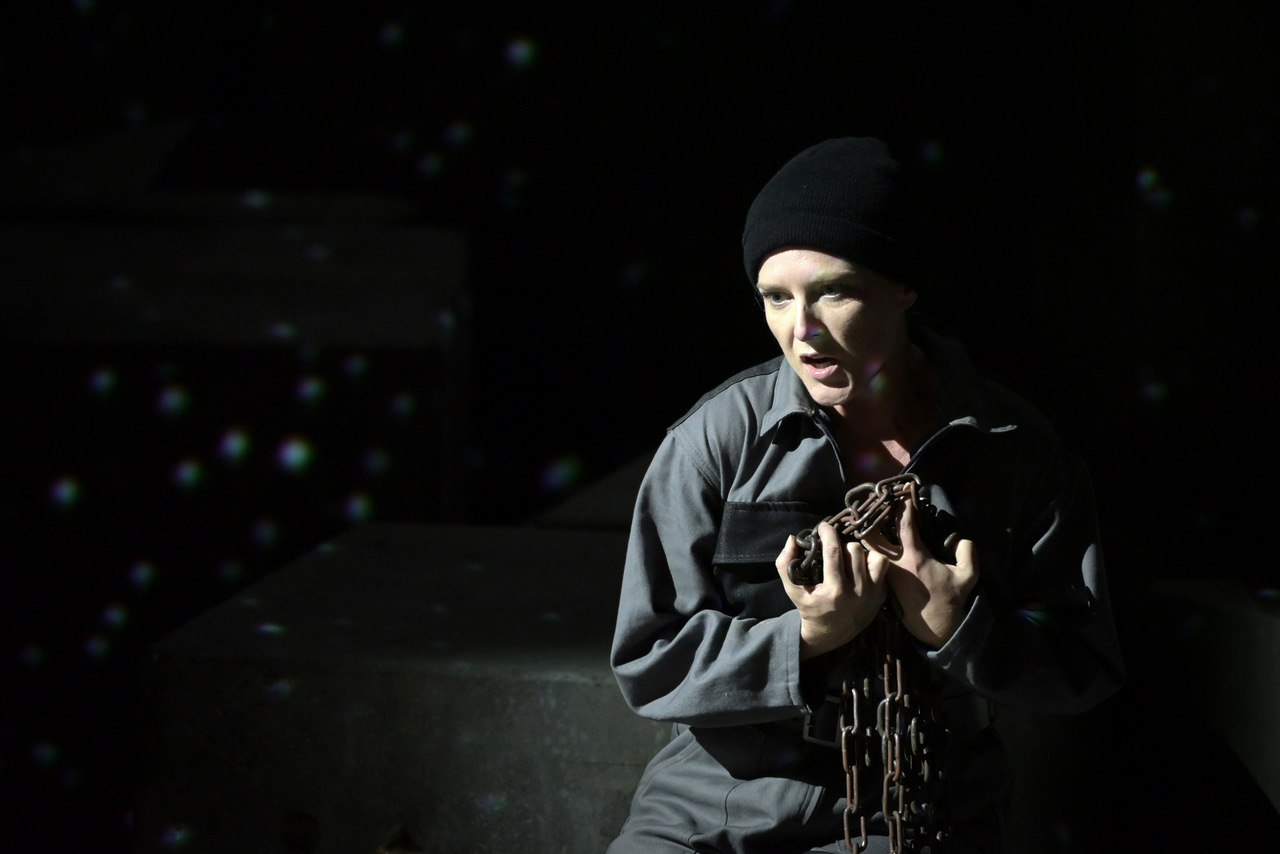 However, the looks and the blocks mattered less than the passions. Equilbey's cast, led by Sinéad Campbell-Wallace as Leonore (pictured above by Vincent Pontet) and Stanislas de Barbeyrac as Florestan, brought a sense of inner authenticity to a story that, in its odd mix of almost-comic intrigue and sublime affirmations of freedom and fidelity, can bemuse or disappoint in clumsier hands. A satisfying evenness of tone united the above-ground, near-opera buffa aspects – with Rocco the warder's daughter Marzelline in love with the imprisoned Florestan's male-disguised wife Leonore, aka Fidelio – and the mythic, subterranean domain of the jail below. There Florestan languishes, the evils of unfreedom rule, and the human spirit wages its epic battle against tyranny, treachery and lies. Between Fidelios, you can forget how much of this Viennese Singspiel depends not on showstopper numbers but spoken dialogue: sometimes skimped in other versions, but handled here with a winning clarity of sense and variety of expression. With one exception, the opera's renowned set-piece moments counted for less than the coherence of credible feeling among the cast and the steady musical pulse Equilbey achieved.
The overture (Beethoven's final effort of 1814, not the earlier, more heroic "Leonore No. 3" sometimes chosen) announced the distinctive period accents and lively gait of the Insula players. It felt light-footed but not lightweight, and gradually built up a head of steam that presaged the greater muscle and heft we would hear later on. As the jailer's lovestruck daughter Marzelline, Hélène Carpentier had both sweetness of tone and a slightly fragile vulnerability: an emotional realism that keynoted the whole production. Her sparring with the hapless Jacquino (Patrick Grahl) – who dotes on her as she dotes on the mysterious "Fidelio" – felt more believable than it often does. From his first striking notes, jailer Rocco (Christian Immler) gave reassuring notice of solidity and integrity: a good, troubled man locked in a bad place. Especially on a set-free stage, this early byplay can drag. But once the canon quartet "Mir its so wunderbar" saw the four singers sensitively stitch their conflicting desires into a single tapestry, the evening's vocal weather looked set fair.
Sinéad Campbell-Wallace's Leonore-Fidelio, hidden beneath grey uniform and woolly cap, managed to communicate effectively from behind the orchestra as we learned of the governor's dastardly plot to do away with Florestan. Her "Gut, Söhnchen, gut" trio with Rocco and Marzelline distributed the singers in a triangle around the band: one of several modest but telling director's touches to avoid a succession of dull front-stage line-ups. As the scheming, malign governor Pizarro, Sebastian Holecek conveyed authority underpinned with genuine menace, prowling around the stage armed with a scarily dark and piercing lower register – even if his knife-brandishing gestures hinted towards a cornier, more antiquated production than this turned out to be.
Singing that carried a consistent truth and depth of feeling made the evening tick, not (for the most part) blockbuster scenes. If I've heard Leonore's stupendous recitative-aria "Abscheulicher! Wo eilst du hin?" sung with greater force and nuance than here, when Campbell-Wallace settled into her flickering glimpse of hope, "Komm Hoffnung", she moved and touched us as some heavier soprano guns do not. As for the prisoners' brief emergence into the sunlight for "O welche Lust", Bobée almost seemed to downplay it with the lights dim and the convicts – who sung with poise and warmth – in shadow at the back. They may dream of freedom; they have not yet won it.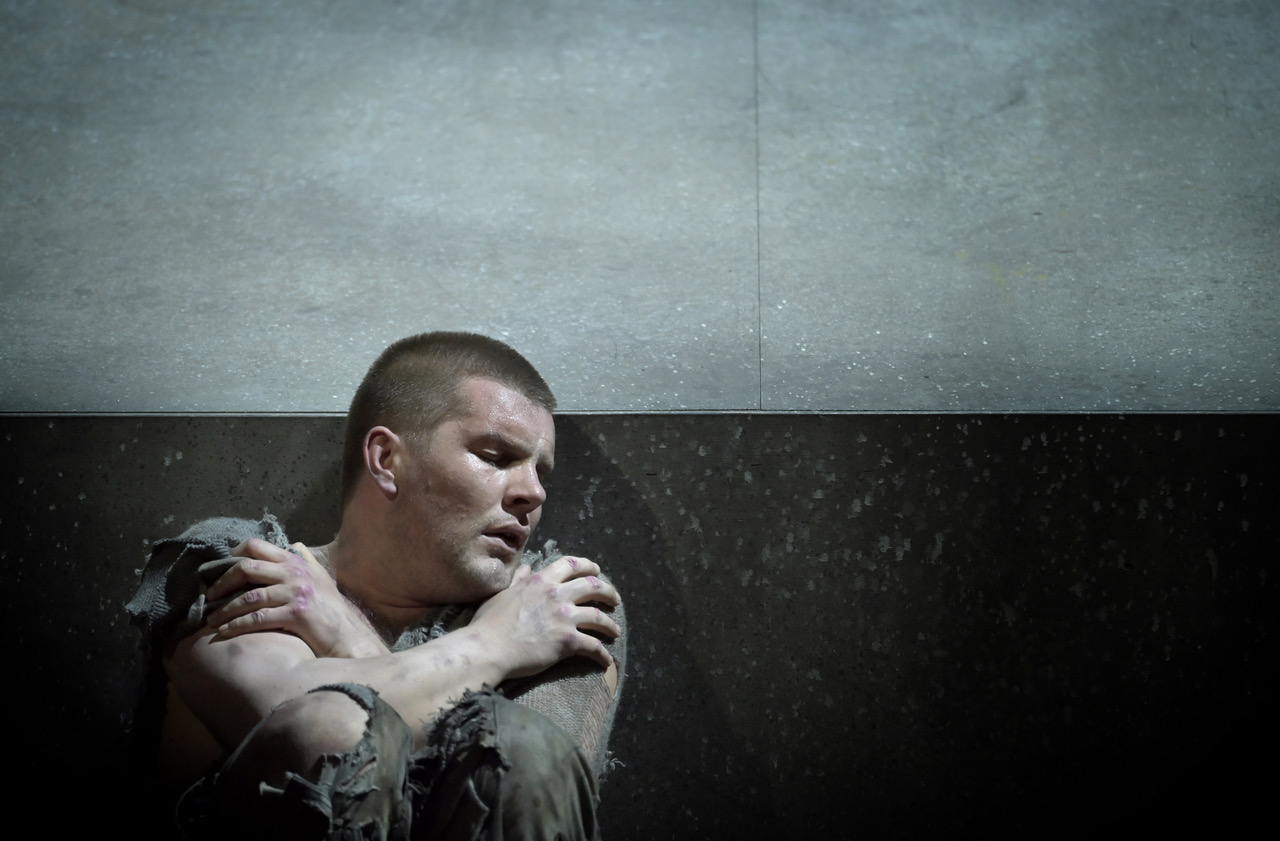 Bobée and Equilbey eschewed an interval to bring the whole show home in two hours. The band retuned before the instrumental Intermezzo that gave Insula's tangily-flavoured period woods and horns another chance to make their mark. Although this was a Fidelio nourished by a unified company, it did have one stand-out episode of blazing solo grandeur: Stanislas de Barbeyrac's "Gott! Welch Dunkel hier", as the ragged captive Florestan enters from backstage with a crescendo of despair that chills the blood and shakes the soul. Once front-stage, De Barbeyrac (pictured above by Vincent Pontet) sang, slumped on the ground or on his knees, with deep tonal colour and huge assurance. If his mighty tenor threatened to steal the show for a while, something like equality among the voices returned in the trio with Leonore and Rocco, "Euch werde Lohn in bessern Welten". It edged towards a properly Mozartian grace.
Equilbey and Bobée despatched the contorted showdown and Florestan's release – which can linger too long – with some neatly executed stagecraft. As Don Fernando, white-robed Anas Séguin made a suitably lordly, generous deus ex machina of justice and liberation. Leonore's flowing locks at last released, Campbell-Wallace bloomed gorgeously in the final duet with De Barbeyrac, "O namenlose Freude" – with a lovely catch in her breath as she pronounced "Florestan". For the finale, Equilbey let her band off the leash. They responded with an electrifying whirlwind of ecstatic sound. You will hear Fidelios powered by grander individual performances and smarter directorial wheezes. But Beethoven's evergreen coupling of loyalty and liberty proved more robustly convincing in this stripped-down staging than in many of its fancier frames. It has to ring true, and it did.