L'elisir d'amore, Glyndebourne review - fun and unfussy, with quality at its core |

reviews, news & interviews
L'elisir d'amore, Glyndebourne review - fun and unfussy, with quality at its core
L'elisir d'amore, Glyndebourne review - fun and unfussy, with quality at its core
No potions needed to love this uplifting and entertaining operatic comedy
Nardus Wiliams as Adina with the Glyndebourne Chorus
Sometimes a production which isn't trying to do anything too clever can be quite refreshing. Sinéad O'Neill's revival of Annabel Arden's 2007 Glyndebourne touring production of Donizetti's L'elisir d'amore is just that.
It doesn't attempt a retelling of the story, or provide any flashy visual trickery. Instead it's slick, stylish and straight to the point - and tremendous fun to boot. With excellent performances from all cast members, this is classic opera buffa at its best.
An uncomplicated production of this opera is apt for the story too. As we know, there is no secret love potion; no magic spell induces Adina and Nemorino's union. Instead, it's simple love and human kindness - something they've both had all along, and to which we can all relate.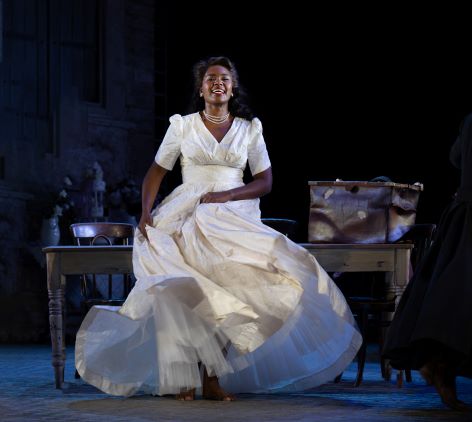 Nardus Williams (pictured above) shines in the role of Adina. The rapidly rising soprano sings with a real magnetism, her voice powerful but still conveying an unobtrusive intimacy. This is a singer at the start of a very exciting career indeed.
Italian tenor Matteo Desole gives an ardent performance in the role of Nemorino, entirely convincing in his undying love for Adina. His rendition of the aria "Una furtiva lagrima" was almost ethereal,delivered with true tenderness. Biagio Pizutti is fierce yet likeable in the role of Belcore, and Renato Girolami's Dulcamara is funny and lighthearted, though still with all the vocal power and prowess to back it up.
One cast member who almost manages to steal the whole show at times, despite never uttering a single syllable, is Maxime Nourissat (pictured below), in the additional, silent role of Dulcamara's Assistant. A circus and physical theatre performer, Nourissat's impish movements and hilarious facial expressions are quite captivating, highlighting the ridiculousness of the travelling quack..
As well as the stellar solo singing, ensemble work within the cast is strong too The quartet which ends Act 1 has perfect balance, while Williams' and Pizzuti's duet in Act 2 is chirpy and charming. The chorus are on fabulous form, with impeccable diction and infectious energy. In the pit, the London Philharmonic Orchestra, under the baton of Ben Gernon, illuminates every aspect of light and shade in Donizetti's witty score. The bassoon solo in the opening bars of "Una furtiva lagirma" was deliciously lush, and the strings deliver a robust yet buoyant sound throughout.