Margot La Rouge/Le Villi, Opera Holland Park review – Parisian fancies and Black Forest gâteau |

reviews, news & interviews
Margot La Rouge/Le Villi, Opera Holland Park review – Parisian fancies and Black Forest gâteau
Margot La Rouge/Le Villi, Opera Holland Park review – Parisian fancies and Black Forest gâteau
A double helping of rarities makes for an enjoyable, outlandish menu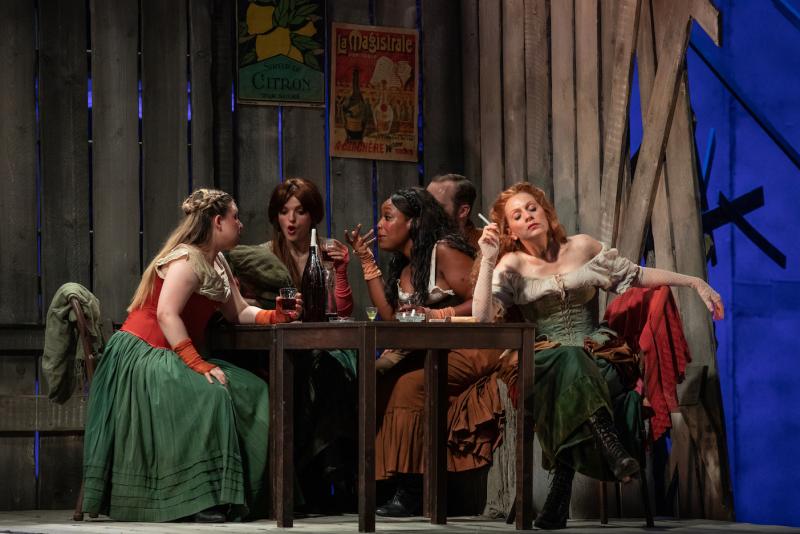 Margot (Anne Sophie Duprels, right) with the ladies of the night
Take an opera newbie along to Opera Holland Park's double bill of rarities and they may have both their worst fears and their highest hopes confirmed. Outlandish plotting, overwrought melodrama and preposterous, supernatural stage business abounds. At the same time, some gorgeous music, memorable singing and dramatic coups make the whole fanciful spectacle soar and glow. Ecstasy and absurdity join clammy hands.
Served together in this way, Delius's
Margot La Rouge
and Puccini's
Le Villi
offer a kind of small-plate tasting menu from the late 19th-century lyric stage (although the Delius dates from just after the
fin-de-siècle
). Opera veterans may chuckle a bit over the old-school recipes on show. But plenty of newcomers should leave hungry for more.
Both short works owe their composition to the contest for new one-act operas run by the Milanese publisher Sonzogno for two decades from the early 1880s. Neither won: not Le Villi in 1883 (the young Puccini later revised it), nor Margot La Rouge in 1903 (the score, which accompanied a French libretto, then languished for 80 years, though Delius later rescued some of the music for his Prelude and Idyll). And both pieces play strongly against type. In Margot, the bucolic visionary Delius delivers a bleeding slice of hard-core verismo as an artist and a soldier fight over a Parisian streetwalker on a dark and stormy night (yes!). In Le Villi, Puccini, later the go-to guy for heart-rending low-life beside the Seine, gets all Germanic and Gothic. An errant fortune-hunting villager forsakes his virginal sweetheart for a big-city siren, only to face retribution from a spooky squad of forest sprites (pictured below).. A real Black Forest gâteau, in other words.
Women with few options, abandoned and betrayed, power both plots. Director Martin Lloyd-Evans smartly splices the sensational brace of yarns, with touches of stagecraft that hint at the links between these improbable bedfellows. Lloyd-Evans and designer takis deploy the wide open spaces of the Holland Park stage as its wraps around the prominent orchestra pit – occupied, as usual at this venue, by the City of London Sinfonia. Behind the band, their playing always flavourful and idiomatic, a revolving box supplies the set for domestic interiors.
Margot La Rouge unfolds as a steamy, claustrophobic chamber-piece. It's set in the bar for ladies of the night where Margot plies her trade. With the orchestra – vigorously steered by Francesco Cilluffo – surging in front of the box-like saloon, and the apron largely unoccupied, this led to the odd problem with balance. But a sense of oppressive confinement does suit this story of poor women tricked and trapped. A country lass gone astray, Margot (Anne Sophie Duprels, who will return in Le Villi) is in thrall to the pimp Totor (David Woloszko) and her controlling lover L'Artiste (Paul Carey Jones). She experiences a transforming glimpse of past, and maybe future, happiness when her old flame Sergeant Thibault (Samuel Sakker) and his company of squaddies seek shelter from the (rather cornily orchestrated) storm. In short order, rekindled passion, jealousy and machismo cook up a climax that leaves two stabbed corpses on the floor.
Right from the languid sensuality of the Prelude, with its aching wind melodies over the throb and swell of strings, Delius's score yearns for the bliss of the village where Margot and Thibault first loved. This lush pastoralism breaks through the harsh, rain-drenched pavements of Paris: a sign, perhaps, of Delius's artistic distance from his penny-dreadful material. He never discovers how to bridge this gap.
Meanwhile, Duprels makes a warm-hued Margot, graceful yet steely. Her pivotal duet with Sakker (pictured above), who pulses with thwarted tenderness beneath his uniform, showcases Delius' capacity for vocal as well as orchestral splendour as the couple dream of their lost idyll. In fine, menacing voice, Carey Jones's bluff but sinister Artiste breaks the romantic spell – but the gory showdown inevitably cancels pathos with bathos. In this story of uprooted peasants adrift in the cruel city, the music itself – sumptuously shaped by the Sinfonia – seems alienated from the blood-and-thunder action it carries.
In Le Villi, by contrast, the up-and-coming Puccini wholeheartedly buys into an ultra-Gothic idiom. With its ballet sequences danced by the titular spirits of betrayed maidens (think Adam's Giselle, based on the same legend), its haunted woodlands and ancient curses, the opera's mood and mode hark back beyond mid-century Grand Opera all the way to Weber's Der Freischütz, rather than forward to the realistic, everyday scenes of Rodolfo and Mimi's world. Still, the all-too-real vulnerability of lone women in a society that cages them binds these disparate pieces. Le Villi begins with the same tableau of a flight from home that we see at the outset of Margot La Rouge.
In fact, the show bounces along more as a succession of striking set-pieces than a consequential series of events. The forester's daughter Anna (Duprels again, if anything more touching here than in the Delius) sees her beloved Roberto (Peter Auty) depart for Mainz to collect a mysterious fortune. There a seductive siren will waylay him (as they do). Anna will die of grief, and on Roberto's repentant return the vengeful lady spooks will – in every sense – give him the willies. Terminal dancing doesn't figure often as a cause of death in modern life, but it sure does in European folklore. No giggling at the back: much of the music is terrific, sculpted by Cilluffo with panache and finesse. Both the cast, and Opera Holland Park's dependably disciplined, exciting chorus, convey a commitment that suspends (most of) the silliness.
As the old forester Gugliemo, Stephen Gadd (pictured above) has presence, dignity and a rooted authority that makes his fatherly anxiety credible. Puccini's Verdian music during the village chorus of farewell for Roberto relocates us firmly back in Italy. It adorns a genuine show-stopper of a scene, mirrored later in Anna's funeral. Duprels packs Anna's arias of foreboding and, later, of despair with a tender, sinuous yearning and sorrow that looks forward to Puccini's mature blockbusters. Auty, meanwhile, swaggers then suffers with a grandeur of tone and fervour of expression that almost feels bigger than the part itself. Factor in the atmospheric ballet scenes (complete with final danse macabre), cleverly choreographed by Jami Reid-Quarrell, and the lavish pleasure of the individual parts makes up for the stop-start patchiness of the whole work.
The surtitles translator – Paul Hastie – merits a shout as well: wittily up-to-date in Margot ("no freebies", the tarts warn the squaddies) and properly hi-falutin' when the doomy romanticism of Le Villi demands it. "Let every dream of love be free of disillusion," implores Gugliemo. Both halves of Holland Park's double bill violently puncture that balloon. But there's plenty of joy – even fun – on the way down as lovers and traitors come to grief.