Orphée, English National Opera review – through a screen darkly |

reviews, news & interviews
Orphée, English National Opera review – through a screen darkly
Orphée, English National Opera review – through a screen darkly
Matters of life and death reflected in Glass and Cocteau's myth
Saturday, 16 November 2019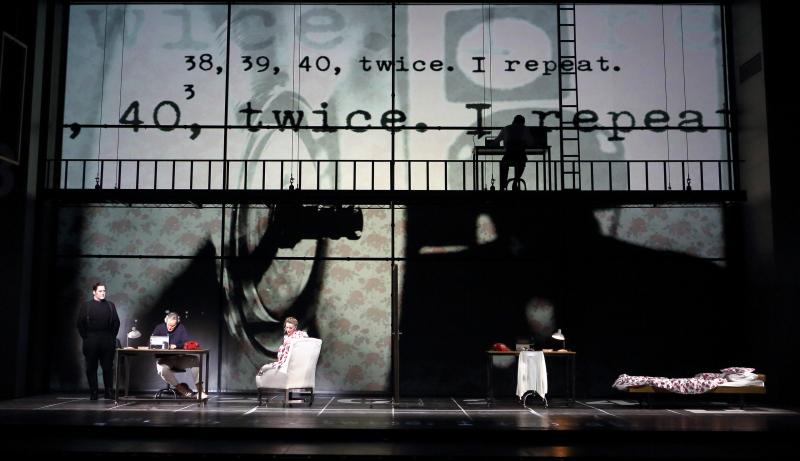 Seeing voices: Orphée at the Coliseum
Like almost everything that it touches these days, English National Opera's autumn season of shows rooted in the Orpheus myth has enjoyed a fairly mixed reception. The company's programme of visits to the Underworld concludes with another high-risk journey: Philip Glass's 1993 opera Orphée, inspired by the 1950 film that Jean Cocteau spun from his own earlier drama on this theme.
From the off, as director Netia Jones (in her ENO debut) tells us, Glass and Cocteau have drawn us into a hall of endlessly reflecting mirrors, a game of shadows and doubles in which each story and treatment of the same material echoes but modifies another.
From one angle, this looks like an open invitation (and an open goal) for this high-concept production. Jones ingeniously – if relentlessly – focuses on the mysterious art of film, which Cocteau explored in order to modernise the myth of the artist driven to cross the thresholds that divide life and death. But open goals, notoriously, can be missed. To the credit of Jones, her creative team and above all her singers, the meta-dramatic tricks and ruses of the stagecraft coexist with a narrative pulse – and emotional heft – that seldom mislays the story's cargo of terror, mystery and pathos.
Cocteau and Glass's Orphée is a vain, burnt-out poet of Paris, obsessed with immortality, who abets the death of his charismatic young rival Cégeste. Married to Eurydice, he's tempted by the alluring Princess – an avatar of Death – who leads him towards her shadowy domain with the aid of a chauffeur-guide named Heurtebise. This Heurtebise loves Eurydice, a passion that crosses the forbidden line between realms – just as Orphée himself has fallen for Princess Death. As in the familiar tale, a disaster sends Eurydice to the Underworld but a panel of infernal judges permit the mortal pair to return to the light on the usual (no looking, no touching) conditions. When Orphée breaks the rules, they return – only for the Princess (and Heurtebise) to renounce their beloveds and send the death-conquering couple back to resume their overground lives.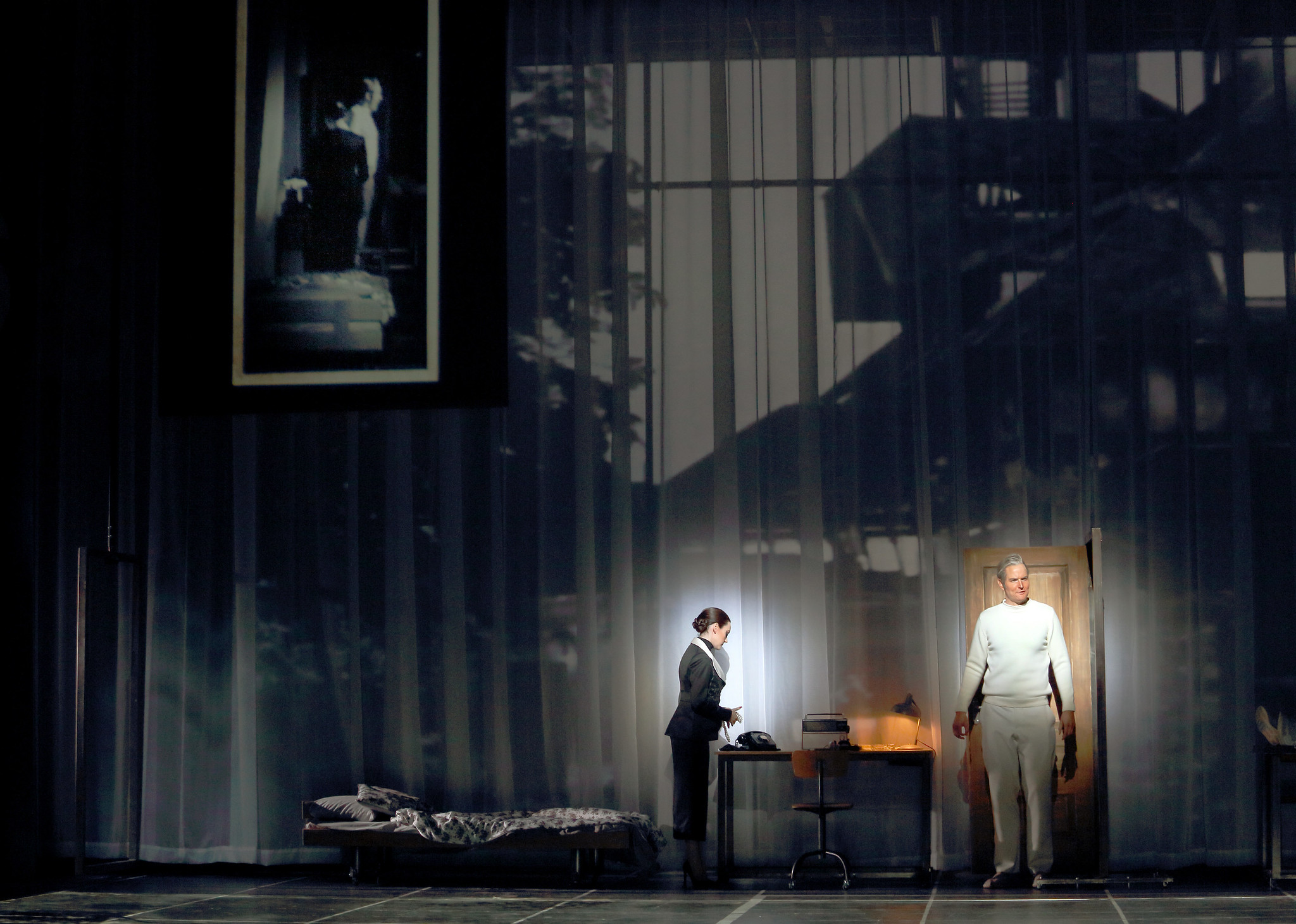 Jones's production, and Lizzie Clachan's set, always turns on the unearthly magic of the movies. With fragments of Cocteau's original back-projected behind the action, and inset clips on smaller screens, the stage itself becomes a kind of film frame. Flickering images punctuate the action and envelop the characters: black-and-white, of course, although – apart from a few bursts of crimson and pink – Jones's visual signature might best be described as fifty shades of grey. Onstage doors and frames of many sorts invite the death-bound, and death-free, characters to breach the boundaries that separate their twin domains. Film reels turn and click. Meanwhile, Orphée's fancy that he can recover his fading inspiration through channelling radio transmissions adds another dimension to Jones's multi-media invocation of a world in which 20th-century technology carries messages from the beyond.
All this makes strong thematic sense. Cocteau, and Glass following him, view film above all as a time-stopping, time-reversing machine that may somehow assuage our losses or even bring our dead back to life. Cocteau directed his film in a postwar France, and Europe, still in mourning for the absent or missing legions of two global wars (the architecture of the second act Underworld resembles some bombed-out Baroque palace). Glass, as is well known, had recently lost his artist partner Candy Jernigan when he composed Orphée. Film here is an utterly haunted and haunting medium. The Orphic urge to spool back and reedit time also reminded me of another bittersweet post-war jeu d'esprit: Powell and Pressburger's elegiac masterpiece A Matter of Life and Death.
All this cinematic imagery should, and mostly does, work, save that Jones can go overboard – with clicking countdown clocks, for instance, sometimes so massive that they overshadow the characters and their voices. Just as death overshadows life, Jones might riposte. And she has other moods to conjure apart from the eerie monochrome of Cocteau's metaphysical movies. Eurydice and Orphée's home shimmers in the pink of flesh-and-blood life. The Paris café scenes, choreographed by Danielle Agami, erupt in a colourful profusion of demi-monde tricksters, with the odd sly glance at Glass's own back-catalogue, while his music nods to the Twenties wit and cheek of Milhaud (himself a Cocteau collaborator) or Poulenc. In general, the first act often sounds like everyday (mid-period) Glass rather than especially radiant Glass, although the opera's thematic density arguably calls for modest scoring at this stage. Given that he's aiming to evoke liminal spaces between this world and another, you might have expected more of Glass's trademark arpeggiated spookiness. For the moment, the music remains relatively earthbound – although conductor Geoffrey Paterson and the ENO orchestra kept a brisk, tight grasp on events. I relished some spine-tingling episodes from brass and woods atop the chug and hammer of the strings.
In the second act, we enter the Underworld and witness the narcissistic poet torn between his above-ground loyalties and his devotion to Princess Death. Now the opera feels as if it moves up a gear. The scoring acquires a deeper richness and resonance, with Glass's palette of operatic colours (Puccini and Verdi in the mix now) broader than before. And the singers have more chances to excel. Nicholas Lester's full-voiced but oddly petulant Orphée (pictured above with Sarah Tynan as Eurydice) touches selfless grandeur as well as egotistic self-regard as his plight worsens.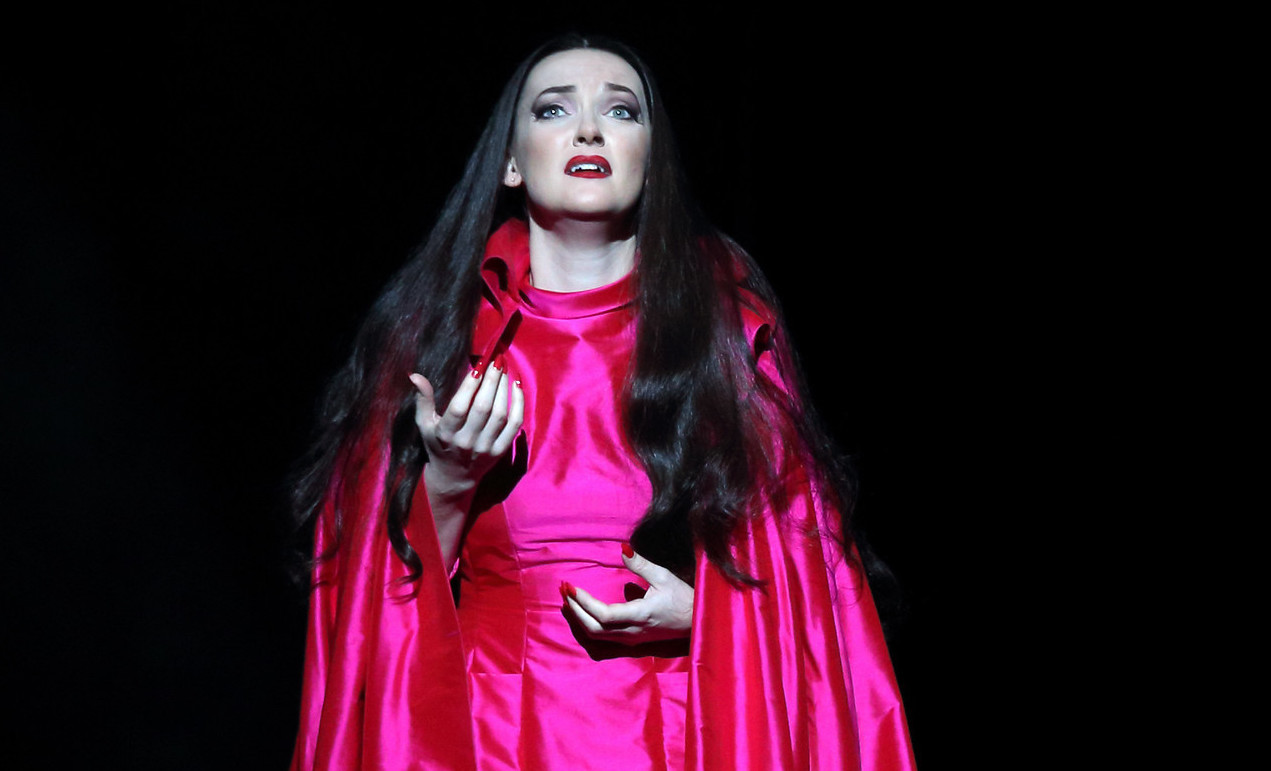 As the occult chauffeur Heurtebise – a sort of Greek "psychopomp" who mediates between the lands of the living and the dead – Nicky Spence's tenor, thorughout, had mesmerising presence and authority. This is a performance to cherish. Sarah Tynan's Eurydice does admirable things with a part that, for all its passages of poignancy and tenderness, stands in the shadow of Princess Death, as the scorned (and pregnant) embodiment of earthly rather than otherworldly love. First in Chanel black, then in Schiaparelli pink to show her perilous new fondness for the sunlit upper world, Jennifer France as the Princess (pictured above) made an truly auspicious Coliseum debut. Her duets with Lester, as she entices the poet into her realm of shadows only to despatch him back and jeopardise her own status as an immortal, had a show-stealing Gothic glamour and shimmer, the voice angelic and fleshly at once. It augured well for opera's (many) other fatal heroines.
If Orphée looks through one lens like a tricksily prismatic, avant-garde reflection on the traffic between life and art, it's also a sensational pantomime – complete with transformation scenes and theatrical coups. Jones's staging on occasions overstressed the monochrome movie motifs (does no one ever give opera directors the writer's precious advice to "kill your darlings"?). To be fair, she also achieved that prickle of sinister thrill that the plot – and score – demands, especially as tension gathers in the Underworld scenes. Lucy Carter's lighting design worked more than its share of mood-changing wonders here. Meanwhile, Jones ensured that the squabbling committee of the undead had its comic side – one of the few links, maybe, between Glass's operatic Hades and Offenbach's. However, Orphée's final comeback to wife and life took place, fittingly enough, not on some triumphantly bright full stage, but in a gloomy shadowed corner as the immortals looked sorrowingly on. Those flickering movies may seek to wind back the years and splice in a happy ending to our broken lives. But Death, as we saw, will still have its dominion.