Simon Boccanegra, Royal Opera review - a timely revival of Verdi's political music-drama |

reviews, news & interviews
Simon Boccanegra, Royal Opera review - a timely revival of Verdi's political music-drama
Simon Boccanegra, Royal Opera review - a timely revival of Verdi's political music-drama
Moshinsky's classic production still serves up the visual goods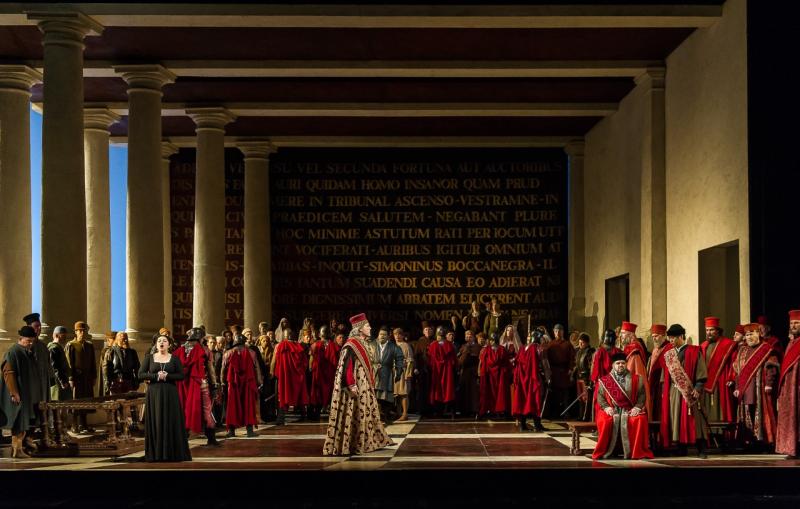 Does your Doge bite? Council Chamber conflict in Moshinsky's attractive but sometimes static production
Political machinations and backroom power-brokering, leadership battles and unscrupulous rivals – if ever there was an opera for this week it's Simon Boccanegra. Premiered in 1857 but only coming into its own after substantial revisions in 1881, Verdi's problem-child of a piece had its own struggle for survival and success, and the work's rather lumpy dramatic architecture shows the scars of its various grafts and interventions.
Elijah Moshinsky's classic production (first seen in 1991) sweeps grandly over any rough ground though, a gorgeous feast of colour and scope that matches the score for sheer sumptuousness.
Moshinsky may honour the opera's renaissance setting, but his 14th century Italy comes by way of Kensal Green and John William Waterhouse – a fantasy vision of a kingdom of brocades and satins, endless colonnades peopled with swashbuckling men and dreamy-eyed women. It's all rather delicious but also rather distant. There may be thrilling moments of spectacle in Verdi's revised score – the Council Chamber scene chief among them – but there's also an intimacy to an opera that's much less about young love (is there is a more generic Verdi heroine than the sweetly virtuous Amelia?) and the urgent present than it is about old men and even older regrets.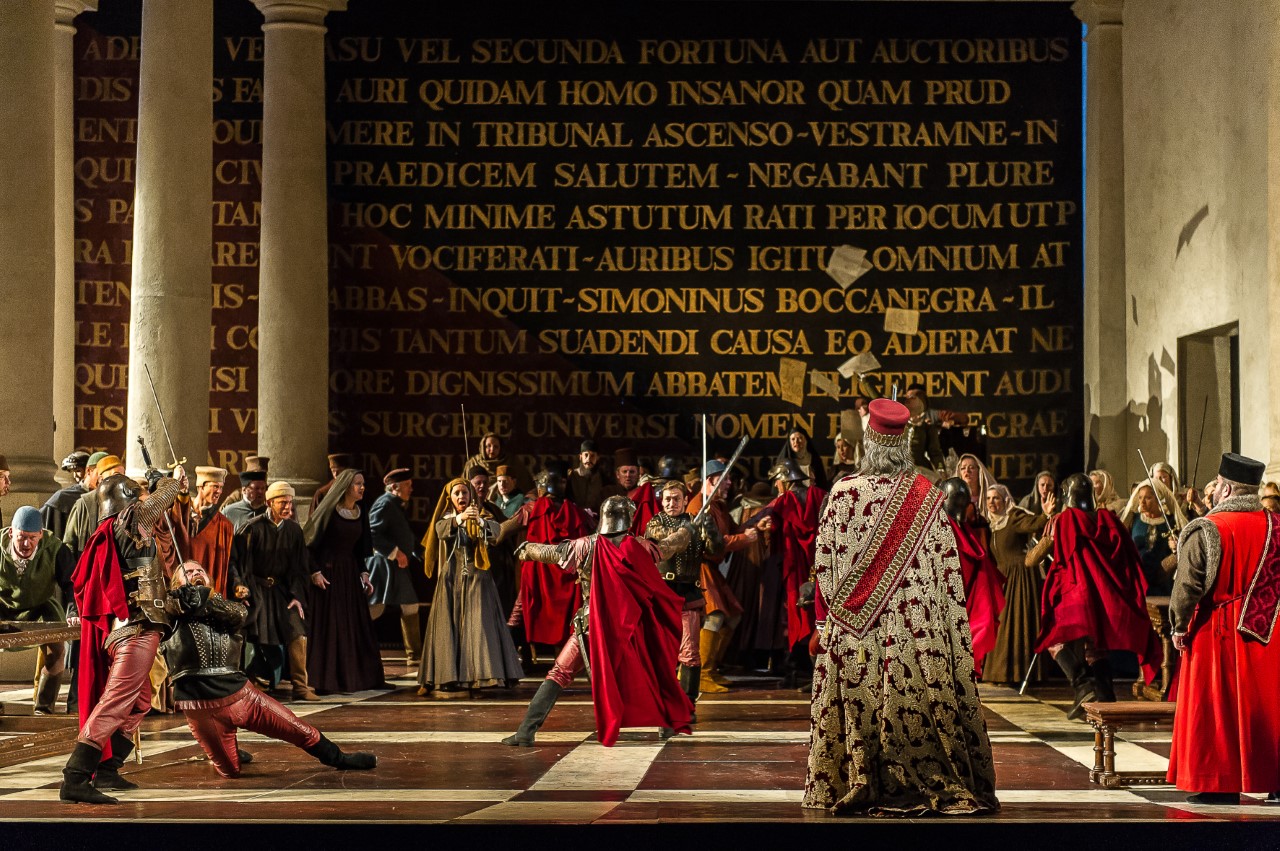 This knotty, domestic interest is the real draw of the piece – the operatic close-up that gives us faces lined and marked with a life lived fully. We've seen a score of stars take their turn at the title role – Domingo and Hampson, most recently. This time it's the turn of Spanish baritone Carlos Alvarez, whose hero never quite shakes off his beginnings as a corsair in the later Acts, preserving a quiet ferocity throughout that presents an exciting challenge to the authority of Ferruccio Furlanetto's Fiesco. The latter's mountain of a voice sounds craggier than ever here, and intonation suffers in the early scenes. But once it settles it's a beast that fills the full span of this large-scale set, forcing some real life and emotional interest into the gaps left by the cardboard romance of Amelia and Adorno.
A sleepy first-night audience disinclined to offer any but essential applause were startled out of themselves by Francesco Meli's Adorno, ardent and utterly secure right through his bright, muscular voice. Hrachuhi Bassenz's Amelia (pictured above) was more problematic. Using portamenti as a melodic stepladder rather than an expressive tool, the Armenian soprano wasn't having the best night. Everything sounded like hard work, and even at its most relaxed there was a grainy quality to the voice that needed to offer more light and lightness of colouring among so many lower voices.
Conductor Henrik Nanasi gave us some lovely moments from the pit, notably the unexpectedly sunny, lulling ease of the opening Introduction, but seemed a little at odds with a cast often dragging back against the supple, forward momentum he was generating. The Royal Opera Chorus were on fine form though, and while it won't be setting anyone's palazzo on fire, this Boccanegra is still a satisfying evening of theatrical politics.