Street Scene, Opera North review - a true ensemble achievement |

reviews, news & interviews
Street Scene, Opera North review - a true ensemble achievement
Street Scene, Opera North review - a true ensemble achievement
Youth to the fore in Kurt Weill's brilliant 'Broadway opera'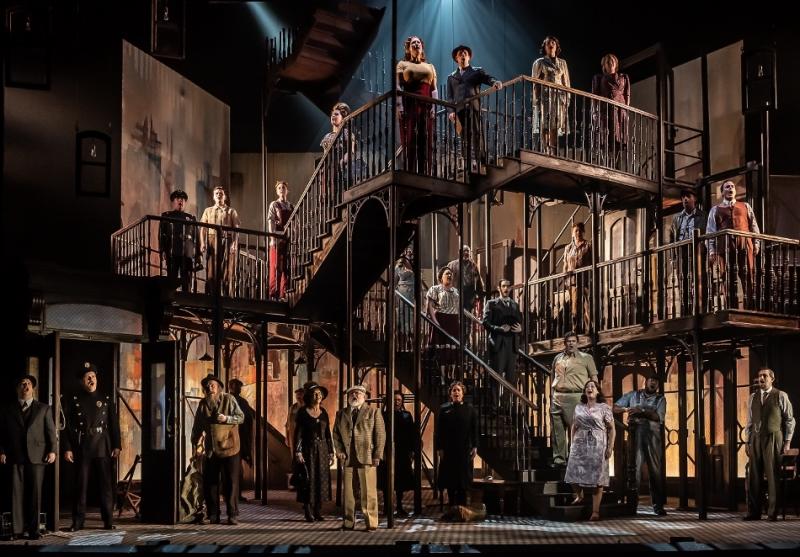 Devastatingly powerful: the Chorus of Opera North and Company of Street Scene
Kurt Weill's "Broadway opera" – his own preferred description – is an extraordinary and brilliant piece of work.
Its music ranges from the seriously dramatic to fun numbers like the "Ice Cream Sextet" and the jitterbug dance song "Moon Faced, Starry Eyed"; there's a lot of spoken-dialogue-with-music, as well as solos, duets and all manner of ensembles; and the story is both comic and tragic.
Written in 1947, it pictures life in a New York tenement – and on the street outside – on two sweltering summer days and nights. The climax comes when a jealous husband murders his wife. As tragedy overtakes the affectionate nationality stereotyping (Jewish, Swedish, Italian New Yorkers, and so on), the fun of the earlier numbers gives way to something much deeper. There is a whole series of overlapping, interlocking family and individual stories, with about 10 major characters and dozens of minor ones: Opera North's cast list has 36 named parts in it, plus a troupe of extra children.
So it's a huge undertaking for a professional company to put on – which is probably the only reason it doesn't get done more often. But Opera North is no ordinary professional company. The development of their chorus over recent years into an ensemble of actor-singers, any one of whom can take a role with skill and distinction, has really paid off. In fact only five of the vocal-only principals are not members of the ON Chorus, and those five have no monopoly on major characters.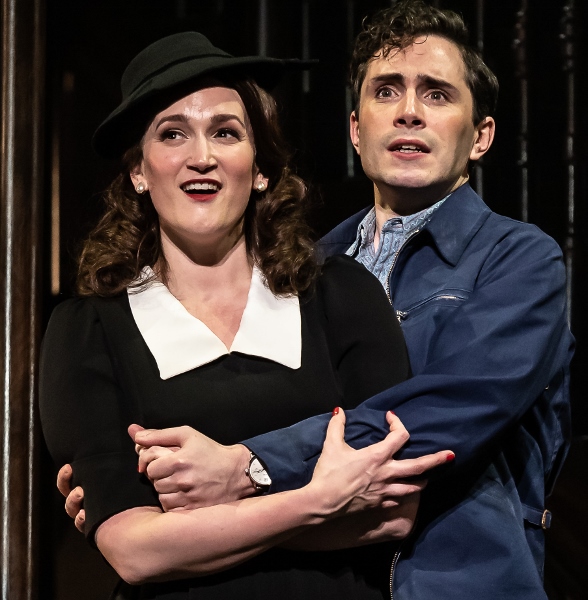 The most rewarding thing is that the younger ones are among the best. Gillene Butterfield and Alex Banfield (pictured right), as young in-love couple Rose and Sam, were notable for their acting as much as their singing, and for their diction (something the more mature opera soloists, in this un-mic'd production and with the orchestra making glorious sounds in front of them, did not always remember): her "What Good Would the Moon Be" and his "Lonely House" in Act One were real stand-outs. The same was true of Laura Kelly-McInroy, who has one great solo number, "Wrapped in a Ribbon and Tied in a Bow", as young Jennie on her college graduation day, and made the most of it – also of Lorna James and Hazel Croft, as two nursemaids from the wealthier part of town, who enliven the final part of the story with their "Lullaby" scene.
Youth nearly stole the show, too, in that jitterbug number, with guest singer-dancers Michelle Andrews and Rodney Vubya as Mae and Dick. Gary Clarke's choreography rose to the occasion there, with a routine that would not have disgraced Strictly.
Among other characterisations from the Opera North chorus, Claire Pascoe's Noo Joisey tones as the busybody Mrs Jones were a delight, and so were Dean Robinson's Jewish left-wing intellectual Abraham, Amy Freston as his teacher daughter Shirley, Miranda Bevin, Amy J Payne and Victoria Sharp as immigrant wives Greta, Olga and Laura, and Paul Gibson as Steve Sankey the philandering milk money collector.
That's not to say that the guest principal singers let the side down in what must rank as a true ensemble achievement. Giselle Allen takes the role of Anna, the doomed unfaithful wife who has a real aria-style solo early on ("Somehow I Never Could Believe"). Robert Hayward has found the hurt behind her husband Frank's hateful attitudes, drink problem and violence and sings his big numbers with impressive power – especially "There'll be Trouble" in Act Two, which turns the whole tone of the show on a sixpence. Christopher Turner makes a charmingly comic portrait of Lippo the Italian ice cream maker, Quirijn de Lang is creepily repulsive as lustful smoothie Harry, and John Savournin makes a sympathetic Swede as Carl.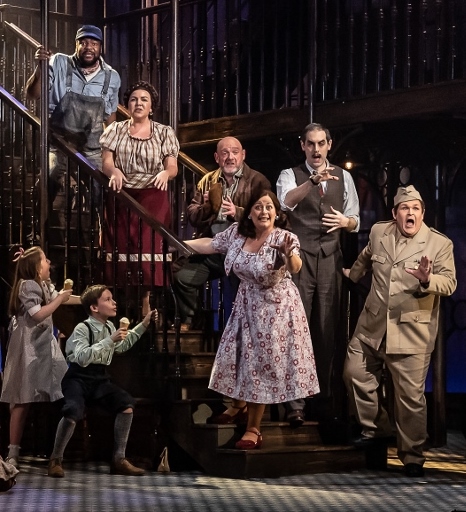 James Holmes, a great Weill specialist as well as Opera North stalwart, holds it all together with enormous skill as conductor: the switches from speech to song to speech-with-music and back again need perfect timing to avoid a feeling of stop-start, and he has this totally mastered.
Matthew Eberhardt as director brings lots of lovely touches to the staging, which is on a three-storeys-high set of staircases, landings and doors designed by Francis O'Connor, and is as adept at marshalling his many adult protagonists as his young charges – the children's song and dance, "Catch Me If You Can", which opens Act Two, is one of the highlights of the night, and the final scene, where all the actors and singers unite as a devastatingly powerful chorus, is unforgettable.
And were the cornets real in the Ice Cream Sextet (the true test of any Street Scene, pictured above)? Only one, as far as I could see, devoured by Claire Pascoe with relish, but then she wasn't in the Sextet and there were so many kids on stage that if they'd all had real ices things might have got out of hand …

Further performances in Leeds on 12, 20 and 28 February, and in Newcastle on 3 and 6 March, Salford on 13 March and Nottingham on 17 and 20 March