Tamerlano, The Grange Festival review - Handel brilliant in parts, but you have to wait for the drama |

reviews, news & interviews
Tamerlano, The Grange Festival review - Handel brilliant in parts, but you have to wait for the drama
Tamerlano, The Grange Festival review - Handel brilliant in parts, but you have to wait for the drama
Bravura singing but static production until the climax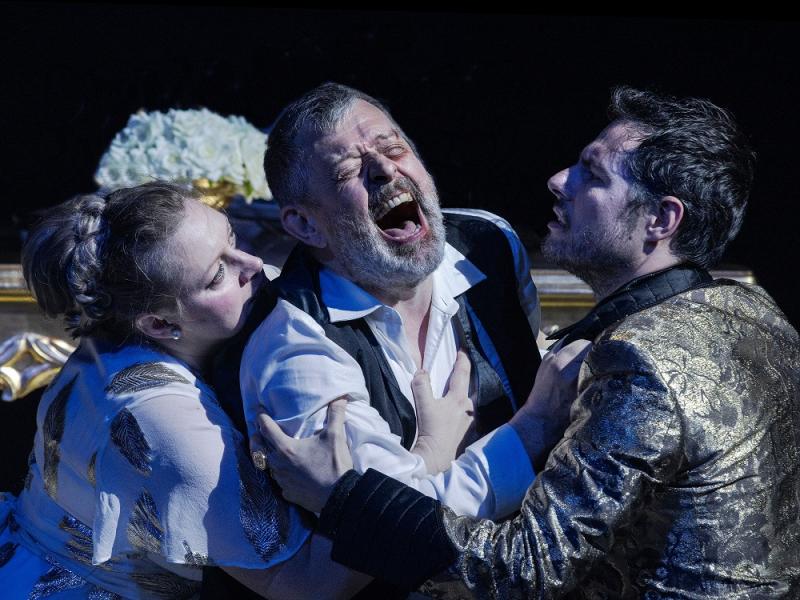 Sophie Bevan (Asteria), Paul Nilon (Bajazet) and Raffaelle Pe (Temaelano)
Handel's operas have long posed, and still pose, severe problems for the modern theatre, and especially the modern director – all those endless streams of wonderful but emotionally more or less generalised arias hitched to interchangeable characters in fabricated love stories about crusaders or Roman emperors or oriental potentates.
But they can suddenly explode into true music drama where the cardboard dramatis personae suddenly become real and human and acquire minds and feelings. Tamerlano, sandwiched in 1724 between two of Handel's greatest operas, Giulio Cesare and Rodelinda, is a prime example. Starting from a typically idiotic love tangle between Tamburlaine, the Greek prince Andronico and the daughter of Tamburlaine's captive enemy, the Ottoman Emperor Bazajet, it wends its way enjoyably but to no obvious dramatic purpose through two long acts of sublime, sometimes impassioned music. But then, in the final act, it unexpectedly acquires that elusive property, psychology, as the entire cast engage in what amounts to a discussion of their various emotions, Bazajet, the most upright figure in the opera, does what he's been threatening all along and takes poison, and Tamburlaine assumes the unusual role, for a baroque opera, of a magnanimous ruler in a tragic, minor-key ending.
Daniel Slater's production at the Grange reflects this dichotomy to a tee. Set, rather helplessly one feels, in modern dress (designer, Robert Innes Hopkins), with the usual fascist prison guards, Bazajet in trousers and braces, Tamburlaine as a kind of teenage celeb, etc etc, it stands around, so to speak, for a couple of acts while the singers perform and nobody else moves much. After all, what do you do with characters who aren't singing during a long da capo aria? Remove them, perhaps.
But when it comes to the final scene Slater is in his element. Suddenly something is happening (pictured above). There is a supper party, Tamerlano, fascinated by Bazajet's intransigence, seems to be toying with his victims, there are angry exchanges, a thwarted attempt to poison Tamerlano, and then finally a tremendous scena for the dying Bazajet himself, the whole thing superbly stage managed and powerfully moving, in a way we might associate with the Gluck of Iphigénie en Tauride or even the Mozart of Idomeneo.
Handel rises magnificently to the dramatic needs of this ending. But there is marvellous music elsewhere, especially for Andronico, originally a castrato role, here sung with great brilliance by the countertenor Patrick Terry, and Tamerlano himself, also castrato, here likewise a countertenor, Raffaele Pe, who not only sings this very difficult music with bravura but manages to inject a kind of bemused humour into the brutal character, forever threatening mayhem against his enemies but never quite getting round to it.
The castrato roles dominate Tamerlano, to the point where one sometimes longs for deeper sounds. Handel cast Bazajet, unusually for the period, as a tenor, but with a rather low tessitura which, I felt, doesn't always suit Paul Nilon, whose slightly brittle quality comes into its own only in the final scene. Otherwise the only bass clef voice is that of the confidant Leone, nicely taken here by Stuart Orme.
The female heroine is Bazajet's daughter, Asteria, but the more interesting character is Tamerlano's jilted betrothed, the mezzo-soprano Irene, a flighty, amoral personage who nevertheless exerts control from the sidelines and finally gets her man. The Irene here is the excellent Angharad Lyddon, easily the most watchable singer on the stage (pictured left), and with a good dark bottom to the voice and plenty of brightness farther up. Sophie Bevan's Asteria suffers from a wardrobe of unbecoming costumes, and for this or whatever other reason she seems less comfortable in the part than we're used to with her: stylish singing, certainly, but rather stolid portrayal.
Robert Howarth conducts the Bournemouth Symphony Orchestra (modern instruments, of course), with plenty of spirit, in a score that lacks the vibrant instrumental colourings of its predecessor, Giulio Cesare, but still boasts the usual Handel marvels, one after the other. A feature is the accompagnato recitatives, with orchestra, often the most dramatic moments in a work that, for all its high quality of invention, doesn't consistently take fire until that gripping climax.