10 Questions for Director Christopher Luscombe |

reviews, news & interviews
10 Questions for Director Christopher Luscombe
10 Questions for Director Christopher Luscombe
The master of ceremonies who is bringing his double bill of Shakespearean comedy to the West End
Tuesday, 06 December 2016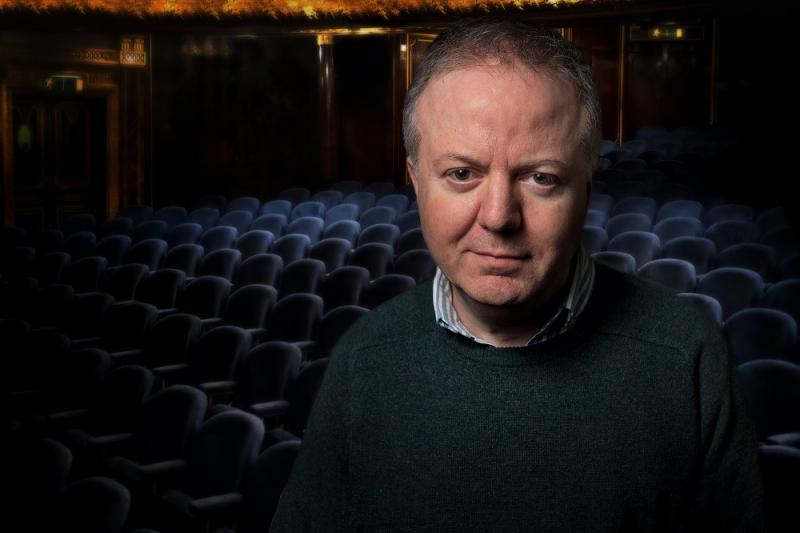 Theatre royal Christopher Luscombe: 'I don't subscribe to the view that doing tragedy is in any way superior'
When Shakespeare visits the bearpit of the West End, it is usually in the company of a big name: Judi Dench, Sheridan Smith, Martin Freeman. This Christmas the bard enters the Theatre Royal, Haymarket without any such support. And there is a further hurdle to clear: Love's Labour's Lost is barely ever been seen outside the subsidised sector.
It forms part of a pair which audiences might take a moment to get their head around:
Much Ado About Nothing
is presented as its Shakespearean twin called
Love's Labour's Won
.
The double bill began at Stratford in 2014. The shows, set either side of the Great War, have the same cast, the same live band, the same country-house setting. Above all they have Christopher Luscombe, a gifted director of comedy whose intuitive Midas touch brings an irresistible mix of enchantment and pathos, invention and (not to be sniffed at) crystal clarity.
Perhaps Luscombe knows where both the laughs are buried because he began as a comic actor. He was such an RSC regular that in the 1990s he wrote and performed a hilarious monologue about company archetypes; it was paired with another monologue about going back to his old Cambridge college (both were directed by his old chum Hugh Bonneville). He followed it up with The Shakespeare Revue featuring bardic songs and skits. As a director he has explored an affinity for Coward, Wilde and Shaw, and has often directed Alan Bennett, most illustriously in a Theatre Royal Bath revival of The Madness of George III which sailed into the West End.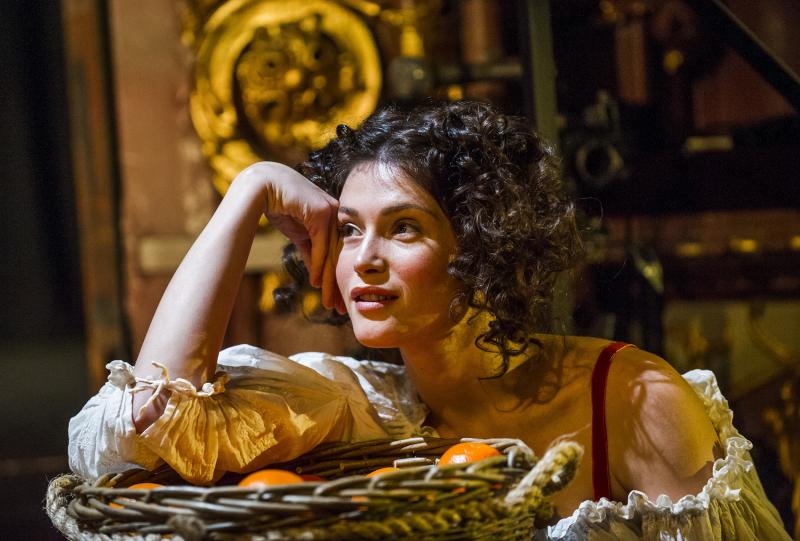 Shakepeare's Globe has proved a natural home: Luscombe's blissful Comedy of Errors and riotous Merry Wives of Windsor were followed last year by Jessica Swale's Nell Gwynn. The Globe's most successful ever new commission took up residence in Shaftesbury Avenue this year with Gemma Arterton (pictured right by Tristram Kenton) and returns to the Globe next summer. But first there is Luscombe's Love's Labour's doubled.
JASPER REES: Why yoke these two plays together?
CHRISTOPHER LUSCOMBE: It was [RSC artistic director] Greg Doran's idea. The idea is based on the theory that Shakespeare wrote them as a pair. There are documents from Shakespeare's time which list Love's Labour's Lost and Love's Labour's Won. So everyone's looked around for a Love's Labour's Won. Either it's been lost or it's one of the more famous plays under a subtitle. Because of the chronology they've worked out that there are very few candidates. For many years Much Ado About Nothing and The Taming of the Shrew were the candidates. But in the 1950s another document was found which lists Love's Labour's Won and The Taming of the Shrew. Greg wasn't convinced that it is Much Ado but felt that the RSC is probably the only company in the world that had the resources to do both plays with the same group of actors. It was an experiment to see if they fit. Although I wouldn't at all go to the stake on the idea that they are written as a pair they fit together very very well. In a way Beatrice and Benedick are a version of Rosaline and Berowne. And there are so many other echoes.
Also Love's Labour's Lost, which is a play I'm crazy about, has never been a box office success and I think that is to do with the fact that it's a romantic comedy with an unhappy ending. Which is a bit unsatisfactory for an audience. By putting them together you do get your delayed happy ending. Greg was anxious about whether I really believed in the notion of setting them either side of the First World War. He put that to me. I felt that if you're going to pair them it's very neat sitting either side of that cataclysmic event. And I knew enough about the plays to know that Love's Labour's Lost (pictured below: Rebecca Collingwood, Leah Whitaker, Lisa Dillon and Paige Carter) is a very neat fit for that Edwardian last golden summer with a terrible event at the end of it, and Much Ado is so often set in the Mediterranean and it's hot and sultry and stifling and I thought it would be really interesting to set it in an Edwardian England with the 1920s around the corner. That gives us lots of scope for design and music. If you separate these two plays by four years you can give them a very different look and feel. And because World War One finished in November, setting it around Christmas the icy thing was good for all the dark troubled stuff in the play but also gives it a festive quality.
It was my idea to put it in a stately home based on a real stately home near Stratford - Charlecote, which Shakespeare was very familiar with. I thought if we located both plays in one place that would give us a proper chance to compare them and see where they were fitted.
How formally daring does it feel to have that ending in which love is delayed?
It's incredibly bold. Love's Labour's Lost up to that point feels so schematic and just deliciously artificial. It's the most perfect premise for a comedy: the notion of the four boys giving up fun and girls and pleasure, and then in walk four beautiful girls. It's all so neat and you expect it to have a neat ending and in fact it would be a much lesser play if it did. It gives us an amazing experimental feel at the end and also a profundity. If you imagine that the girls are sending the boys off the trenches it makes it even more upsetting, because the boys probably don't come back in our version of it. I was in both these plays at Stratford in the 1990s and it still takes me by surprise when that happens: the news of the king dying and the total change of tone at the end. The slap in the face of it I find shocking and brilliantly theatrical. There is a pin-drop silence. I feel, what an incredibly brave move on Shakespeare's part but God it works.
Is it possible to determine what kind of a director you might have been had you not been an actor? And to what extent does having been in these plays enriched and enlarged or possibly inhibited what you do as a director?
I don't think it inhibits me at all, and I'm easily inhibited. I think it gives me more confidence because I have experienced the plays night after night as an actor. I was little bit worried that doing Love's Labour's Lost set in Edwardian England was exactly what I'd done in the RSC in the Nineties. And in fact because that was set in an Oxbridge college and this was set in a stately home, it doesn't sound very different but it gave it enough of a difference that I've never once felt that I was doing a re-tread. There were three very particular things that I did consciously steal from the earlier production. I wrote to [director of the earlier production] Ian Judge and said, "Can I do these?" One was one of the melodies, another was a particular costume for the four men – that they would be in their pyjamas for one of the scenes – and the other the snake costume for Moth. I had the most brilliant snake costume when I played Moth. We just couldn't think of anything better. I said, "It's quite fun to recreate that look. Ian said, "Go for it."
Certainly with Much Ado I felt that I'd benefitted hugely from having played Dogberry because it's such a difficult part and I knew what worked and what didn't and I was determined to make Dogberry really land (pictured above: Nick Haverson as Dogberry). I've spoken to so many actors who've had problems with it over the years, great comedy actors who said, "Oh God I hated it, it was miserable." I was certain there was something really good there. In my head it was about putting it in a very particular context. In the production I was in we did it in a white box so I decided to reverse that and give my Dogberry a whole load of stuff to play with. He was in a very detailed social setting and he had come back from the war probably with shellshock and that accounted for his verbal issues. I always feel when people do malapropisms it's funny but it's also slightly upsetting because they don't realise they're exposing themselves. So I felt there was something sad about Dogberry.
More than other Shakespeare comedies they're the ones which it's quite handy to have a copy of the Arden edition in your lap to explain all the Elizabethan wordplay. How do you deal with that?
I'm sure in Love's Labour's Lost you're not necessarily meant to understand everything. A lot of the characters are language anoraks. And I think we enjoy them and how they talk rather than what they're talking about (pictured below: William Belchambers, Tunji Kasim, Edward Bennett and Sam Alexander in Love's Labour's Lost). Having said that, my big ambition was that the audience would understand it. The biggest task was to try and release the meaning. I have edited it, I make no bones about it. If you do it uncut Love's Labour's Lost is about three hours 20. I feel with romantic comedy anything more than two and a half is a bit tough for an audience. So I was really keen to get it down. And the odd word has changed. If one word being changed releases a whole scene, then why not go for it?
Did you have the Shakespeare Institute hanging over you wagging a finger?
No, I was staggered by the free rein you're given. I thought I could do whatever I wanted to do, which is very liberating. It was the same in Much Ado, which is a very long play and actually I'm convinced is just a first draft. There are so many things that don't tie up so I tried to rationalise it as much as I could.
There is a really really tricky thing which is all to down to the plot of Don Pedro wooing Hero either on his own behalf or for Claudio. You're given very conflicting information about Don Pedro's motives for doing this. Is he wooing Hero for his best friend or is he wooing her for himself? And various characters give you different opinions. It might be Shakespeare's intention is to show how easily we are all fooled. But I'm pretty certain he simply changed his mind. And also sometimes when he's ploughing one particular furrow the language is so obscure the audience can well believe he means the opposite. So it's incredibly difficult. There's also a thing where the conversation of Don Pedro and Claudio is reported by three different people as having taken place in three different places. I decided to simplify things a little bit. It's absolutely crazy, staggering really for such a famous play.
How do you approach the line, "Kill Claudio"? (Pictured right: Lisa Dillon and Edward Bennett as Beatrice and Benedick)

"Kill Claudio" is particularly difficult as an example of a line that you don't really want to get a laugh on. I'm very proud that Lisa doesn't get a laugh on it but you have to work quite hard not to. That's what's so compelling about the play. They're declaring their love for the first time and at the very same moment she's asking Benedick to kill his best friend. It's unbelievably complex - there's a million things going on. Love's Labour's Lost is thought of as the difficult play and actually a lot of it is just great fun. And Much Ado is the great comedy whereas in fact it's quite a serious play with some funny bits in it.
You have a rare ability as a director of Shakespearean comedy to have every actor speak the lines as if they're not written but just came into their heads. How do you achieve that?
The top priority is to make it understood. I can't bear the idea that the characters are banging on and we don't know what they're talking about. Having read the play we always do a complete paraphrase of the whole thing so the actors really do know exactly what the lines mean. Sometimes they're open to discussion. But having the group round the table is very revealing. People playing small parts can have very interesting views on the text for the larger parts. And then I quite a tight edit. I think having done a lot of comedy I'm very conscious of the rhythms of the text and I think I do have a sense of how an audience are going to respond to the comic material and just how best to make it seem comprehensible and also funny. It's very much a group decision.
Once you've found it then they can repeat it. When I watch all the cast speaking this stuff they do seem to say it like they've just invented it. I'm very beady if they don't. I do go back quite often and give a lot of notes. I'm sure I drive them up the wall. Equally they like the fact that I really do care about it. I'm trying to make sure that it keeps working and never seems stale.
Nell Gwynn's return to the Globe next summer was announced in the same week as the announcement of Emma Rice's departure. What did you make of the ructions at the theatre?
It was actually the same day. I care passionately about the Globe having worked there so much, but equally I loved what Emma was doing and I'm sad that she hasn't had the chance to complete her journey there. I loved her Midsummer Night's Dream. I do think there's a lot to be said for recreating the conditions of Shakespeare's theatre but Shakespeare didn't have to contend with helicopters and aeroplanes. It can be rather upsetting when a performance is undermined by so much ambient noise. I want the audience to hear the words, so I think in the open air microphones in was actually helpful.
Do you ever want to be an artistic director?
No! I can't bear that whatever you do is picked over and analysed. I just want to direct plays.
And you don't want to programme plays?
Not really, no - it's hard enough worrying about my own shows! Terrible, isn't it? I think it's incredibly difficult running a building nowadays. There are so many people you have to please. You can't just go ahead and do your own thing. A lot of people have said to me, "So you're putting your hat in the ring…" I can't help thinking that's because they imagine I'd be a safe pair of hands? It's probably meant as a compliment but I'm not sure that's how I want to be seen!
Can you imagine ever directing tragedy?
What I feel very strongly is I don't subscribe to the view that doing tragedy is in any way superior. One quite distinguished director when I did Love's Labour's Lost and Much Ado said to me, "That's great, Chris, because now maybe you can go back and give them a Winter's Tale and maybe that could lead on to a history play and that could lead on to one of the tragedies. And in the end, Chris, you never know, you might even get to do Hamlet." And I thought, are you suggesting that doing Love's Labour's Lost and Much Ado is easier or lesser in some way? That does rankle a bit. I suppose I'm a bit obsessed about comedy, and I make no bones about that. That's what I really love doing. I loved doing The Madness of George III and I have done other plays with serious stuff in them but I don't think what I enjoy doing most is comedy and I shouldn't be afraid to pursue that. I love going to the rehearsal room to work on a comic scene.
I can't bear the idea that the characters are banging on and we don't know what they're talking about
Share this article