Absent Friends, Harold Pinter Theatre |

reviews, news & interviews
Absent Friends, Harold Pinter Theatre
Absent Friends, Harold Pinter Theatre
Jeremy Herrin's production of this 1974 Alan Ayckbourn classic offers exquisitely cruel comedy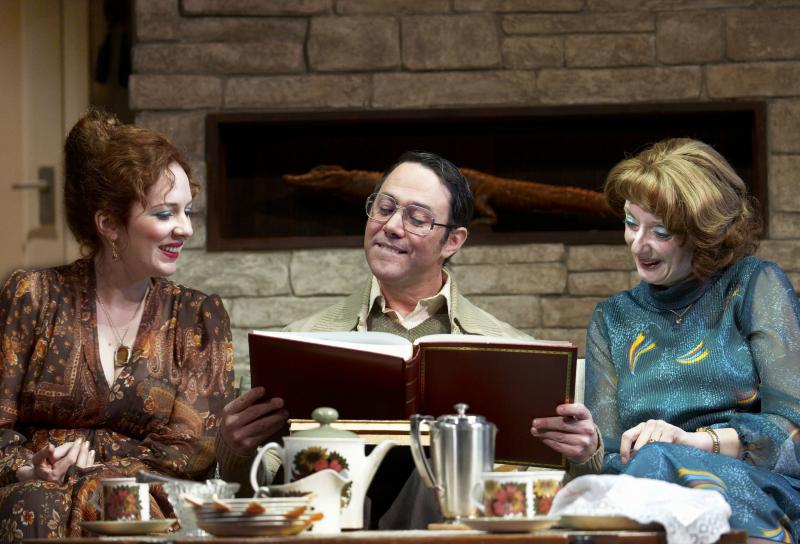 Beige lives: Katherine Parkinson, Reece Shearsmith and Elizabeth Berrington
One look at Tom Scutt's meticulous design for Jeremy Herrin's production of this savage Alan Ayckbourn comedy, and you know you're in the 1970s. Wood veneer and faux leather lend a shiny, wipe-clean surface to this desolately unhappy home, where everything is in shades of brown: beige carpets, beige walls, beige lives.
When laughter comes, it is often choking; Herrin's direction is so mercilessly precise, and the acting so acute, that though it is undeniably funny, the play leaves you bruised and punchdrunk.
It begins, with quiet, cruel deliberation, with two women in that ugly, expensive room. One, Diana (Katherine Parkinson) witters on about mundane domestic details; the other, Evelyn (Kara Tointon), younger and wearing an expression of baleful boredom, remains silent, insolently chewing gum, flicking through a brainless magazine and ignoring her sleeping baby in his pram. Gradually, it emerges that this is not just an awkward social situation; it's a polite interrogation by Diana, who suspects that Evelyn is having an affair with her husband, Paul (Steffan Rhodri) – and Evelyn, callously immune to Diana's distress, is exercising her right to remain silent.
All the performances are exquisitely, discomfitingly good
But it's not just Paul and Diana's relationship that's in trouble. Evelyn feels nothing for her hyperactive salesman husband John (David Armand) beyond contempt and irritation. And then there's Marge (Elizabeth Berrington), who anaesthetises herself against the joyless futility of her life with pointless shopping and whose husband Gordon – unseen thanks to supposed illness, but keeping his wife tethered to the end of a telephone line with anguished calls – is infantalised and so fat he's known as Jumbo, his aggressive neediness a form of abuse that makes Marge his prisoner and slave.
This miserable collection of loveless spouses have gathered at Paul and Diana's house for a tea party intended to console their nerdish old friend Colin (Reece Shearsmith), whose fiancée has drowned in a tragic accident. It's an occasion they're all dreading, mainly because it means broaching the taboo subject of death, something none of these repressed and squeamish people relishes. "I'd hate to drown," says Marge with a shudder, "You look so awful afterwards," while John remarks bathetically, "Death gives me the creeps." Yet not only has grief done nothing to rid Colin of his maddening habit of patronising people, but with his cherished memory of blissful love, he is happier than any of them – a bitter irony that quickly turns their clumsy sympathy into curdling resentment.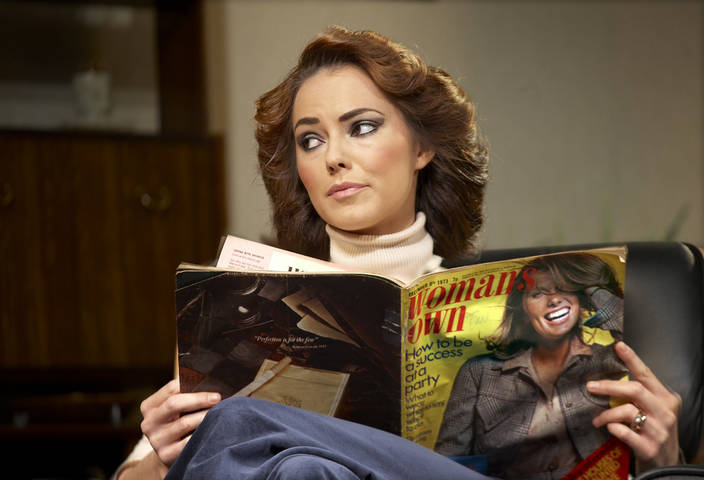 All the performances are exquisitely, discomfitingly good, but perhaps most memorable is Parkinson, a strained hostess whose nerves are finally snapped by her husband's indifference and lazy lies, the sneers of Tointon's poisonous Evelyn (pictured right) and the memory of her bright, hopeful younger self and the dreams she never had even the smallest chance of chasing. Armand, too, makes a deep impression, his permanent, determined smile, desperate sales patter and fidgety energy betraying his longing to flee the deadening mess he has ended up in. And Herrin withholds any crumb of easy comfort, insisting that his cast play it straight, allowing our horrified laughter to echo around these desultory marriages and empty existences. It's a production that's gasp-inducingly ghastly, and, in its depiction of everyday desperation behind closed suburban front doors, quite brilliant.