Aspects of Love, Lyric Theatre review - not much has actually changed |

reviews, news & interviews
Aspects of Love, Lyric Theatre review - not much has actually changed
Aspects of Love, Lyric Theatre review - not much has actually changed
Andrew Lloyd Webber's 1989 musical resurfaces, its luscious score and curious logic jointly intact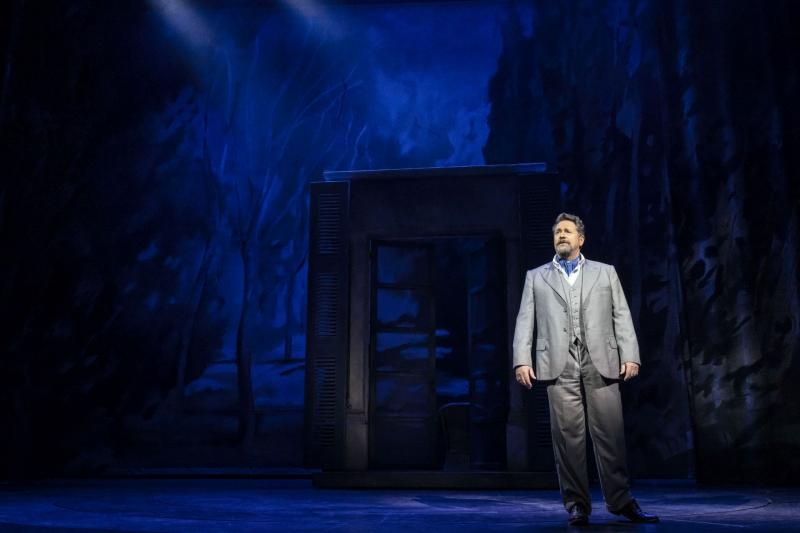 Ball buster: Michael Ball returns to 'Aspects of Love'
Love may change everything, as we're reminded multiple times during Andrew Lloyd Webber's rabidly polyamorous Aspects of Love, but certain things about this 1989 London hit (and subsequent Broadway flop) are fixed.
The sexual shenanigans tracked across this adaptation of David Garnett's 1955 romantic novel are destined to remain a challenge to playgoers to varying degrees, especially amid a current climate of properly heightened sensitivities. But it seems equally true, at least to me, that this score is one of its composer's most beautiful - not so much because of the earworm, "Love Changes Everything", which here is sensibly reassigned, but because of the melodic breadth that must have been catnip to a director like Jonathan Kent.
His seasoning in opera is well suited to a through-sung piece such as this and, let's face it, opera libretti often aren't the most logical constructs in the world, so if Aspects continues to prompt head-scratching here and there, Kent must be familiar with that response, too. Without him, it's unlikely the production - a self-evident star vehicle for Michael Ball, whom Kent directed (brilliantly) as Sweeney Todd in 2012 - would have boasted designs by opera-world superstar John Macfarlane. Or, for that matter, the luxury casting that finds Danielle de Niese (pictured below left, with Ball) in the supporting role of the sculptor Giulietta when she might otherwise have been singing Blanche in Dialogue des Carmélites this season at Glyndebourne. Ravishing to both eye and ear, de Niese makes you wish the bisexual Giulietta had more to do beyond represent carnality (she's this musical's equivalent Carmen) every time she shows up.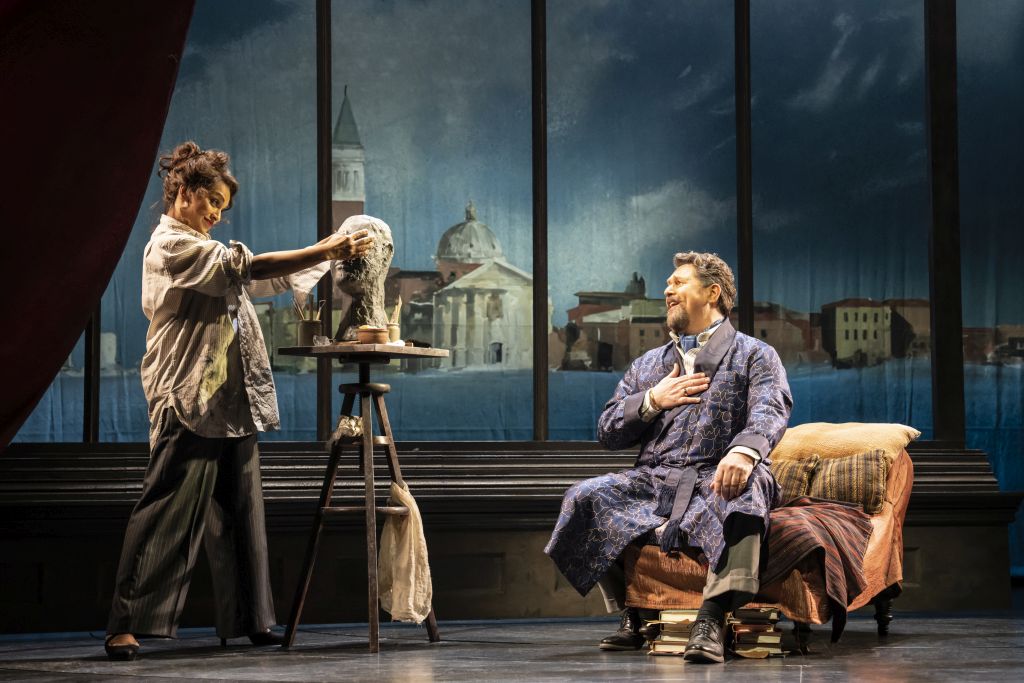 Ball, of course, is the name attraction, having graduated from the rapacious young Alex in the original London and New York runs to the ace supporting role of the seasoned roué, George, who clearly has too fragile a heart for the roundelay of bed-hopping that the show describes. Then again, you, too, might get the vapours if your nephew (in this case Alex) got entangled with your teenage daughter when that same young buck had already had his way with your wife, Rose (here played by Laura Pitt-Pulford, pictured below right with Bogyo).
"Life goes on, love goes free," goes the show's mantra, but a more accurate one might be the simple, post-interval declaration, "I don't believe this." Why wait to express disbelief? The show's first 15 minutes are pretty jaw-dropping in narrative terms. An American abroad, at least in this version, 18-year-old Alex (Jamie Bogyo, late of Moulin Rouge) somehow finds his way to the Continent and to a theatre where an actress, Rose Vibert, is playing Hilde in The Master Builder to a paltry crowd. (If she's attracting so scant an audience, how in heaven's name would her reputation have extended across the ocean?) After the interval, Rose has graduated to Turgenev - and fuller houses.
Anyway, let's not get ahead of ourselves: Barely can you say Halvard Solness the vaguely stalker-ish Alex is presenting Rose with flowers and whisking her away for the weekend, somewhere around the time that it occurs to Rose to enquire as to this stan's name. (What would she make of Tinder?) Once the cultured Uncle George enters the scene, he's instantly smitten with Rose, as well, which is saying something for a worldly aesthete who can't find his copy of Brave New World but who has reportedly dined with Garbo (only twice, mind you) and translated La Boheme (presumably just once).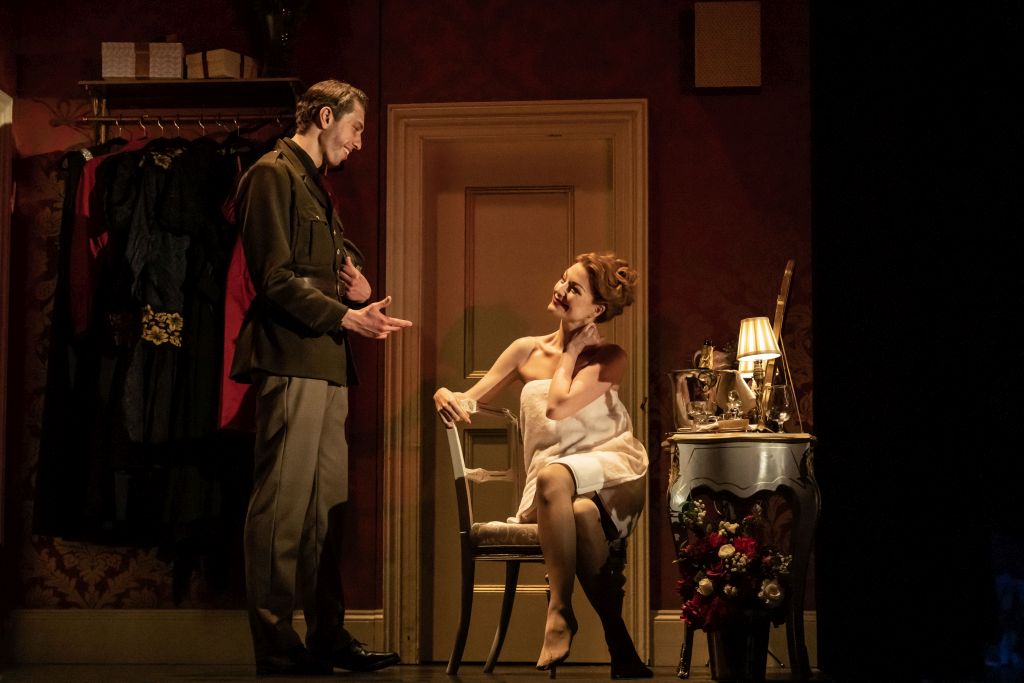 The volatile Rose flits from one generation of paramour to the other, the ravenous stew seasoned by a same-sex smooch with the ever-available Giulietta and, post-interval, the quasi-incestuous yearnings of 18-year-old Jenny (a clarion-voiced Anna Unwin), aka Lolita, essentially. (The character has been aged up for this production so as to prevent riots in the Twittersphere.) Rose at one point gets shot but survives, which for some reason seems to matter less than Alex's, um, premature habits in the bedroom: "He takes his time, unlike you," Rose says to Alex by way of praising George, a mini-emasculation if ever there was one. The prevailing preposterousness surely has largely to do with Garnett, whose novel on this evidence would seem to address infatuation and lust more than anything approaching love. The characters reproach one another more than once for being over-dramatic, without which quality the musical wouldn't exist.
Yet, working with some often bizarrely literal-minded lyrics from Don Black and Charles Hart, Lloyd Webber weaves a seductive musical web, motifs reshaped rather more cunningly than can be his wont. The score finds room not just for the expected swooniness ("Seeing is Believing" for Alex near the start) but for a torch song (Rose's climactic "Anything But Lonely") that here finds our tremulous heroine on the verge of a breakdown: the solo is the high point of a vocally assured turn from Pitt-Pulford, who must corral sympathy for a tricky character whose affections change, as do Alex's, on a dime.
And the late-on "Falling" ranks amongst the most emotionally honest numbers in all Lloyd Webber: a four-way acknowledgment of "this madhouse of love" that pushes the sentiments way beyond the boilerplate romanticism of The Phantom of the Opera, this musical's immediate predecessor in the composer's canon.
Indeed, the production's alternate George, Dave Willetts, is a onetime Phantom who also has played George in earlier revivals of this show, even if this is the first such revival to tackle the West End. Following a sweeter solo for George, the quartet contains George's admission that love is both a curse and a cancer, and is startlingly staged with the actors seeming to disappear into Jon Clark's crepuscular lighting. Elsewhere, attention is drawn to the cinematic wipes and painted backdrops of an alluring set that risks devolving after a while into a visual travelogue as if all concerned were proffering a taste of the movie that Aspects at its inception wanted to be.
The show's raison d'etre, Ball still sings "Love Changes Everything," not as the expectant horndog Alex but as a seasoned, more mature chronicler of the wayward tribulations of amour. Belting the final money note with an ease unavailable to the current Alex (a rather stiff Bogyo gives the song a more tentative go at the close of the first act), Ball's George suggests snappishness one minute, suaveness the next: he now has a much better role than Alex, as the ever-likeable star is uniquely positioned to know first-hand. (Sadly, the dynamic Rose of the show's premiere, Ann Crumb, died in 2019 of cancer, way too young.)
And rather than end with a gazillionth reprise of The Song, Kent and co. close proceedings more ambiguously on, of all people, Giulietta, who references once again the gamble that is life. This production represents a gamble, too, and whatever one's reaction to the intractable nuttiness of the material, something about it - rather like a bygone, life-defining love affair - proves impossible to dismiss.
Michael Ball sings not as the expectant horndog Alex but as a more mature chronicler of the wayward tribulations of amour
rating
Share this article