Bonnie & Clyde, Arts Theatre review - great songs, but plot fires too many blanks
Bonnie & Clyde, Arts Theatre review - great songs, but plot fires too many blanks
Iconic couple shoot for West End success
Shooting stars: Frances Mayli McCann and Jordan Luke Gage as Bonnie and Clyde
One of the more irritating memes (it's a competitive field, I know) is the "Name a more iconic couple" appearing over a photo of Posh and Becks, or Harry and Megan, or Leo and whoever. I've always been tempted to close the discussion down with a photo of Bonnie and Clyde, because couples do not come more iconic than they are.
So it's a surprise to discover that Nick Winston's production is the first ever musical dedicated to them in the West End, reviving a show that was in and out of Broadway ten years ago quicker than the Barrow gang were in and out of a Wells Fargo bank. Since then, its score has gathered a cult following online and last January saw a sell-out concert presentation at the Theatre Royal Drury Lane. Many will also recall Arthur Penn's 1967 movie, a staple on BBC programming in the 70s. My mother remarked, "They weren't glamorous you know, and not as good looking as Warren Beatty and Faye Dunaway". Even at 14 years of age, I thought, "Who is?"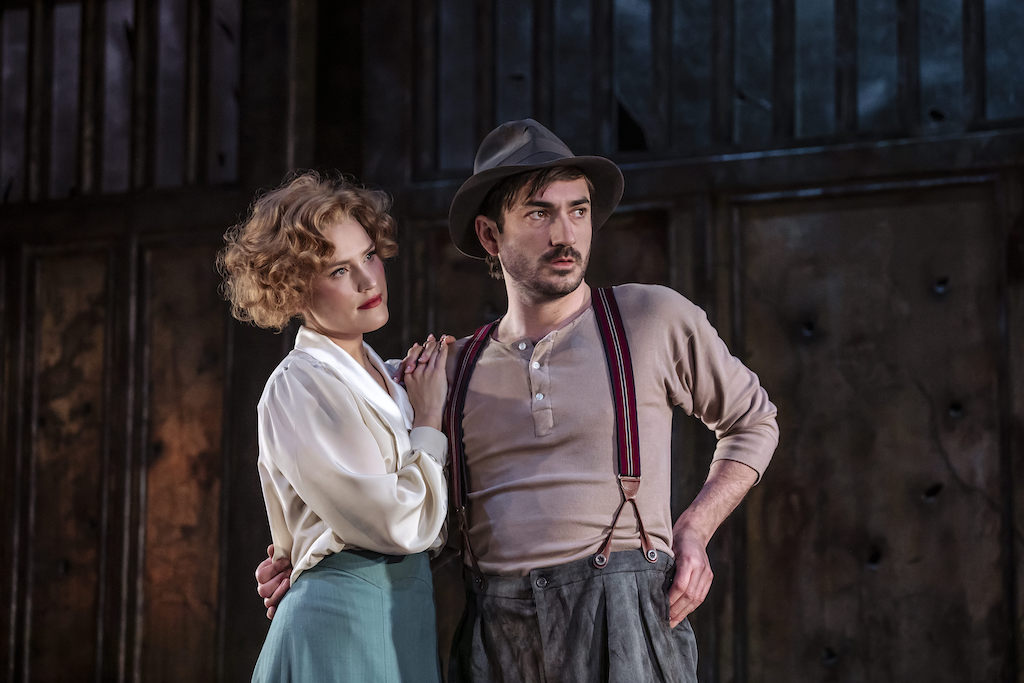 Well, Frances Mayli McCann and Jordan Luke Gage are certainly handsome enough as our dynamic duo, the girl with the cojones to join her outlaw lover in the Depression-era Deep South as they take on cops and tellers. These days, they would be on a reality TV show, but they were happy enough to court infamy in a monochrome America in which gangster chic was media catnip. Bonnie never did become the next Clara Bow, nor Clyde the next Al Capone – but where's their West End show?
Frank Wildhorn and Don Black's songs are much the strongest part of this production. The "I Want" number, "The World Will Remember Me" sets the tone musically, and soon we are treated to gospel, country and big ol' rock'n'roll, all sung beautifully by a cast full of fine singers. Highlights include the moment the Barrow boys go all in for the bandit life, "Raise a Little Hell", and Bonnie's 11 o'clock number, "Dyin' Ain't So Bad", accepting her fate as the quid pro quo for the love and excitement she has enjoyed.
As is too often the case in musicals, the show is let down by Ivan Menchell's curiously imbalanced book. The first half is a real romp – besotted Bonnie falls for criminal Clyde and Clyde's brother Buck bickers amusingly with his wife, Blanche. George Maguire and Natalie McQueen (pictured above) have a lot of fun with that relationship, "You're Goin' Back To Jail" a standout song that reveals that the womenfolk are just fine with their men behind bars.
The second half sags badly as there's little more for Bonnie and Clyde to do and little for us to discover as we've seen the bullet-riddled car in the opener. There's a hideously underwritten unrequited love plot for Bonnie and a cop (Cleve September doing his best) and Philip Witcomb's glorious costumes to admire, but for a show not short of bangs, it goes out with a whimper.
For all that damp squib finale, Bonnie & Clyde, supported by its strong advertising campaign, will find its market – or, rather, its markets. The older punters will come for the name and for the zeitgeisty vibe of a couple of "Left-Behinders" from a forgotten town sticking two fingers (indeed, two guns) up to the fate assigned to them, while the younger crowd will have heard the songs online and will enjoy the acreage of skin on show. Unlike the grocery stores and gas stations of Texas and New Mexico, nobody buying a ticket for this show is getting robbed.