Bronx Gothic, Young Vic review - fervid intensity |

reviews, news & interviews
Bronx Gothic, Young Vic review - fervid intensity
Bronx Gothic, Young Vic review - fervid intensity
Okwui Okpokwasili's solo performance piece is an astounding piece of theatre
Okwui Okpokwasili: poise and power
It's hard, and finally fruitless to attempt to describe Okwui Okpokwasili's Bronx Gothic in conventional terms of genre: combining elements of dance and theatre, this visceral solo
performance transcends both. It engages with frantic movement at the same time as nursing a text – an utterance, rather than a narrative – that attains a fervid urgency, a state that demands immersion from the viewer. The concentrated effort of its 80-minute run clearly takes a huge amount out of the Nigerian-American actor-writer: it's hard to call her just a performer, this is an experience that she
lives
.
Her effort has begun even before we enter the Young Vic's studio space, Okpokwasili's presence in a corner of the stage defined by the frenzied movement of her body. In contemporary terms, you could describe it (and Okpokwasili has) as twerking, but it's surely something more elemental, too, a ritual of possession, an ululation of pose. There's a tonal accompaniment that begins as a two-note electronica drone, before incorporating snatches of voices and gradually expanding into an urban soundscape, with levels of light alternating as the rhythm of the bodily movement changes.
Then abruptly, in black-out, that halts and a voice emerges. Or rather voices, because, as she reads snatches of text, drawn from scraps of paper picked up from the floor, we understand that Okpokwasili is charting a relationship, between two 11-year-old girls, best school friends as they explore the challenges of identity, quite a lot of it through the prism of sex. "What is an orgasm?" is the line with which Okpokwasili breaks into words, gradually defining this as a dialogue in which the one girl, the voice of experience, responds to the questions of the other, that of innocence.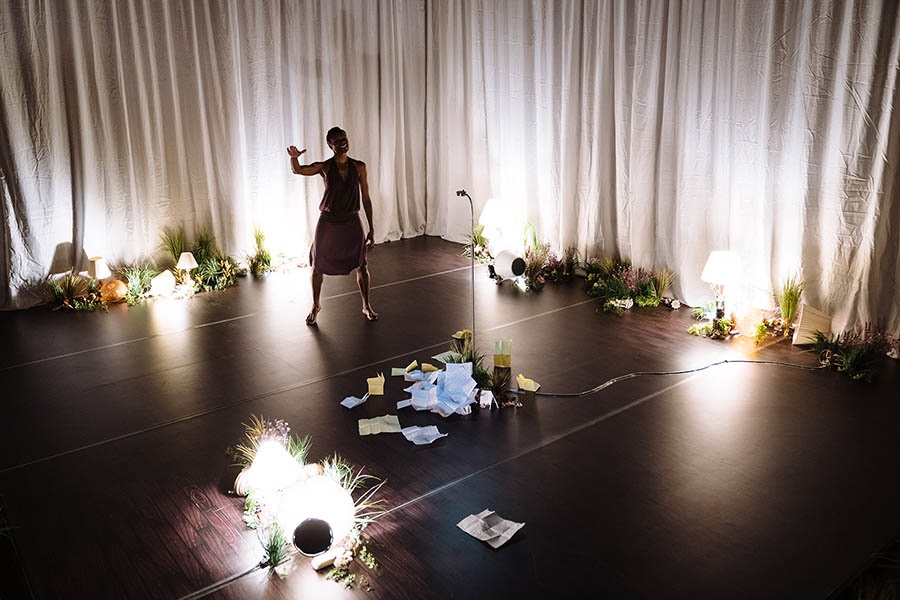 Okpokwasili distinguishes them by timbre, the former almost deep-voiced, the latter the exaggeratedly higher tone that is recognisably still that of a child. There's the poetry of experience – "waves look like how orgasm feels" is part of the answer to that opening question – and the comedy of innocence (the younger girl thinks she has had one with her frisbee). The epistolary communication of these childhood stories broadens into a wider meditation, one that sets dream against reality, beauty against ugliness, the details of the particular – the Orchard Beach of the New York borough of the work's title, a brand of cigarettes – against something far more elemental. As we learn a little more of the world that surrounds them, hints of threat appearing on its edges, these childhood memory voices shade into jealousy, into anger, the symbiosis of the relationship absorbing love and hate simultaneously.
The links are fluid, Okpokwasili's range of technique no less so. At times she reverts to movement, her body writhing on the floor as if caught in a shock of electrocution. At others, there's expressive beauty: she has a singing voice that is bruisingly lyrical, its innocence of tone set at times against what seems a background chant that's mechanical. The sound design here is as key as any other element, credited to Okpokwasili equally with Peter Born, who receives directorial and visual credits (the two are partners in life). The element that somehow doesn't quite chime is the stage design (pictured above), a rather thrown-together collage of overturned lamps and scattered greenery that seems too literal for an experience that is anything but.
The only external clue that Okpokwasili offers about Bronx Gothic comes in a programme note that quotes the black American poet Audre Lorde's "Litany for Survival". Go back to that work in full and there are lines – "looking inward and outward / at once before and after / seeking a now that can breed / futures" – that resound with these reconsiderations of experience that Okpokwasili assays so memorably. It's as if she's preparing a survival strategy, reaching out for joy, however distant that might be – trying, even, for an anthem. Bronx Gothic is a courageous show, in every sense: London should be grateful to the Young Vic's artistic director Kwame Kwei-Armah, on whose iniitiative it has been revived and is presented here, for the chance to see it..
She's preparing a survival strategy, reaching out for joy, however distant that might be - trying, even, for an anthem
rating
Share this article