Dark Sublime, Trafalgar Studios review – sci-fi tribute is less rocket, more Reliant Robin |

reviews, news & interviews
Dark Sublime, Trafalgar Studios review – sci-fi tribute is less rocket, more Reliant Robin
Dark Sublime, Trafalgar Studios review – sci-fi tribute is less rocket, more Reliant Robin
Navigating the script is a bit like going in a car with a driver who's just passed their test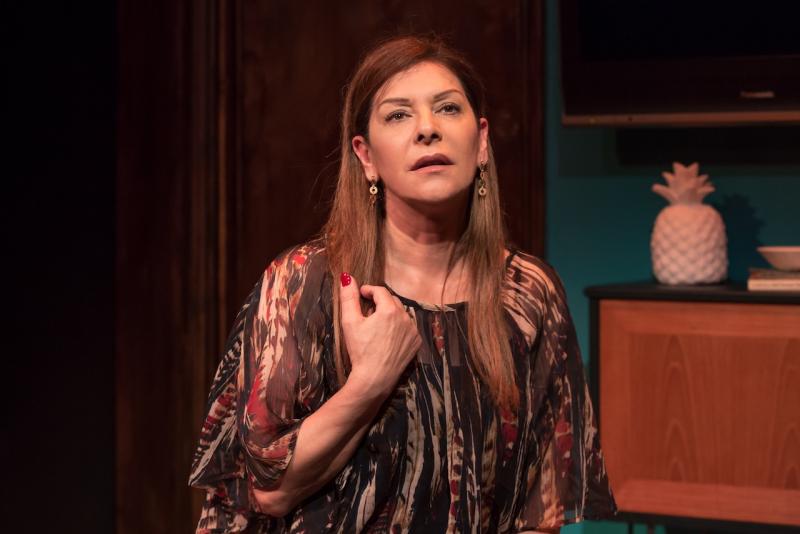 Marina Sirtis gives a grounded performance
This lovingly lo-tech visit to galaxies far far away is a curious proposition, which, while neither dark, nor sublime, does have its moments. Framed as a tribute to Seventies sci-fi in all its polyester-clad absurdity, it in fact reveals itself to be an exploration of the parallel emotional worlds we all inhabit, with hat-tips to Star Trek and Blake 7 along the way.
Dark Sublime, running downstairs at the Trafalgar Studios, is the first play by the writer Michael Dennis, and has scored itself a considerable coup in persuading Star Trek's Counsellor Deanna Troi, Marina Sirtis, to play faded sci-fi star Marianne. Sitting in her turquoise-painted living room, where the decorative highlights include a ceramic pineapple, a Union Jack-covered chaise longue, and a cactus, we first meet her as she waits for number-one fan Oli to pay a visit.
The visit of an ardent fan is a plot device that can tilt from the absurd to the psychotically murderous, but Dennis's script makes it clear from the outset that we are somewhere between those two states. This is broad-brush comedy from the outset: when Marianne's friend Kate pops in, Marianne jokes that she's not at the BAFTAs because "My Alexander McQueen's in cold soak to try and get the piccalilli out". Later, when she's talking to the 21-year-old Oli (Kwaku MIlls, pictured below), he sighs, "Joel – my friend – he couldn't find his arse without Google Maps."
Navigating Dennis's script from the audience is a bit like going out in a car with a driver who's just past their test. There's nothing technically wrong with it, but everything is far too emphatically signalled to allow you to sit back and enjoy the journey. When Jacqueline King's assured, humorous Kate turns up, we don't need Marianne both to mention that she has given her the key to the flat AND is upset at her new friendship with Suzanne to realise there's something between them. Simultaneously when Kate declares of Suzanne that "I haven't kissed anyone spontaneously since the '97 election," it feels as if Dennis is erring on the side of making at least three points when he could gently allude to one.
Dennis is obviously a persuasive individual – Mark Gatiss features here too, if only as the "Voice of Kosley", the talking computer – but the obvious gear changes reduce the impact of what could be an interesting evening. Both he and director Andrew Keates write movingly in the programme about how, when they were both growing up gay, sci-fi provided a fantastic emotional and imaginative outlet at a point when their own world didn't seem to understand them.
Yet the play could go much further – galaxies further, indeed, in exploring this. What we have instead is something that feels like a cardboard cut-out sitcom, in which all the edginess implicit in escaping the constraints of your own society to explore other possibilities has been dulled. It's as if the rocket has become a Reliant Robin.
What redeems the evening is some good grounded acting, not least from Sirtis herself whose earthy comedic presence allows the script to move from its somewhat clunking humour to the more serious terrain of the lies people tell themselves when they're in love. As Suzanne, Sophie Ward also distinguishes herself with her compassion and emotional forthrightness.
Yet overall this is a play that aims for the stars but ends up trapped in the orbit of the everyday. Ironically it works best at the moments when the script stops straining too hard for lift-off: something Dennis should think of when he's building his next launching pad.
Dark Sublime at Trafalgar Studios till 4 August
Subscribe to theartsdesk.com
Thank you for continuing to read our work on theartsdesk.com. For unlimited access to every article in its entirety, including our archive of more than 10,000 pieces, we're asking for £3.95 per month or £30 per year. We feel it's a very good deal, and hope you do too.
To take an annual subscription now simply click here.
And if you're looking for that extra gift for a friend or family member, why not treat them to a theartsdesk.com gift subscription?