Describe the Night, Hampstead Theatre review - epic take on the mythology of Putin |

reviews, news & interviews
Describe the Night, Hampstead Theatre review - epic take on the mythology of Putin
Describe the Night, Hampstead Theatre review - epic take on the mythology of Putin
A not-very-brief history of Russia's relationship with lies and lying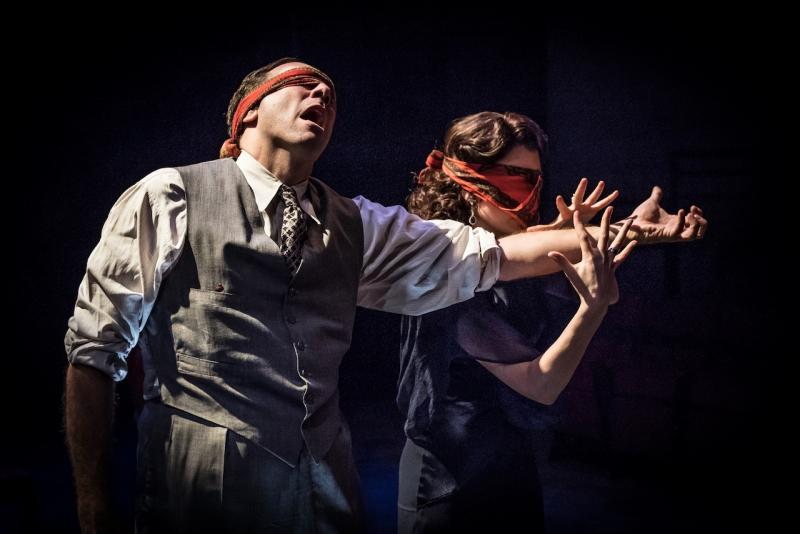 Seeing is believing: Ben Caplan as the writer Isaac Babel and Rebecca O'Mara as Yevgenia in 'Describe the Night'
Five years ago, when New York playwright Rajiv Joseph started on his fantasy disquisition on truth, lies and the recent history of Russia, no one was talking about a new Cold War and trump was still a thing you did in a game of cards.
Now, at the British premiere of
Describe the Night
, a wall in the foyer is beaming an image of Vladimir Putin and a pronouncement he made earlier that day. Full marks to
Hampstead Theatre
for being on the button. Eleven out of 10 to the playwright for attempting to fill in the blanks about a world leader who now seems to bend truth for a living.
Over 12 scenes that dart randomly between Poland, East Germany and Russia in the years 1920, 1931,1989 and 2010, the one that sticks in the mind is the soup scene. Urzula's Polish grandma swears by qureshi, a dish (mercifully fictional – but its name could be a jab at a certain fellow playwright) whose key ingredient is live leeches. Its manner of serving requires the diners (pictured below: Steve John Shepherd, Rebecca O'Mara, Siena Kelly) to dabble their fingers in the bowl until the leeches attach. Once engorged with blood, the invertebrates are plopped back into the soup to be seasoned with paprika and enjoyed. Lisa Spurling's vivid direction makes high comedy of this suppertime treat while ensuring that it registers as metaphor. As 90-year-old Yevgenia points out, the leeches "feast upon you and then you feast upon them!" This is a play that puts historical people into imagined situations and imagined people into historical situations, then stirs the pot until you can't tell fact from fairytale.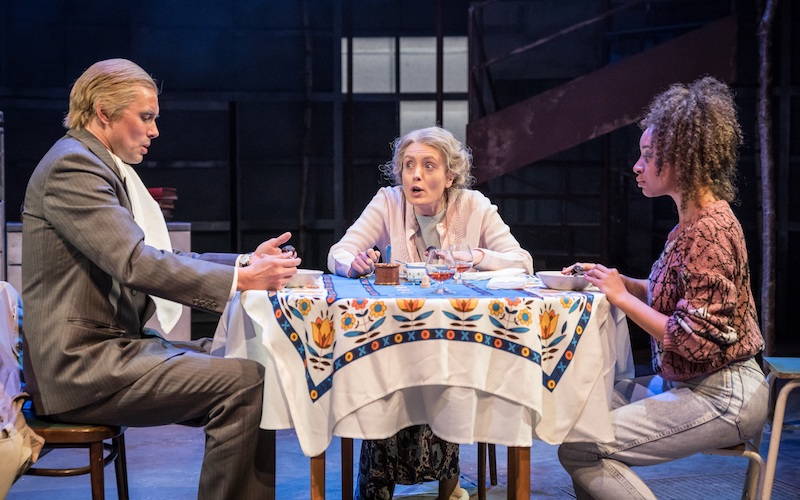 Much in the manner of the novel The Hare with Amber Eyes, a single pocketable object – in this case the diary of the (real-life) Ukrainian writer Isaac Babel – provides the link between people and places across a vast swathe of time and political change. The play's title quotes one of its entries, made in 1920 while Babel was a field reporter in the Russo-Polish war. It is there that he meets Nikolai Yezhov, an ambitious Russian army officer who has just committed a violent act whose randomness and cruelty presage his rise to the right hand of Stalin. That Yezhov and Babel become friends is perhaps the least plausible thing in the play.
Yet it's historically true, as is the secret affair between Babel and Yezhov's wife, though she didn't live to serve leech soup in Dresden to a twenty-something granddaughter who was planning an escape to the West. And that granddaughter (fictional as she is) never found herself being tailed by a macho KGB agent called Vova (né Vladimir), who later rose to world renown and is very much alive today.
Moments of comedy - including a brilliant sight gag involving a filing cabinet - come as welcome relief
Another of the play's themes is memory: the preserving of it (in Babel's precious suitcase of poems and stories, a lifetime's work) and the erasing of it in the KGB personal files that Yezhov zealously guards in old age. "The most useful tool in all Communism," he declares, "is the black magic-marker. There is nothing that cannot be crossed out and changed."
That Yezhov himself was erased from history by Stalin in 1940 is a fact that has not troubled the playwright. For this is the magical-realist version of history, where the alluring wife of a Soviet general can assume clairvoyant powers via a dinner-party trick involving blindfolds and a bowl of water. That these props also hint at Soviet "techniques" for extracting information is just one of countless doublings in the play.
The multiple skeins of interconnections risk confusion, not to mention exhaustion over three hours with only one proper interval. Yet the displacements of time and place are deftly handled on Polly Sullivan's staging of banked filing cabinets that morph into apartment blocks. The moments of comedy – including a brilliant sight-gag involving a filing-cabinet drawer – come as a welcome relief.
The cast are excellent across the board, particularly in the ageing of their characters. It's minutes before you realise that the caustic Yetzov in crabby old age is played by the same David Birrell you saw as Yetzov in his bumptious prime. Likewise Rebecca O'Mara's ancient grandmother, earlier a glimmering young wife. Ben Caplan's dreamy writer (pictured right), touchingly optimistic in the face of mounting horror, anchors the play's morality, calling for imagination over pragmatism.
There are yet more players in this saga, including a Russian reporter and a Polish car-rental clerk who are caught up in the 2010 Smolensk plane crash that decimated the Polish parliament. And it's at this point in this ambitiously sprawling tale that you may think enough is enough. Babel's journal, a book of descriptions – "lies," according to John Steve Shepherd's dead-eyed Vova – may be succinct in its poetry and truth, but you exit the play reeling from overload.
This is the magical-realist version of Russia's recent history
rating
Explore topics
Share this article