Don Quixote rides again, and again |

reviews, news & interviews
Don Quixote rides again, and again
Don Quixote rides again, and again
The RSC's stage version reaches the West End, while Terry Gilliam's film is stuck in a legal vortex
Wednesday, 07 November 2018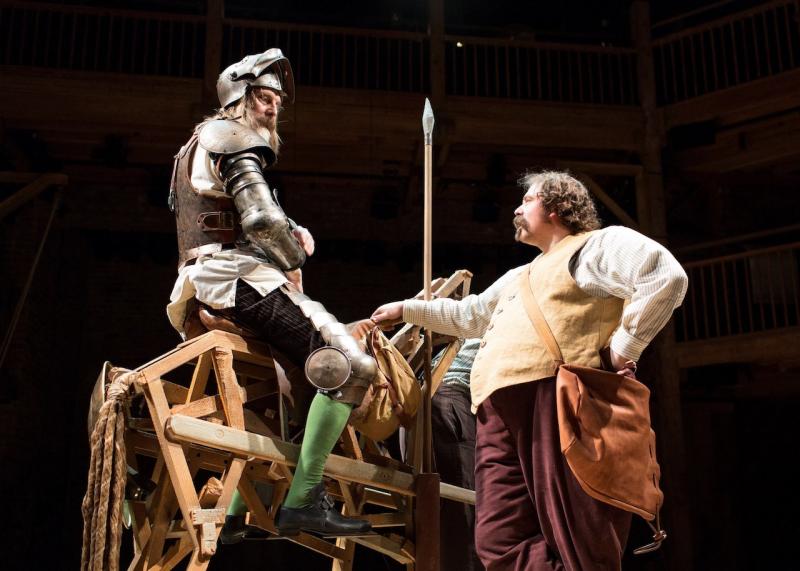 David Threlfall and Rufus Hound ride out in the original 2016 production of Don Quixote
It's a story of a mad old man who imagines himself to be a knight errant. On his quests he sees virgins in prostitutes and castles in roadside inns. His adventures have spawned an adjective that describes delusional idealism, typified by the activity of tilting one's lance and charging at windmills one has mistaken for an army of giants.
For Milan Kundera, the modern era – "and with it the novel", he adds – is born when Don Quixote rides forth on his nobbly nag Rocinante. The Adventures of Don Quixote by Miguel de Cervantes was published in two parts, the first in 1605. By the time the second appeared a decade later, the title's fame had already spread around Europe and into Spain's colonies in the Americas. It has since become one of the most influential works in the entire canon of literature. Along with Homer's Iliad, Dante's Divine Comedy and Milton's Paradise Lost, Don Quixote is a book that begat multitudes.
And yet unlike all those other masterpieces, its canvas does not usher genuflecting readers into the orbit of lofty gods, or of God himself, or into the presence of the great heroes and heroines. Rather it tells of a simple man who has read too many chivalric romances, inspired by which he prances out on a quest to perform deeds in the heroic style of bygone knights.
All novelists, whether they like it or not, are creatures of Cervantes
This was why Kundera anointed it the first novel. Here for the first time is a whole epic about ordinary human clay, bathetically stripped of all but the most ragged medieval armour. Romance is dead. The protagonist is left to his own devices, his only company the stolid squire Sancho Panza. Together they form obverse halves of the human psyche. Where Quixote is a fantasist who barely feels the deforming blows of his many assailants, Sancho is a dull-witted, earthbound pragmatist. The book is a rambling chronicle of their uproarious misadventures, in which wayward farce eventually makes way for the pathos and redemption of self-knowledge.
Cervantes had made a lifelong study of the folly of heroism. A Spanish marine, he was hospitalised for six months following the Battle of Lepanto, then captured by Barbary pirates and imprisoned in Algiers for five years, where after four failed attempts at escape he was ransomed by his parents. Later he became a tax collector. His writing career was an indifferent tour of tired literary fashions until, past 50, he dispatched his knight into the arid plain of La Mancha to have his romantic illusions slowly peeled away. And all the while Cervantes supplied a running commentary, which is the book's other priceless invention: the metatextual ironist who discloses the machinery of narrative.
This 900-page brick is not always easy reading. But all novelists, whether they like it or not, are creatures of Cervantes, who turned himself into a character in his own fiction four centuries before John Self, the anti-hero of Martin Amis's Money, ran into a shady figure calling himself Martin Amis. "That Cervantes has been a great friend of mine for many years," boasted Don Quixote of his creator. "His book has some clever ideas; but it sets out to do something and concludes nothing." The English picaresque novel's earliest practitioners are unthinkable without him: Fielding, Smollett, Sterne. The story has been repurposed by Chesterton, Kafka, Greene, Borges, Rushdie and so on and on.
Smudge out the discrepancy between the Julian and Gregorian calendars and Cervantes shares a death day - 23 April 1616 - with Shakespeare. So, as was right and proper, the Royal Shakespeare Company found room on the date's 400th anniversary two years ago to stage the doorstopper in a new adaptation by James Fenton. David Threlfall made his first return to the RSC in the 30 years since he played Smike in the globe-trotting hit Nicholas Nickleby. As Sancho Panza was played by Rufus Hound, who made his name playing low-life chancers in One Man, Two Guvnors and Dirty Rotten Scoundrels. Two years on, the much applauded production enters the West End on a trusty steed.
Quite apart from the novelists, Cervantes, with his self-referencing feints, inspired other art forms to enter into a dialogue with him from the start. Cardenio, thought to be a lost play by Shakespeare, was based on a fable from Don Quixote. The book has since been made into operas by Telemann, Mendelssohn and Massenet, a sprightly, yearning tone poem by Strauss, and the long-running Broadway musical Man of La Mancha, later filmed with Peter O'Toole (pictured above right with Sophia Loren). The National Theatre in London staged the book in 1982 with Paul Scofield astride a penny farthing (pictured below left with Tony Haygarth). And then there are the ballets choreographed by Balanchine and Petipa.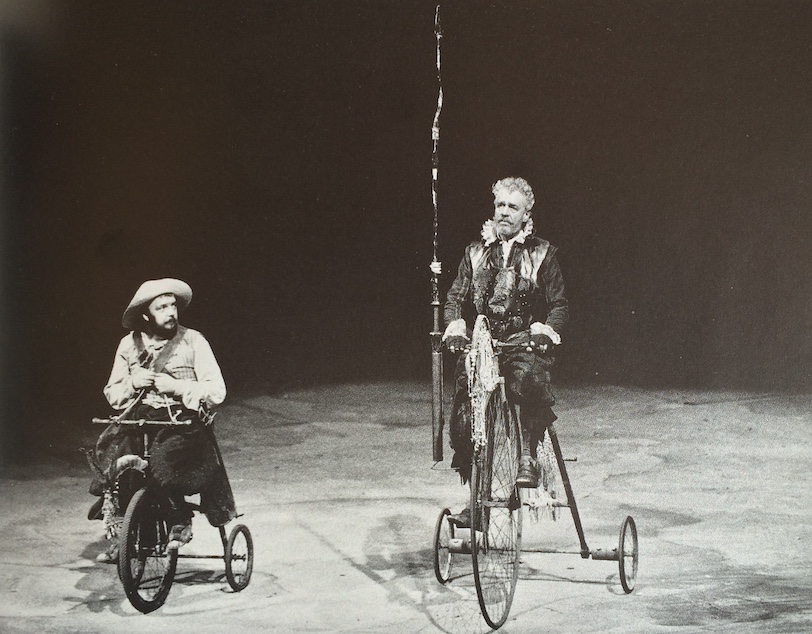 Don Quixote's name can sometimes occlude his indispensable companion. As the Stranglers once asked, "Whatever happened to…Sancho Panza?" Well, he has tagged along in this eternal afterlife too. In 2002 he was going to be reincarnated as Johnny Depp in Terry Gilliam's film version. Depp was to play an ad exec who writes a commercial featuring Quixote, only to find himself transplanted back to the 17th century and mistaken by Quixote for his squire.
Gilliam's quixotic quest to film Don Quixote has long been the most famous unshot movie in cinematic history. His 2002 production was undone by a flash flood which irretrievably altered the parched location, while his knight errant Jean Rochefort was invalided out with a doubled herniated disc. In 2015 Gilliam was all set to saddle up again, only for John Hurt to get pancreatic cancer. But Gilliam has always taken courage from Quixote's eternal optimism and the film The Man Who Killed Don Quixote starring Jonathan Pryce was premiered at Cannes earlier this year, only to disappear into a legal vortex owing to a dispute with his producer. So far there is no release date for either the UK or the US. But there is always hope. As Quixote says after being beaten up for the umpteenth time, "Fortune always leaves one door open in disasters to admit a remedy".
Don Quixote at the Garrick Theatre until 2 February
Watch the trailer to The Man Who Killed Don Quixote
Here for the first time is a whole epic about ordinary human clay
Explore topics
Share this article