Elf, Dominion Theatre review - hit musical revival slays it again |

reviews, news & interviews
Elf, Dominion Theatre review - hit musical revival slays it again
Elf, Dominion Theatre review - hit musical revival slays it again
Buddy the Elf charms everyone on either side of the fourth wall
Saturday, 26 November 2022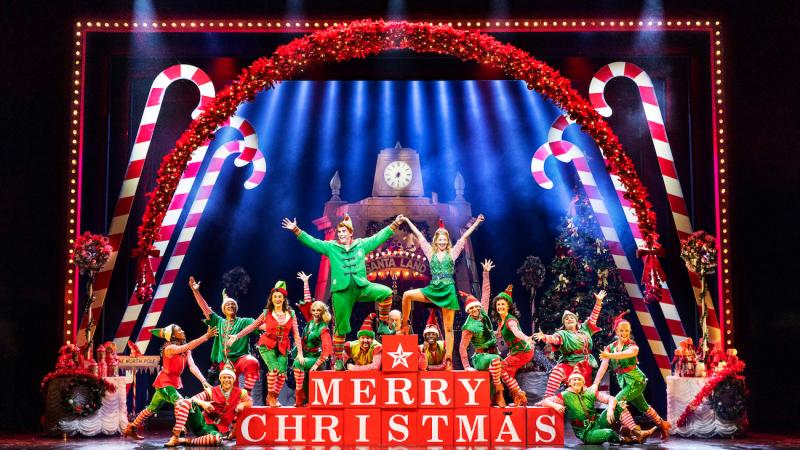 Christmas cheer: the cast of 'Elf'
Just about the three toughest tricks to pull off in the theatre are making a musical, making a family show and making characters so charming that even the most cynical in the house are pulling for the little guy (or not so little in this case). So if it takes the armature of a blockbuster Hollywood movie to buttress the production, who cares?
Back at the Dominion Theatre seven years on from its successful run, Elf spreads the feelgood from stalls to circle with enough warmth to chase any wintry chills away. As with all the best seasonal shows, you know your emotions are being manipulated ruthlessly, you know exactly where the plot is headed at any given time and you know that spreading Christmas cheer takes more than singing loud for all to hear - but, for a couple of hours, you don't really care.
Santa (Nicholas Pound) uses his clunky 2010 technology (because that's when the show opened on Broadway) to tell us the story of Buddy, an orphan who crawled into a spare sack one Christmas Eve night and found himself in Christmas Town, amongst the elves happily working for the Big Man in his toy factory. Pretty soon, despite Chad Beguelin's clever lyrics (with just a hint of Sondheim to please the grown-ups), we're all too aware that any Dickensian social subtext is going to be swerved completely: it's not that kind of show and fair enough.
After the sorts of repeated misunderstandings that delight kids, Buddy finds out why he's different. With merely some cursory directions from Santa, who seems unduly sanguine about the dangers of sending a 30 year-old man who has never so much as seen a woman into Manhattan (ethics again…), our lovable lead is off to find his father.
Dad turns out to be a publisher of the "Bah! Humbug" tendency, a symbol of how the go-getters of New York have neglected the joy of Christmas and made the world a duller place, especially for children. Will Buddy soften his father and bring his newly discovered family together? Will he fire up the Christmas spirit in the Big Apple, the fuel that flies Santa's sleigh? Will he get the girl, the remarkably patient Jovie? Well, what do you think?
But it's great fun getting there. Simon Lipkin (pictured above, second from the right) is all goofy goodness as the elf who offers everyone he meets a therapeutic song. Georgina Castle is perfectly cast as the fast-thawing ice queen, Jovie, who has never seen snow. Naturally, she makes sure that Buddy is one elf who won't be left on the shelf. She nails her "Never Fall In Love (With An Elf)" song, but we've all clocked that the misfit from LA won't be following her own advice with the misfit from the North Pole.
There's super vocal work from Rebecca Lock as Buddy's stepmother and Logan Clark as his tween half-brother, Michael, and real poignancy, too: these two may have all the trappings of wealth but both are lonely until Buddy slathers them in love, his emotional intelligence more than making up for his elfin naivety.
Where Matthew Sklar's score really shines are in the big set piece numbers given old school MGM treatment by director, Philip William McKinley, and his choreographer, Liam Steel. "Sparklejollytwinklejingley" is the standout, showcasing Alan Williams' 15 piece orchestra and an energetic ensemble of dancing shop assistants who turn Macy's Christmas department into a 1950s film set - in technicolor too! Earlier, we have been treated to a proper overture, illustrative of an evening that would mix 21st century video work with 20th century nostalgia.
So, despite the show's roots in a much-loved movie and nods to Hollywood stylings, its best moments are pure musical theatre - preposterous and schlocky for sure, but also delightfully transporting. If the ending is a little too tidy (we never really get into the kind of grit that characterises European fairytales), I left one November day with enough Christmas spirit inside me to fly a sleigh from Tottenham Court Road to Tooting Broadway.