The False Servant, Orange Tree Theatre review - Marivaux's cruel comedy gets a modern spin |

reviews, news & interviews
The False Servant, Orange Tree Theatre review - Marivaux's cruel comedy gets a modern spin
The False Servant, Orange Tree Theatre review - Marivaux's cruel comedy gets a modern spin
An entertaining but not quite convincing makeover for a tricky play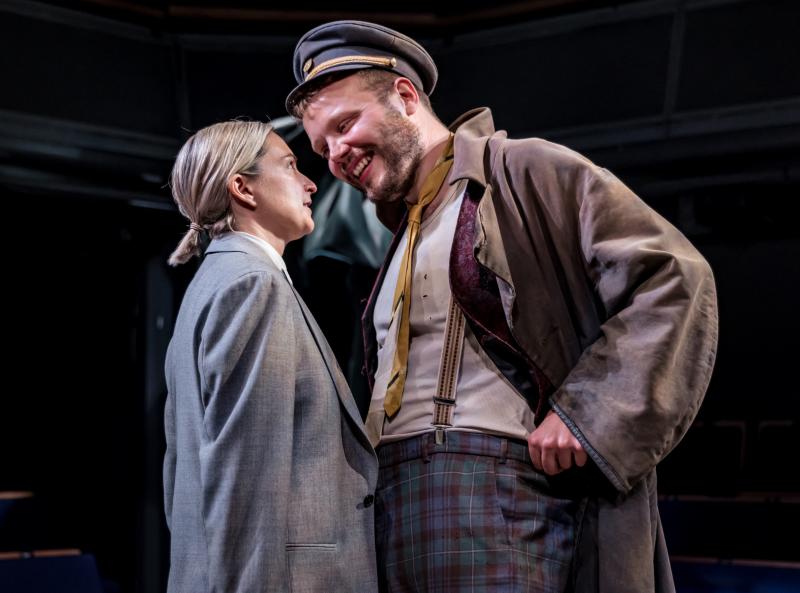 Plot thickeners: Lizzy Watts and Will Brown
There probably isn't a more able translator of vintage drama than Martin Crimp, the playwright whose 2004 version of Pierre Marivaux's 1724 play about deceit, greed and sexual politics has been revived at the enterprising Orange Tree. The finale has been slightly tweaked now, which helps repurpose the play as a work with today's interest in gender fluidity in its sights.
It's also a hall of mirrors that needs a steady directorial hand and superlative performers, and this production succeeds in many respects. Director Paul Miller conveys what we are about to see with a neatly choreographed opening, repeated later in the play, where the whole company enter and weave artfully around each other: an image of the ducking and diving games they will engage in with each other. These games are helped along by the aristocrats' mercenary servants, notably Trivelin (Will Brown), a Falstaffian rogue in a tattered suit whose robustly argued cynicism is oddly refreshing after the verbal feints and parries of his betters. Brown's comic energy is exceptional, and the temperature drops when he's offstage.
The keynote of the drama is dissembling – play-acting, lying, cheating, call it what you will. A female character known only as the Chevalier is posing as a male servant to a fictitious young mistress, who, she claims, wants to test the honesty of her suitor. This wannabe suitor is Lelio (an over-excitable Julian Moore-Cook), an ambitious grasper looking to bag the richest fiancée he can find. He hatches a plot with the Chevalier to get him out of his existing contract with a Countess so he can marry a victim in Paris he's heard about (actually the woman posing as the Chevalier), who has an even bigger fortune .
The Chevalier, meanwhile, charges Trivelin with concealing her female identity; he in turn sets up a side hustle with Lelio's servant Arlequin (Silas Wyatt-Barke), to extort cash from the Chevalier in return for their discretion about her plot, money he will then fail to share with Arlequin. The lower orders are poor and scrap for money for wine and shelter; they make a useful counterpoint to the avarice of the upper classes, whose aim is to buy power – especially over their womenfolk – with their riches.
What makes a man in this world? "Betraying a woman is what makes a man a man," a delighted Lelio is assured by the dissembling Chevalier, her disguise proving ideal ground from which to take potshots at men's heartless behaviour and women's vulnerability in the marital stakes. She has great fun drawing out of Lelio his most toxic instincts and cruel intentions while wooing the Countess herself (for at least three different reasons, I reckoned, by this stage). Only the Countess – a regal turn from Phoebe Pryce – seems to speak with total commitment and honesty throughout. (Pictured above, Phoebe Pryce and Lizzy Watts)

As the Chevalier moves in on the Countess, the plotting becomes dangerously tortuous, and characters have to resort to explaining their actions and motives at length. Crimp injects welcome flashes of wit, even a menstruation joke, into the long stretches of dialogue, and fast pacing hurries the plot along (before we forget it?). But it also hustles along the resolution of the drama, a wordless moment between the Countess and the Chevalier that wasn't in Crimp's 2004 version but is key to this production's broader intentions. Here it seems to come too abruptly.
For its force to be felt and for the bond between the Countess and the Chevalier to transcend all the game-playing, a slower run-up to this crux is required. Lizzy Watts is a dynamic Chevalier with live-wire reactions and accent shifts as her disguises demand, but to create a convincing chemistry with the Countess she needs more time to work from inside the character rather than serving as a traffic cop for all the drama's antics. It's an entertaining but slightly frustrating production.
Crimp injects welcome flashes of wit, even a menstruation joke, into the long stretches of dialogue
rating
Explore topics
Share this article