The Flea, The Yard Theatre review - biting satire fails to sting |

reviews, news & interviews
The Flea, The Yard Theatre review - biting satire fails to sting
The Flea, The Yard Theatre review - biting satire fails to sting
Victorian scandal meets Ziggy Stardust with a little panto stirred in for flavour
Thursday, 19 October 2023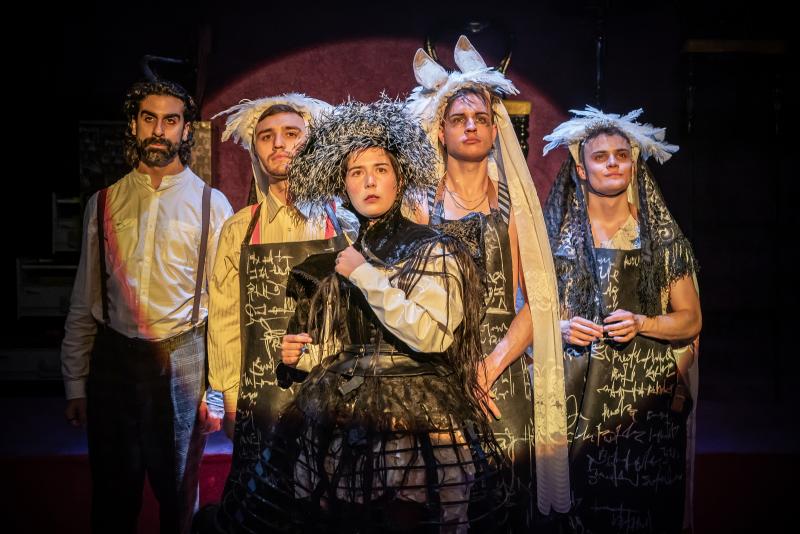 Jump to it: the ensemble of 'The Flea'
A flea bites a rat which spooks a horse which kicks a man and… an empire falls?
James Fritz has won writing awards already in his developing career, but he has set himself quite the challenge to weave a thread that can bear that narrative weight. Two and a half hours later in this retelling of the late 19th-century Cleveland Street scandal, the empire survives, the fall guy takes the inevitable tumble and we're a little punchdrunk. Here is a play that beats you up with its sheer volume of artistic choices but also dips into stretches of unnecessary exposition that drain energy away: there's a better 100 minutes show inside the 120 minutes one we see.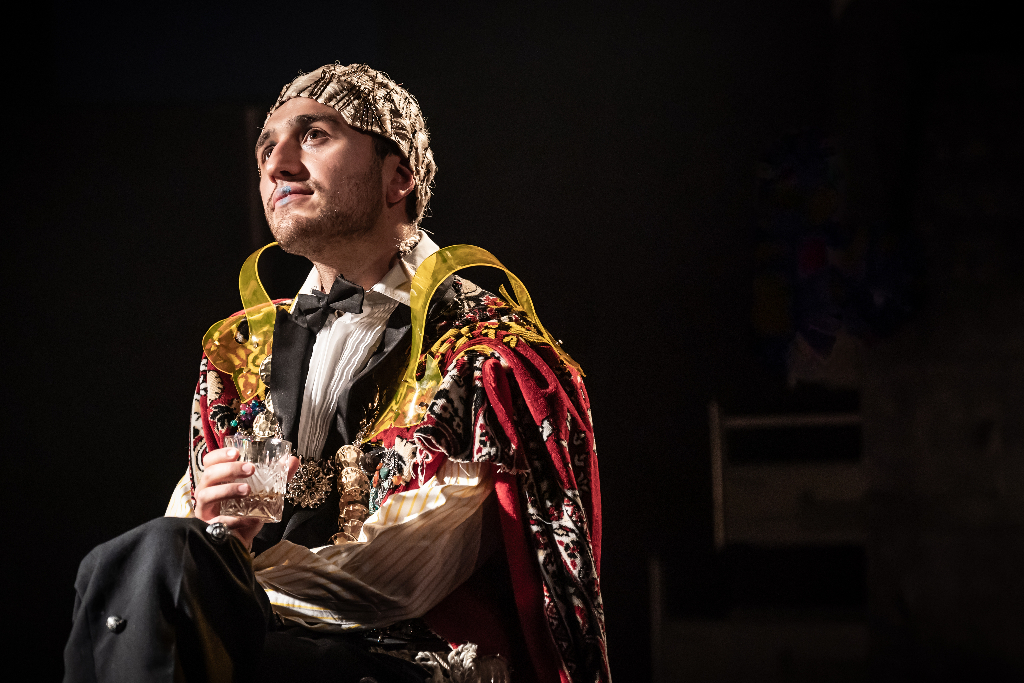 Up front, we're told the tale is at the same time partly true, a little bit true and untrue - so licence is assumed and taken. An Eastender seamstress, Emily, is our narrator, fearful of the recent crimes of, wait for it, Jack the Ripper (what would the English theatre have done without him?) and suddenly thrown into abject poverty by the death of her husband at the end of the flea, rat, horse conveyor belt of pain. Her son, naive teen Charlie, soon supplements his meagre pay as a telegram delivery lad with some freelance rent boy work in an upscale brothel in Fitzrovia, servicing the aristocracy's illegal pleasures. The transgressive toffs number members of the House of Lords and, maybe, residents of Buckingham Palace itself.
Off we go on a rollercoaster ride taking in social issues, allusions to present day scandals (one in particular) and a pantomime vibe that indebted in varying degrees to Ken Campbell, Sir John Tenniel and Ziggy Stardust. Such is the chaotic strength of designer Naomi Kuyck-Cohen and Lambdog1066's trash aesthetic that it threatens to overwhelm the story and it's a relief as well as a delight to enjoy the best scene in the play when Queen Victoria - splendidly borrowing from Cruella de Vil's wardrobe - has a Scrooge and Marley like conversation with God and sees the risk she runs with her hands-off approach to the scandalous behaviour of her grandson. For once, there isn't a crazy costume, funny accent or clumsy caricature to distract us from the dialogue.
Somehow, this satirical swipe at sexual shenanigans (more accurately, the response to them) from the gutters of Bermondsey to the drawing rooms of palaces is told by just five actors, quick-changing from one role to the next in a bravura display of instant characterisation.
It's all held together by Norah Lopez Holden, a little locked into highly functonal parts as the loving, if pragmatic, mother and narrator, but let loose as the Queen to tremendous comic effect. Sonny Poon Tip (pictured above) and Connor Finch take up far too much time as a pair of gay gentry, but fare better as an enthusiastic bobby and and a strutting procurer of boys for the secret Fitzrovia establishment. Scott Karim has fun with his no-nonsense detective and Séamus McLean Ross channels his inner Steven Berkoff as Bertie, Prince of Wales.

Despite director, Jay Miller's best efforts, there's just too much of everything careering around the stage for the satire to strike home with the appropriate venom. The tone lurches from one scene to the next, targets (oppression of gay men and sex workers, politicians' indifference to poverty, the aristocracy protecting its own, amongst many) appear in the crosshairs and then disappear just as swiftly, and there's all that recalibrating we have to do when an actor returns, wearing a different jacket and playing a different role. Ambition ultimately drowns out intention.
There's good stuff to be found for sure, but rather like a Victorian novel, this play presents as a sprawl when it should be presenting a scalpel.
Targets appear in the crosshairs and then disappear just as swiftly
rating
Explore topics
Share this article