Jeanie O'Hare: 'The play taught me how European we really are' |

reviews, news & interviews
Jeanie O'Hare: 'The play taught me how European we really are'
Jeanie O'Hare: 'The play taught me how European we really are'
The playwright introduces 'Queen Margaret', her new play for the Royal Exchange, Manchester
Thursday, 13 September 2018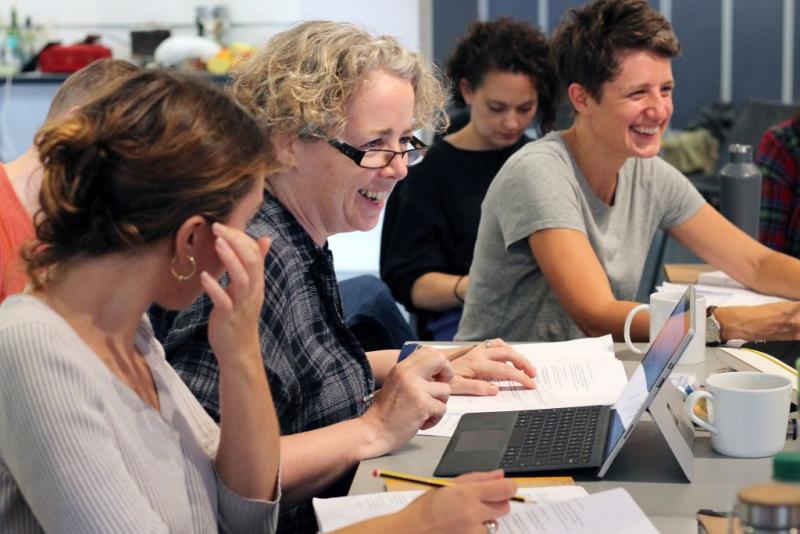 The past made present: Jeanie O'Hare (centre) in rehearsals for 'Queen Margaret'
I admit it took me a while to give myself permission to do this project. We English are very squeamish about altering Shakespeare. Our cousins in Germany thrive on radical undoings of our scared son, but we cross our arms and say no.
I started thinking about making this play when I was at the RSC ten years ago. Queen Margaret, aka Margaret of Anjou and wife to Henry VI, thumped me in the heart as I watched Katy Stephens's peformance in Michael Boyd's History Cycle (the three Henry VI plays and Richard III). She then nagged at me every day as I nodded to the enormous photo of Peggy Ashcroft in full battledress in the reception of the RSC's London offices. If I did what I wanted to do, some people would get upset – we know who they are – and there wasn't an anticipated slur that didn't curdle my blood at 4 am for many a night.
But still the idea wouldn't go away. Permission came from knowing that this was already a collaboration. Marlowe is probably in there and possibly other hands, too. To join the collaboration was surely not a crime. Then Manchester's Royal Exchange offered me a commission, and at last the opportunity to put this idea to the test had arrived.
For me, Queen Margaret is the history play that has been there in plain sight for four hundred years. Shakespeare wrote more lines for her than he did for King Lear but because they are scattered across four plays, three of which are rarely done, she remains largely unknown. She ruled England for over twenty years but hardly a soul has heard of her. She is too important a role to be left unperformed or, perhaps even worse, left in tatters yet again in yet another boys-own edit of the Wars of the Roses. (Pictured above: Jade Anouka, centre, rehearsing the title role, flanked by Elizabeth Freestone and O'Hare, the play's director and writer.)
When I started, I had a series of scenes but not a play. My approach was in part that of a jeweller, creating a setting for the precious stones that were the set piece scenes: the throne room, the killing of York, the death of the prince. To create this setting and allow the scenes to deliver their full emotional kick and consequence, I had to create supporting material. I gave myself three rules: to use only words that were available to Shakespeare, use only images from his vast image bank, and explore only themes that he explored. Nothing contemporary would be imposed on the play.
The way I have written it is to trust the human body in the same way that Shakespeare did
So to write this additional material, the question of verse inevitably came up. Surely I was not going to write in iambic pentameter? The answer is yes and no. The way I have written it is to trust the human body in the same way that Shakespeare did. So an iamb is the beatg of the human heart (du-dum, du-dum), and the five double beats in a line are what you can comfortably say on one lungful of air. The pentameter is Shakespeare's heart at rest. When he gets excited or sad or aroused, he disrupts the rhythm of what he says, exactly as we do in everyday speech. We naturally talk in an underlying rough pentameter in the English language. We naturally break it when we shout or cry or when our breathing and heartbeat are disrupted by love.
The other thing (which, if I am honest, it hurt to do) was to take out all the "forsooths" and "thees" and "thous". Often these are filler words used when Shakespeare is slavishly tryng to make up the right number of syllables for a line. If you strip the text of this layer of clutter, the modernity of what is left is striking. Then adding in new text is still daunting – but less impossible.
The Wars of the Roses fundamentally represents a clash of families (Game of Thrones' Starks and Lannisters are based closely on the Houses of York and Lancaster), so I needed to find out what family background Margaret was bringing to this fight. Her grandmother was Yolanda of Aragon, the patron of Joan of Arc and the mother-in-law of the French king. Yolanda had political reacha cross all of France and knew how to wield power. As a result, Margaret would have grown up witnessing political machinations, thinking about Joan morning, noon and night, and understanding how symbolism and divine right are central to monarchy. Yolanda also belonged to a tradition of women warriors of France, Eleanor of Aquitaine chief amongst them – a warrior queen also married to an English king.
When we began rehearsing a two-hour play about the civil war in England, the Brexit parallels jumped out. The Cade Rebellion and Shakespeare's canny exploration of how elites use populism to gain power are starkly relevant to the here and now. The play also taught me a lot about how European we really are. We have been a little bit French since that bloke from Normandy conquered us in 1066. Our kings had French as their mother tongue for generations. Writing in September 2018, with political chaos all around us, I am struck by the idea that we have decided our future whilst not really understanding our past.