Legally Blonde, Regent's Park Open Air Theatre review - a joyous Gen-Z musical makeover |

reviews, news & interviews
Legally Blonde, Regent's Park Open Air Theatre review - a joyous Gen-Z musical makeover
Legally Blonde, Regent's Park Open Air Theatre review - a joyous Gen-Z musical makeover
Lucy Moss puts the 'camp' into campus with her riotous, inclusive revival
Pretty in pink: Courtney Cowman (centre) and ensemble in 'Legally Blonde'
The 2001 Reese Witherspoon-starring film Legally Blonde, upon which Heather Hach, Laurence O'Keefe and Nell Benjamin's peppy Broadway musical is based, was something of a Trojan horse: a bubblegum-pink comedy with a feminist spine.
Now Lucy Moss, co-creator of the juggernaut Six, updates it further with progressive casting choices and a winning kitsch stylisation in this joyous 21st century revival. Malibu princess Elle Woods (Courtney Bowman) has it all: president of her sorority at UCLA, and on the cusp of getting engaged to her dream man, Warner Huntington III (Alistair Toovey). But instead of proposing, Warner breaks up with her. He wants someone serious – a Jackie, not a Marilyn. Elle decides to prove herself by joining him at Harvard Law School, where she's befriended by teaching assistant Emmett (Michael Ahomka-Lindsay, pictured below with Bowman). A splashy murder trial proves decisive, as Elle finds her own path to success.
Yes, much of the plotting is enjoyable nonsense; it's certainly not beholden to actual legal proceedings. But amidst its heightened tone and giddy gags are extremely pertinent points about how we judge on appearances, whether it's dismissing women who proudly own their femininity, or discriminate based on race, sexuality or gender identity. Moss leans into that messaging with her utopian ensemble, which features a joyful range of ethnicities, body types and queer performers.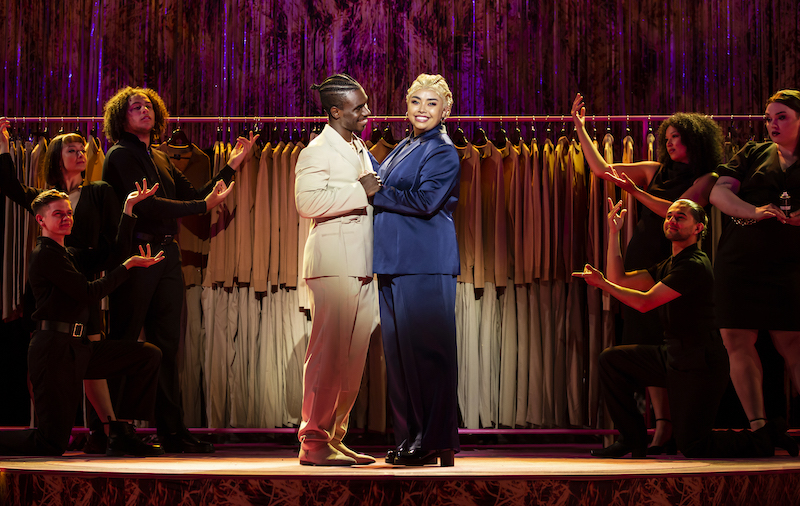 The most notable casting is that of Bowman as Elle – the first actress of colour to play the role (Sheridan Smith helmed the original West End production). It makes absolute sense: of course it's not just skinny white women who get the "dumb blonde" tag or are otherwise mocked or dismissed. The charismatic Bowman is absolutely believable as a Gen-Z, social media-conquering it girl, who nevertheless has a kind heart and a surprising aptitude for the law. The show never undermines Elle. Instead, it gives us a gentle reproach for prejudging her.
But Bowman, who was a kickass queen in Moss's Six, is perhaps too confident from the off. The celebratory "You go girl" approach means we lose some of Elle's journey from that fish-out-water awkwardness through real vulnerability to a woman who owns her power. She's so strong delivering the cartoonish comic beats, belting out the jaunty pop score and delivering Ellen Kane's funky girl band-style dance moves that it's hard to see much struggle. Her sorority sisters acting as a fantasy "Greek chorus" (geddit?) just fires her up more.
However, she has a lovely connection with the excellent Michael Ahomka-Lindsay as Emmett. Again the casting of an acting of colour gives new meaning to the character, a striver from a tough background. Would it take more than Elle's fashion makeover for him to overcome workplace discrimination? Of course. But don't think about that too carefully – just enjoy the hilarious ode to department stores and a hint of romance in the air. What is that exactly, wonders Emmett. "Subtext, by Calvin Klein," purrs a salesperson.
Legally Blonde is chock-full of brilliant jokes like that, which makes it frustrating that the sound balance is off: the orchestra too often drowns out the lyrics. Although that's not a problem for the dynamite Nadine Higgin (pictured right) as Elle's beautician pal Paulette. She has a whopping voice and spectacular timing, turning the musical's most bonkers concept – Paulette believes Ireland is a romantic wonderland – into a comic showstopper.
As murder suspect and fitness guru Brooke, Lauren Drew leads a skilful, excitingly risky skipping rope-based routine, while Toovey is appropriately self-involved as Warner and Vanessa Fisher gives his new squeeze Vivienne a kickass redemption. Another Moss masterstroke is having actors play the dogs; Liam McEvoy supplies insouciant silent comedy throughout. There's plenty of wit too in Jean Chan's vivid costumes, which place the pink-clad Elle in the midst of gloomily earth-toned Harvard students.
Effective updates include contemporary references to the likes of Khloe Kardashian, Timothée Chalamet and Instagram, plus tweaks to the script like Elle saying the famous "bend and snap" seduction works on bi and straight men, rather than just the latter. A number pondering whether a witness is "gay or European" is the biggest tonal high-wire act, but Moss gets it absolutely right: the joke is on the questioners, and ultimately the scene is a celebration of gay love, glittering with rainbow lights. Elle, as warmly embodied by Bowman, also stresses the need for supportive sisterhood and being true to yourself – messaging that we could all take to heart. Another triumphant musical reinvention at the Park.