Les Misérables, Sondheim Theatre review - join in our crusade |

reviews, news & interviews
Les Misérables, Sondheim Theatre review - join in our crusade
Les Misérables, Sondheim Theatre review - join in our crusade
New blood courses through the West End's longest-running musical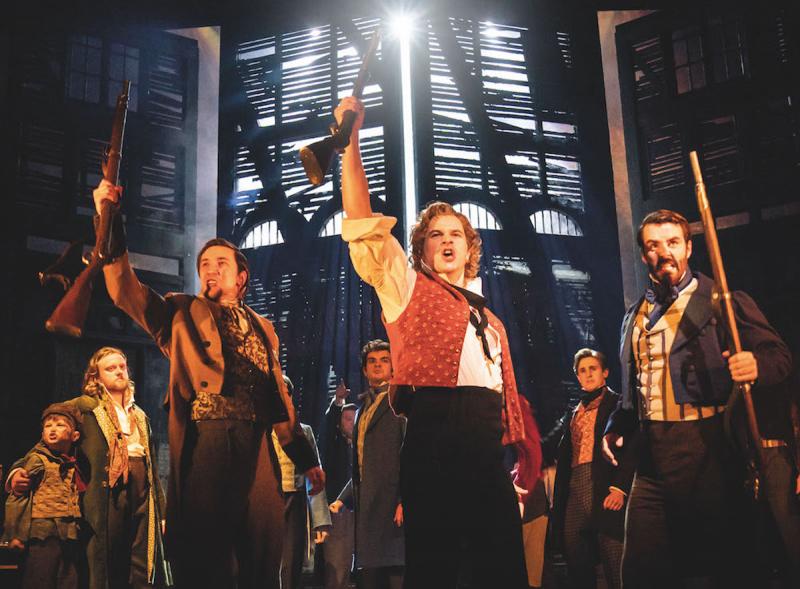 Arise ye workers: Ashley Gilmour and the cast of 'Les Misérables'.
Do you hear the people sing? In recent months, you're more likely to have heard news stories about the longest running West End musical than the actual music. Stephen Sondheim – who celebrates his 90th birthday in March – missed the gala opening of the venue which has been renamed after him (formerly the Queen's), due to a fall – and some Les Mis singers have been pulling out as rapidly as champagne corks. At one point, Matt Lucas stepped in as a substitute, only to fall sick himself. Celebrity gossip aside, producer Cameron Mackintosh dumped the legendary Trevor Nunn and John Caird production last year and it is a new version that officially opens the Sondheim theatre this week.
At first all this seems like a mismatch: surely there's a clash between the cool sophistication of Sondheim's best work, such as Company or Sunday in the Park with George (which is on its way to the West End in May, along with mega-star Jake Gyllenhaal), and the more blatant on-the-nose emotion-stirring grandeur of Claude-Michel Schönberg and Alain Boublil's heroic adaptation of the Victor Hugo classic? But maybe not. It doesn't take long for such niggles to be quashed: the new theatre looks fabulous. It has had a massive makeover, with three-quarters of the structure and plasterwork brand new, and the sensitively restored decoration dances with more nymphs and cherubs than ever, all hugged together with Regency-style wallpaper. This ambiance suits the time period of the Les Mis story perfectly. The revamped theatre is full of wow, and tasteful with it.
And it's an ideal setting for a production that proclaims, in one of its most famous numbers, "One Day More" – clearly Cam Mac expects at least one decade more. And why not? The new updated production was originally developed in 2009 for the 25th Anniversary tour, and now takes up residence, perhaps permanently, on Shaftesbury Avenue. The first thing that strikes the avid Les Mis fan is the absence of the legendary revolving stage, a key part of the visual pleasure of John Napier's original design, and the fact that new set by Matt Kinley is more abstract, less cluttered and more reliant – especially in the brilliant sewer scene in the second half – on video imagery, some of it inspired by Hugo's own impressionistic art.
For anyone new to the story, which was broadcast on BBC a year ago, the epic historical tale is set in France in the 1820s and 1830s and concerns a titanic struggle between Jean Valjean (convict made good) and Javert (vengeful cop). At one point Valjean sacks the doomed Fantine, then repents by taking charge of her infant daughter Cosette, who later falls in love with Marius, a student caught up in the equally doomed 1832 Paris uprising. The original music has a broad symphonic sweep which emphases passionate feelings, idealistic radical aspirations and a heartful of big emotions. But as well as the heat of love and revolt there are darker themes: sexual harassment, violence, poverty, prostitution, single motherhood and disease.
As co-directed by James Powell and Laurence Connor, this version is extremely nimble, with rapid and seamless scene changes and propulsive storytelling. It also has a welcome darkness which dispels any traces of emotional saccharine. The most spectacular moments are the arrival of the barricades in a blaze of light and the ensuing and fearsome battle, which has searchlight effects reminiscent of world war one. Here Paule Constable's lighting is a thrilling accompaniment to the soaring romance of the music. Likewise, the grim scene on the bridge as Javert admits defeat is wonderfully realized. By contrast, the initial arrival of the tiny Cosette – dwarfed by her trademark broom – is beautifully sweet, while the simplicity of the tiny lights for the melancholy "Empty Chairs at Empty Tables" is suitably moving.
The music, in all its pomp and glory, depends on good work from a mere 14 musicians, conducted by Steve Moss. The two main singers, Bradley Jaden's Javert (pictured above) and Jon Robyns's Jean Valjean, are both fervent and soaring, while also giving their characters the necessary shades of psychological complexity to balance the more overt emotionality of some of the others. I think they deliver the key numbers – "Who Am I?" and "Soliloquy" – with exceptional power, and with a satisfying sense of the dramatic. In comparison, Carrie Hope Fletcher's Fantine and Lily Kerhoas's Cosette seem less confident, with the former more at home with a rasp of despair than in her character's sad lyricism.
For the more comic scenes, Ian Hughes's Thénardier and Josefina Gabrielle's Madame Thénardier are, as so often, highpoints in the evening's entertainment, a welcome contrast to the more sombre passages. "Master of the House" is huge fun, although the show's "Lovely Ladies" may be a bit too obviously vulgar for some tastes. As for the rest, there are stand out performances by Ashley Gilmour as the student reveolutionary leader, especially in the reliably exciting "Red and Black" sequence, while Shan Ako comes into her own by giving Eponine's "On My Own" an uplifting touch of gospel and soul. All of the big ensemble numbers march straight up to you, and some of them are still able to milk the tear ducts.
At the end of the day, you can either hate the bombast of the music or thrill to its open-souled and self-sacrificing idealism. It barely needs to be said that the picture that this musical paints of the poor echoes sights you can see in the streets every day, and so there is little point in denying its political punch. It's one of those shows where you can feel just how much people want to pay tribute to its sense of social justice. At the same time, Hugo's Roman Catholicism soaks the whole enterprise with a constant dew of guilt and redemption, and the finale – when the dead walk again with the living – is almost, if not quite, spoilt by the line about love being the only way to see the face of God. But never mind. As that other French anthem has it, march on, march on...
Subscribe to theartsdesk.com
Thank you for continuing to read our work on theartsdesk.com. For unlimited access to every article in its entirety, including our archive of more than 10,000 pieces, we're asking for £3.95 per month or £30 per year. We feel it's a very good deal, and hope you do too.
To take an annual subscription now simply click here.
And if you're looking for that extra gift for a friend or family member, why not treat them to a theartsdesk.com gift subscription?