Little Light, Orange Tree Theatre |

reviews, news & interviews
Little Light, Orange Tree Theatre
Little Light, Orange Tree Theatre
Tragic loss devastates in Alice Birch's gut punch of a play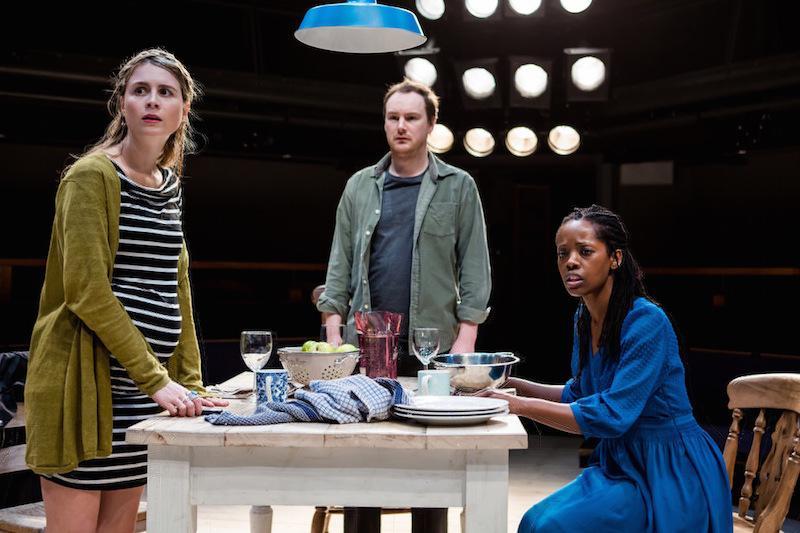 Lorna Brown, Paul Rattray and Yolanda Kettle experience the Sunday lunch from hell
The Orange Tree's renaissance continues with this searing piece from playwright of the moment Alice Birch, who will shortly follow up last year's subversive Revolt. She Said. Revolt Again with an interrogation of the porn industry for Rufus Norris's debut National season. Her fearlessness is also in evidence in deceptive early work Little Light, an initially typical domestic drama that furiously erupts in a bruising, bravura 90 minutes.
The beachside converted barn of Teddy (Paul Rattray) and Alison (Lorna Brown) is the setting for an annual Sunday lunch ruled by ritual, but this year is different: Alison's pregnant sister Clarissa (Yolanda Kettle) has brought an interloper. Jocular Simon (Paul Hickey, pictured below with Kettle and Brown) is bewildered by the bitter reminiscences and loaded, increasingly unhinged traditions, but his clumsy attempts at mediation only hasten a shattering showdown. Grief is pervasive, and nostalgia a menacing force.
This real-time, novelistic work, rich in detail and churning subtext, luxuriates a little too long in its lyrical set-up, and the symbolism – from driving rain to questionable pie fillings – could be subtler. But Birch strikingly mixes styles by taking to powerful extremes recognisable tropes like dysfunctional sibling rivalry, the alienation of a newcomer, and the potent hold the past can have on the present. David Mercatali's meaty production compellingly juxtaposes dark comedy, creeping horror and eloquent drama, with a good assist from Max Pappenheim's haunting soundscape. So visceral is its evocation that the family's trauma becomes a fifth character.
Birch has declared that there are echoes of her own complex sisterly relationship in Little Light. While one hopes it's nowhere near this destructive, the catalogue of past sins recounted by the prickly pair, from petty to momentous, is savagely candid and extremely well observed. Brown's Alison vents her frustration at being the 'good' older sibling, spitting venom at comparatively indulged Clarissa as she picks over long-held resentments. Kettle, in turn, beautifully communicates the agony of being trapped in this purgatory – each "Do you remember?" cuts deeper for the guilt-stricken former free spirit, who hoped her new life with Simon would prove commitment to change. Her stark, climactic confession, which casts Alison's accusations of destructiveness in a new light, is well earned and memorably affecting.
While misery fuels Alison, it drains Teddy, who is crippled by insomnia and migraines. This dazed zombie state is decently rendered by Rattray, though both character and performance could do with further development. More effective is Hickey's moment of aching vulnerability as, in response to Alison's refusal to relinquish her pain, surgeon Simon admits that his clinical detachment isn't quite so invulnerable.
Similarly, tenderness gradually emerges in this gruelling, confrontational work, although the abrupt end refuses easy resolution. A necessarily difficult watch, but in giving absence such an indelible presence, Birch has touched upon something profound.
So visceral is its evocation that the family's trauma becomes a fifth character
rating
Explore topics
Share this article