little scratch, Hampstead Downstairs review - a maverick director surpasses herself |

reviews, news & interviews
little scratch, Hampstead Downstairs review - a maverick director surpasses herself
little scratch, Hampstead Downstairs review - a maverick director surpasses herself
Katie Mitchell hits a new career high
Fightback: the ensemble of 'little scratch'
Katie Mitchell's desire to bust the boundaries of theatre has taken a brilliant turn. Over her long and distinguished career as a director she has been tirelessly inventive, injecting stylised movement into Greek tragedy, projecting film onto giant screens of the actors onstage, slicing a set into three time zones.
To tackle a formally bold novel, Rebecca Watson's recent
little scratch
, Mitchell and her
adaptor
, Miriam Battye, have fashioned something equally inventive that works perfectly in the small Downstairs space at the
Hampstead
.
Watson's novel offers a day in the head of a young woman who is hiding the fact she has been raped. We follow the woman's turmoil as she goes through the motions of a "normal" day — getting ready for work, commuting, killing time at the office, the scene of her assault. Her distraction technique is to scratch herself until she bleeds. Her words are spilled onto the page in clusters and fragments, with lines spaced to convey long pauses, as her mind tries to marshall swirls of half-formed emotions and dodge the triggers that will bring her trauma rushing terrifyingly back. Running in bold down the righthand side of the page are snippets of the external voices she hears — her colleagues, an automatic phone message, a decree from the HR department at her work.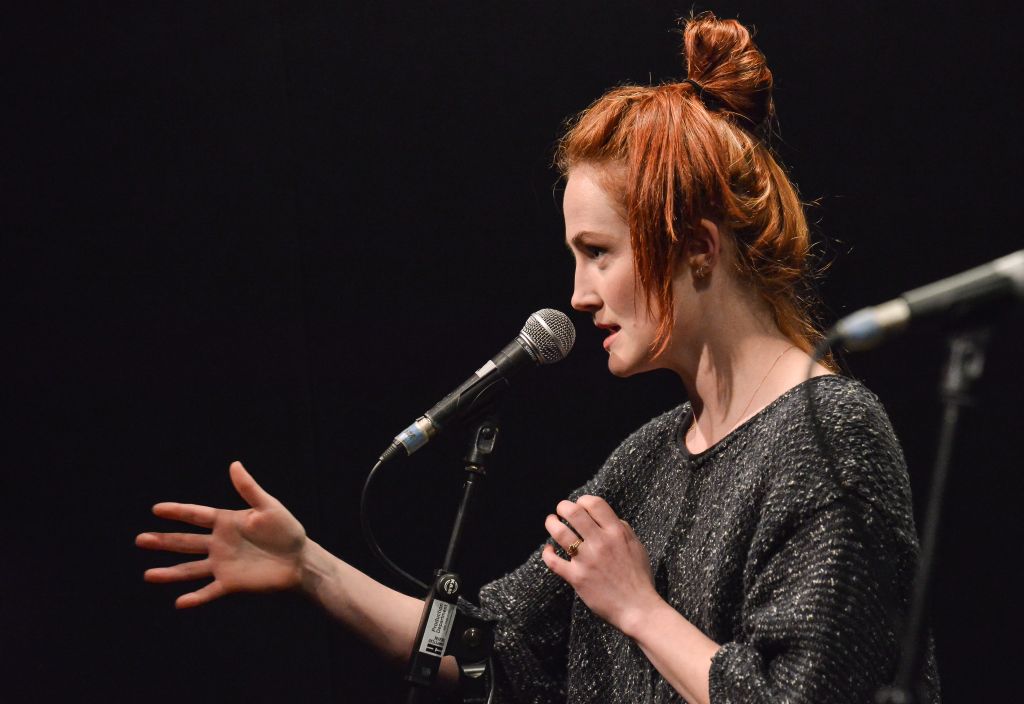 Mitchell's coup is to assign these stuttering thoughts to four speakers, who stand at mics facing the audience and, with extraordinary skill and control, create a barrage of word-flak: sometimes fluent passages, more often staccato bursts as the woman's mind questions itself relentlessly. Eve Ponsonby (pictured above) is the one whose utterances seem to be closest to the surface of the woman's consciousness; Eleanor Henderson duets with her as a voice of much less certainty, a querying echo; Moronke Akinola is the most rational, almost brusque at times as she tries to skate over the woman's trauma; and Ragevan Vasan is a puckish commentator, as well as taking the male "roles" in the story — the woman's colleagues and her boyfriend.
It's a sort of staged radio play, except that description isn't quite fair. Like radio performers, the actors come equipped with props for doing their own sound effects, raking a big clothes brush to simulate teeth-cleaning, slugging glasses of water when the character drinks. But when all four pick up a prop and start using it, you realise they are performing a kind of verbal string quartet, the lines of the "score" weaving in and out, ducking and diving, rarely in unison, like a passage of experimental music. And actually witnessing it onstage is more potent than simply listening to a recording. The actors are superb, compelling us to try to fashion a coherent picture out of the fragments that are delivered.
A fifth character must be mentioned: the sound design by Melanie Wilson and team. This takes us, from the very first minute, to a space we can't quite identify, where an otherworldly hum is slowly penetrated by not-quite-normal sounds such as a distorted phone alarm. As we move through the character's day, this soundscape ebbs and flows, conveying the heightened danger of her relived trauma, the sinister tone of the rapist, the cooing of a naff poetry reading to which her boyfriend takes her.
Miraculously, this is an evening punctuated by humour and wit and in no way an unrelieved litany of intense pain and anxiety. The woman we are living inside is convincingly real, and her stumbles and fumbles all too familiar. It's a world where bored shop assistants watch Dr Pimplepopper on their phones, and the crunching of salt and vinegar Hula Hoops is a pleasure. For the woman, this world is a safer space, where she hopes her scab-picking will cease to be a metaphor. "I'll be me! Unraped, almost…" Such a profoundly sad line. But the audience is left not weighed down by misery but buoyed up by anger and sympathy, armed for a fightback.
Read more theatre reviews on theartsdesk
This is in no way an unrelieved litany of intense pain
rating
Share this article