Little Women The Musical, Park Theatre review - broad brush comedy redeemed by a talented cast |

reviews, news & interviews
Little Women The Musical, Park Theatre review - broad brush comedy redeemed by a talented cast
Little Women The Musical, Park Theatre review - broad brush comedy redeemed by a talented cast
Musical adaptation of Louisa May Alcott classic is enjoyable but undemanding
A room of one's own: Lydia White as Jo, struggling to become a writer
Louisa May Alcott did not think she could write a successful book for girls. After her publisher suggested this might be the right way to deploy her talents, she declared to a friend, "I could not write a girls' story knowing little about any but my own sisters and always preferring boys".
Yet as Greta Gerwig's extraordinarily successful film adaptation (the book's seventh) proved in 2019, Alcott's thinly veiled depiction of her family life during the American Civil War would light up imaginations for centuries. The vivacious musical version of the book now playing at the Park Theatre was first developed in America in 2000, and swings into North London with a talented upbeat cast.
This isn't a particularly subtle rendering of the book. When Jo describes the manuscripts that are being rejected by different publishers we're definitely in comedy melodrama territory, and the sisters – especially Meg (Hana Ichijo) and Amy – are depicted as types rather than evolving characters. The brisk pace also means that dramatic tension can be sacrificed so that it can feel from time to time as if we're watching Little Women by numbers.
All that said there are still elements to enjoy in Bronagh Lagan's production not least because of some excellent performances. Lydia White's Jo has a grit and dignity that brings credibility to the story of her struggles as an author while Anastasia Martin's Beth (picture below, above right) manages to convey both substance and pathos. When she declares 'We grow up too fast' we sense the vast reservoirs of emotion beneath the statement.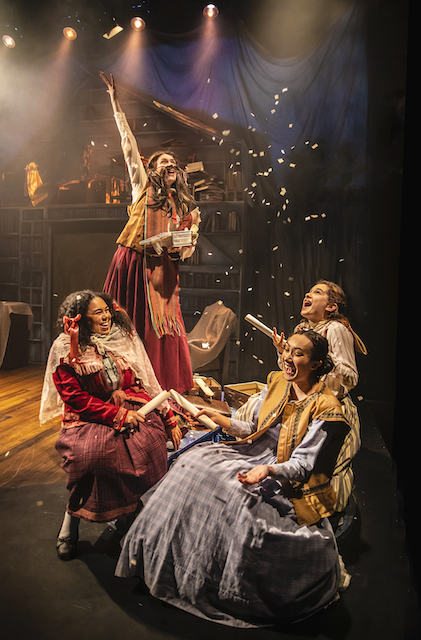 The singing and the music – directed by Leo Munby – is punchy and enjoyable. The string quartet delivers all the requisite va-va-voom to Howland's numbers, while White and Martin again stand out as performers. Savannah Stevenson distinguishes herself too as a dynamic "Marmee", keeping order while simultaneously demonstrating the same urgent curiosity as her daughters for how to make the most out of their lives.
While the comedy is broad brush it generally hits the mark. Mary Moore's Amy is an exuberant comedian, and this is particularly on display in the scene when she reveals to Jo that she is married to Jo's best friend from childhood, Laurie. As Laurie, Sev Keoshgerian could probably do with a little more assurance, but he has a warm and accomplished singing voice and a likeable stage presence.
Though it's not as pronounced as in Gerwig's film, the question runs throughout the musical about women and the economic power they may or may not gain through marriage. Thanks to White's gutsy impassioned engagement with her role we do feel invested in how she is allowed to mark out her future. As her love interest, the German Professor Bhaer, Ryan Bennett brings both gravitas and humour to proceedings. However Allan Knee's script doesn't give him much to work with, so at the same time as we see him spark Jo to greater endeavours it's difficult to appreciate the full extent of the chemistry between them.
Against Nik Corrall's attractive design – dominated by a bookcase full of pale blue books with gilded spines downstairs and Jo's attic upstairs – the action whirls past so that the two hours and forty minutes seem to disappear reasonably effortlessly. A slightly clunky device linking Beth's departing soul with a kite disappearing into the clouds mars the ending a little. Still, if you're looking for something pleasant and undemanding that will introduce you to young actors who you will definitely be seeing in the future, this is the production for you. If, however, you want an interpretation of the book that is simultaneously of our time and faithful to the original, then you should probably seek out Gerwig's film.