Mad House, Ambassadors Theatre review - David Harbour is magnificent in Theresa Rebeck's family drama |

reviews, news & interviews
Mad House, Ambassadors Theatre review - David Harbour is magnificent in Theresa Rebeck's family drama
Mad House, Ambassadors Theatre review - David Harbour is magnificent in Theresa Rebeck's family drama
Bravado support from a cantankerous Bill Pullman practically steals the show
A rare wry moment: Bill Pullman, as Daniel, left with David Harbour, as Michael
For sheer extremes of family dysfunction Theresa Rebeck's Mad House must be aiming to set new records in American drama. The latest in a line that stretches back to Eugene O'Neill, the plentiful other contenders that have appeared over the decades mean that it's become a crowded field but, on the cantankerous patriarch front at least, Bill Pullman's performance as Daniel, Rebeck's cussed paterfamilias, trumps most of its predecessors for sheer malevolence.
And Pullman surely knows it, the wicked glint in his eye that he directs out at the audience as the curtain goes up confirming that, and more. Daniel may be in the last stages of emphysema, but his provocateur malice remains undiminished, the target to hand being his son Michael (David Harbour, magnificent), whose proffered bowl of soup he has just dashed to the floor. Michael manages a degree of sanguine endurance – "energetically interested in inflicting pain" is his verdict on his dad – even while the old man sparkles with delight as he remembers the misery he inflicted on his late wife, whose catholic certainties on the sanctity of marriage meant that she endured it through to her recent bitter end.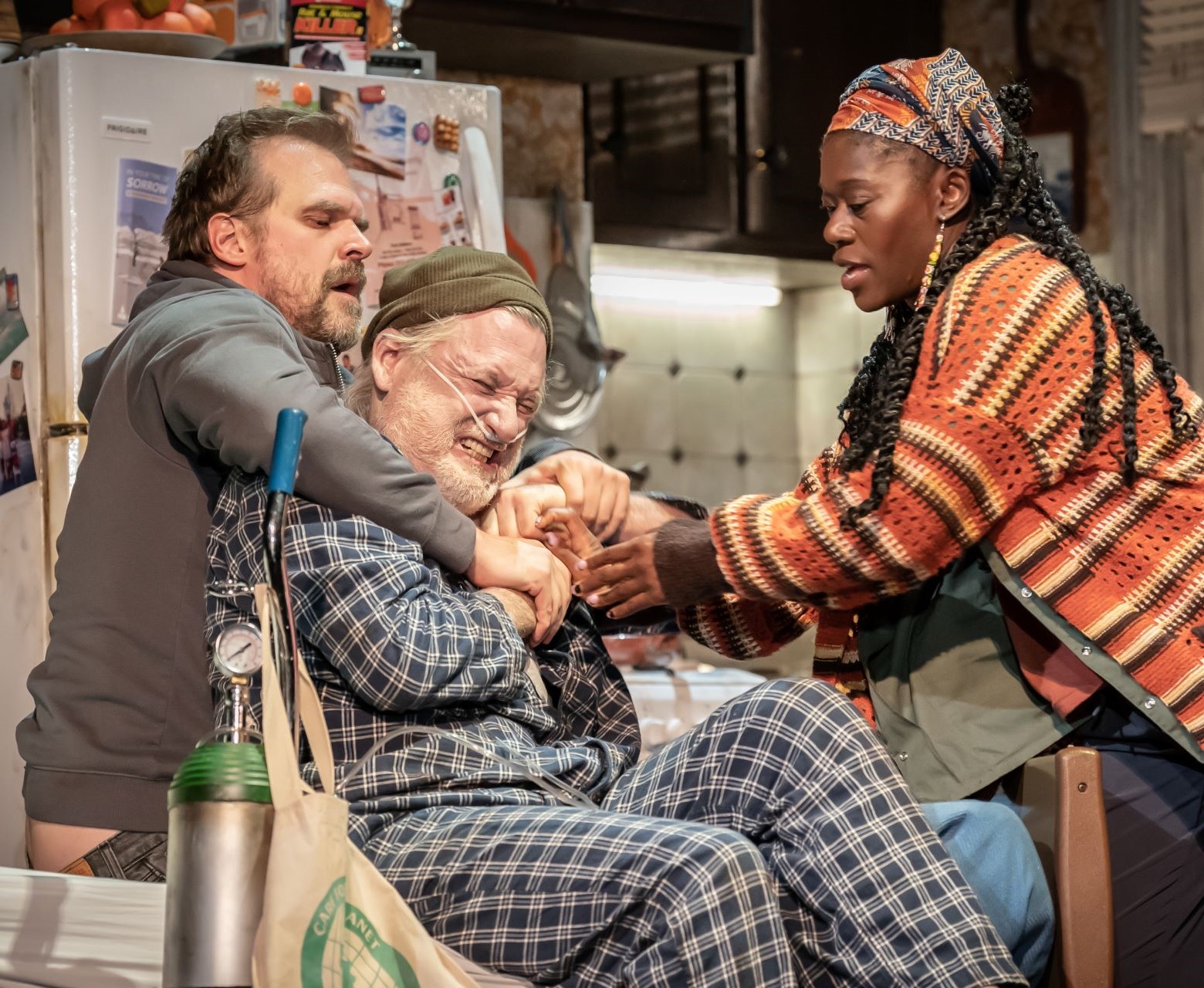 This acid father and son dynamic is at the heart of Rebeck's new play, which receives its world premiere at the Ambassadors in a nimble production from Moritz von Stuelpnagel. Their complicated, strangely symbiotic relationship develops through its first half, and somehow remains dominant even as the supporting characters appear, first hospice nurse Lillian (Akiya Henry), then Michael's brother Nedward (Stephen Wight) and sister Pam (Sinead Matthews). Inheritance issues are a staple of the American family drama, and they duly come to the fore after the interval, but what really complicates this sibling bond is the troubled Michael's history of mental health issues, including the time that he spent in a lunatic asylum and the repercussions that had for, and on other family members. (Pictured above, David Harbour, Bill Pullman and Akiya Henry)
Rebeck created her two main characters at least partly with these actors in mind (especially Harbour as Michael, she has said), but her treatment of each of them is significantly different, which leaves Mad House hovering somewhere between tragedy and tragic farce. It's a shortcoming that we learn nothing of what made the dreadful Daniel what he is, while the room for development the play gives him is equally minimal, the role relying on Pullman's bravado performance. His son suggests he's like a character out of a Russian novel, but his unremitting nastiness could as well be appropriated from Steptoe and Son, which was duly remade for American television as Sanford and Son, the result seasoned with a touch of Frasier.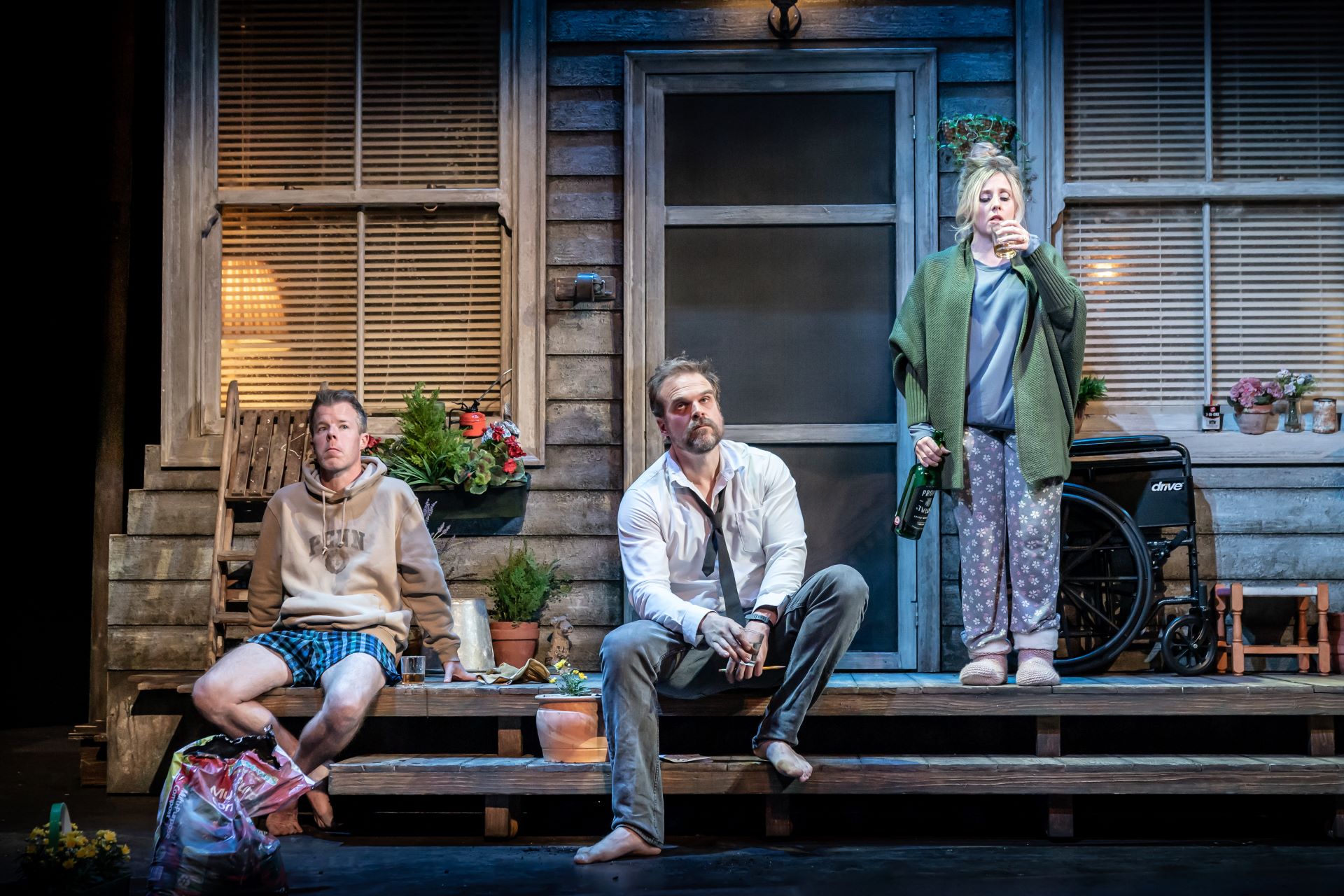 Michael is another matter entirely, this giant of a man wearied by looking after his father ("He murders hope"), whose long vowels of exasperation are nevertheless tempered by a restraint of delivery, a quality of inner decency. Rebeck leaves aspects of his past life unresolved, too – notably just how he went from past professional prosperity to a Pennsylvania asylum – but the Stranger Things star's presence is so considerable that such concerns disappear. A foil for Daniel's narky, almost Trumpian wryness, there's a huge hurt in Michael, a bruising of the ego that's ameliorated only by his unforgiving sense of the macabre (he announces Lillian as the "death nurse").
Michael's openness stands out, too, against the falsity of his siblings, with brother Nedward epitomising the shallow slightness of American society, that default capitalist world in which there's "never enough money": it's there in how he patronises Lillian as a hireling menial, denying her the dignity which she more than manifests in her dealings with the other two men (she responds with a suck-teeth hiss of contempt). Sister Pam manages to be even worse, showing a self-centred malice that readily resorts to deceit, not to mention casual cruelty (pictured above, Stephen Wight, David Harbour and Sinead Matthews). The two roles feel underwritten, any deeper motivations left largely unexplored, though Rebeck's evident skill in crafting the dramatic moment compensates.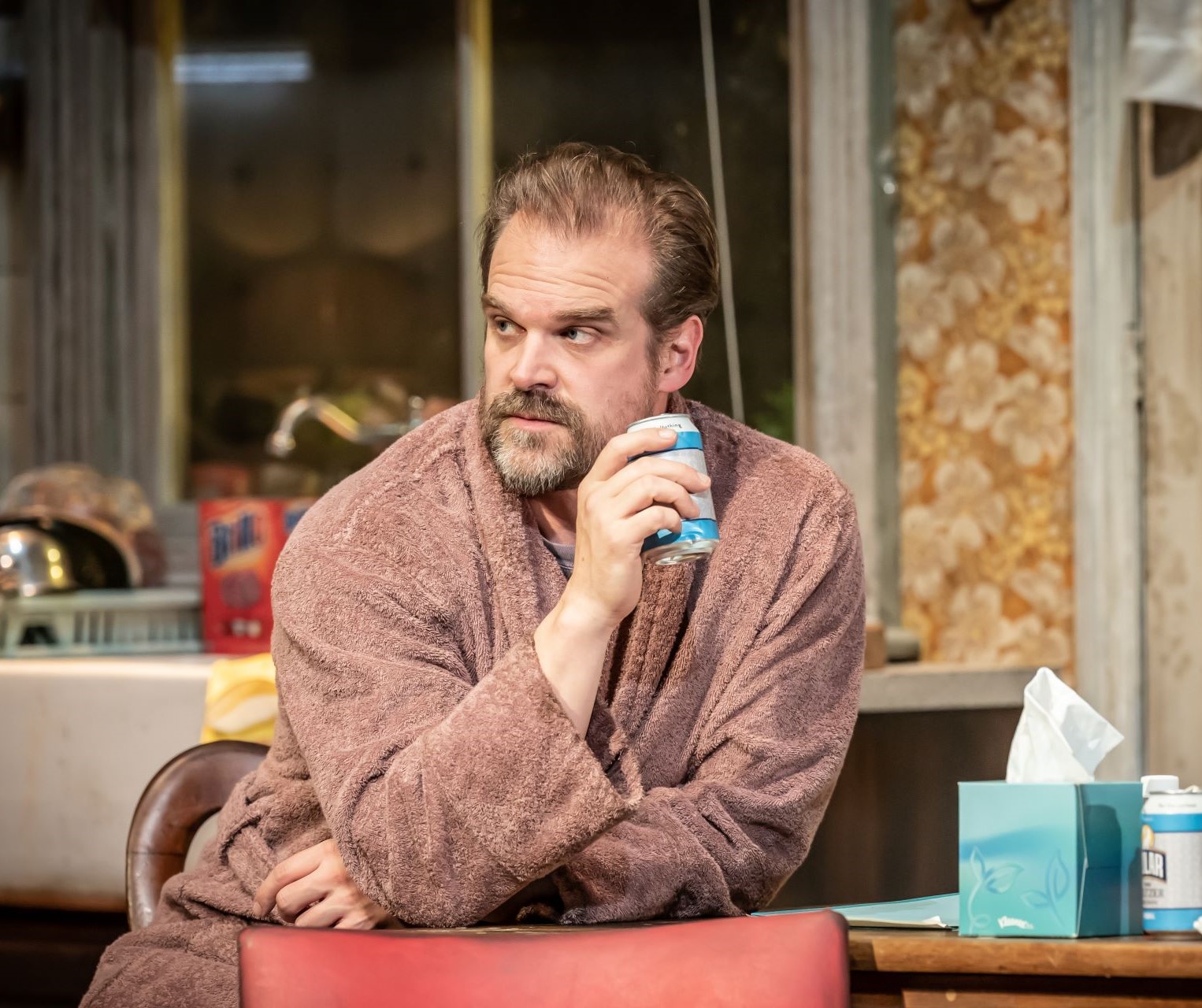 This is writing that feels engrossing in the moment, but less significant once that moment has passed, and Moritz von Stuelpnagel's direction is correspondingly polished. Frankie Bradshaw's design somehow achieves more potency, using the stage revolve to move from the frayed kitchen interior of this sometime family home to its no less distressed porch, making palpable the decay of a place that may once have known love but where now only bitterness and desperation remain. In Pullman's performance Rebeck's play certainly lives up to its title, even if "Sad House" could have been as appropriate given its wider nuances (hardly a worse title to get audiences through the door, though). Yet there's a contradiction: this may be a play which leaves the depths unplumbed, but the character of Michael has a complexity that endures, like a pearl glowing out of the tart material that embeds it. It's a memorable vehicle for David Harbour's talent, and that is a compelling reason in itself to see this show.
This is writing that feels engrossing in the moment, but less significant once that moment has passed
rating
Share this article