Mother Courage, Southwark Playhouse review - this production is not one for our times |

reviews, news & interviews
Mother Courage, Southwark Playhouse review - this production is not one for our times
Mother Courage, Southwark Playhouse review - this production is not one for our times
Uninspired treatment of Brecht's 1939 antiwar tract
Thursday, 09 November 2017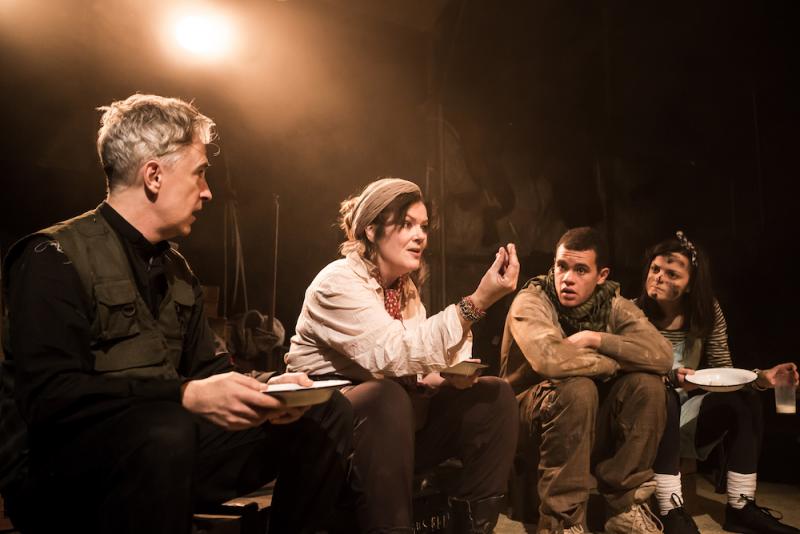 Mother Courage: 'Honour's lost, but what's that?'
One of the questions that can be asked of Brecht is whether for a modern audience his Verfremdungseffekt — or alienation effect — still works as intended, provoking genuine reflections on justice by distancing audiences from emotional entanglement with the characters. At a time when verbatim and community theatre is accomplishing just that with exactitude and force, it appears that inducing audiences to think morally is most effective when delivered in unexpected ways. Deeply though Brecht's work may have influenced these pieces, audiences' capacity for surprise remains a good indicator of how prepared they are to think seriously about the issues presented on stage.
So as a predictable production hampered by awkward staging, director Hannah Chissick's Mother Courage and her Children at Southwark Playhouse is a thin, diluted appeal against war when it could be an excoriation of the tiny moments of self-interest that together become a flood of inhumanity. The Donmar's recent staging of Brecht's The Resistible Rise of Arturo Ui brought us a scalding satire of the Trump administration, but this production has little to say beyond the obvious. When jaunty slapstick both draws attention to atrocities and salves desperation with humour we're already conditioned to watch from a distance, and the dull irony of mournful lyrics is sung to an upbeat score (Mother Courage is studded with songs), what we're left with is mild criticism of the unspeakable.
Barney George's designs suggest generically modish war and speak more of theatrical convention than either fealty to Brecht's original setting during the 30 Years' War or modern contemporary events. The choice of a traverse stage (admittedly thoroughly Brechtian) turns action into a back and forth catwalk, which as a comment on the tedium of violence is fair but makes for awkward viewing. Costumes of a boho-military rags and shawl confection are neither of the 17th century, nor of the present conflicts wracking Syria, Myanmar, Yemen and Central African Republic (among others). It all lacks relevance. It all lacks bite.
One thing this production occasionally does well is women and war. As Mother Courage, Josie Lawrence (pictured above) implies the cause of her daughter's muteness was the result of the sexual violence routinely inflicted on women of all ages in war: "When she was little a soldier stuffed something in her mouth." Her own bawds with the Cook, played by Ben Fox, about the harmonica — "Maybe later, if the mood strikes me, I might play a snatch" — are the product of a cynicism that is both protection and genuine flirtation. (The translation is by Pulitzer winner Tony Kushner.) And if in the contradictions and incongruities of Yvette (played with aplomb by Laura Checkley, pictured below) and Mother Courage's exchanges we hear echoes reminiscent of real women's experiences in war, we should give credit. Notable, too, are Shiv Jalota's appearances at the beginning of each half as a child playing war with military toys: a reminder of generations terrifyingly inured and deeply traumatised.
Among an otherwise uninspired staging, the death of Mother Courage's daughter Kattrin (Phoebe Vigor) carries a moral force beyond the production's limitations. Having scaled a ladder to view the Imperial forces massing against the unsuspecting city of Halle, she strikes a drum to warn the city of its peril. Spotlights pick her out as if against a horizon or pinned in military floodlight; soldiers mass round the base of the house. Through design or vigour, the drum skin breaks and she continues hitting the torn plastic, before desperation reduces her to repeatedly smashing the metal rim against the A-frame.
More soldiers arrive. Kattrin's clang grates: it is urgent and desperate. They fetch a gun. Her martyr's tattoo continues regardless above the heads of actors and audience alike. They shoot. She falls. The Farmer who at the soldiers' command has been chopping wood in an attempt to cover the noise catches her tragic corpse — stiff, dead. It is a secular pietà, a powerful tableau. But we do not read in Kattrin's death the victims of today's wars. Sure, we see the innocents of other plays — Lavinia, Cordelia, Iphigenia: women sacrificed to others' needs or the exigencies of circumstance — but we do not think of the bloody conflicts and vast human tragedies unfolding right now.
It is why this production of Mother Courage is not one for our times — because if this is the closest you've come to the complexities and ambivalences of war, you've not been paying attention.
One thing this production occasionally does well is women and war
rating
Share this article