Raya, Hampstead Downstairs review - a richly fraught reunion |

reviews, news & interviews
Raya, Hampstead Downstairs review - a richly fraught reunion
Raya, Hampstead Downstairs review - a richly fraught reunion
Deborah Bruce's play puts multiple topics on the table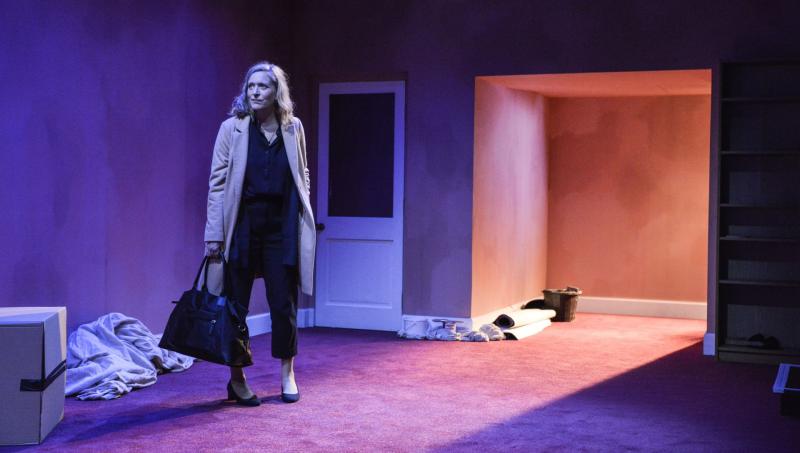 Reunion: Claire Price as Alex in 'Raya'
Thirty years on, Alex and Jason meet at a university reunion and cab it back to Jason's old student house where Alex is thinking "probably…" and Jason is thinking "probably not…" - each, it turns out, with good reason. We look on as the clumsy fumblings of youth get replaced with the anxious fumblings of middle age, two temporal spaces coming together in one room.
Deborah Bruce's new play for the Hampstead Downstairs eschews the opportunity to take potshots at her generation (no "OK boomer" vibe here) and instead treats seriously a collection of issues that will have said boomers nodding inwardly. Some are in the "first world" category - AirBnB'ing the property portfolio, the realisation that you will never be happier than your least happy child, time stretching out with insufficient pleasures to fill it. Others, such as the physical and psychological impact of the menopause, are more whispered about than talked about, even today. There are probably too many of them for a zippy 80 minute, interval-free production, but were this a pilot for a six-parter, I'd be tuning in to see what happens next.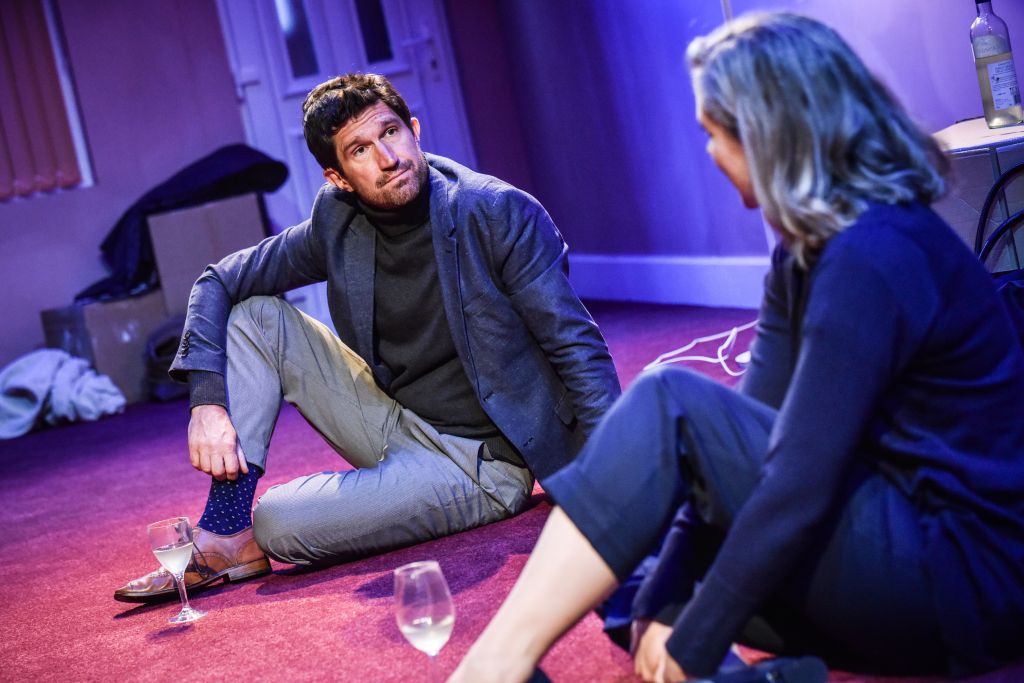 Claire Price invests Alex with a sensible veneer that doesn't need much to creak and crack as life changes tilt her already shaky equilibrium this way and that. Her self-esteem is crumbling in the face of hot flushes and unpredictable tears and her memory is splintering to the extent that she's almost gaslighting herself with narratives that may or may not be true. Too much is sliding through her fingers.
It was the stories of Philip K Dick that first suggested to me that the baggage we carry round inside our heads does not comprise sturdy crates of Ikea standard utility but more a mercury-like liquid that slithers and spills and can be shaped by the vessels in which we try to contain it - poisonous too if you're not careful. Alex and Jason were both there at the time, but the same events now occupy very different spaces in the lives they have constructed in the 30 years that have elapsed. In their own ways, both are right, but neither agrees with the other.
Bo Poraj's Jason (pictured above left, with Claire Price) is all self-satisfaction, but there's a hint or two that things are perhaps a bit too comfortable, a bit too concealed. It grows on us that his memory is pricking him with the need to fence some of it away, to bottle it up. There's nice work in typical male responses to awkward questions - the look at the floor, the jaunty get-out-of-jail-free card of having to be there for the kids if there's a proposal that might fracture the carapace of incipient complacency. The director Roxana Silbert, who runs the Hampstead, does a fine job addressing the nuances of what lies below the surface of a successful man finding himself increasingly adrift.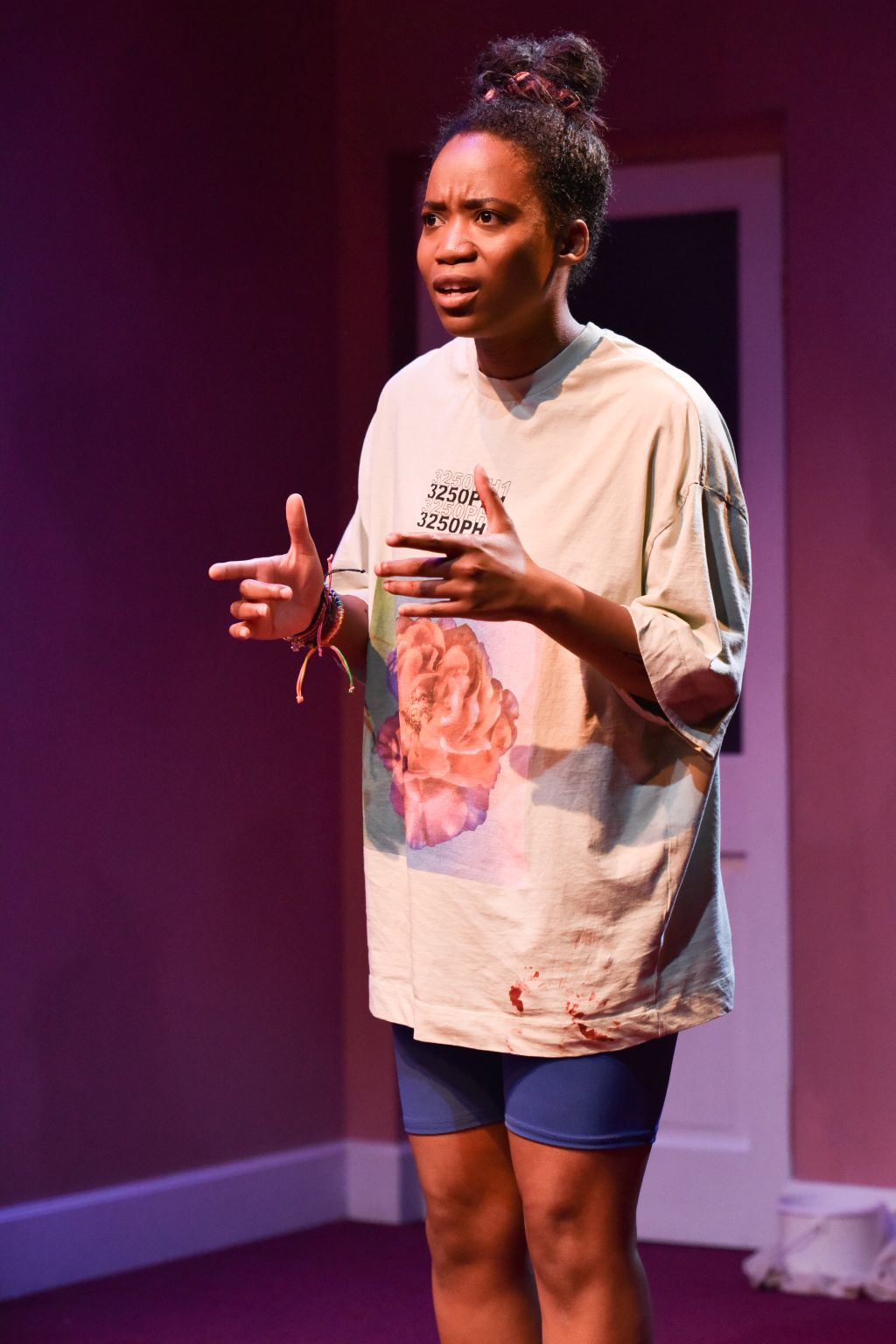 Shannon Hayes' Alannah (pictured right) is the grit in the oyster, the millennial crashing in her old student digs whose relationship with the eponymous Raya goes much further than that of tenant and landlady. Not only does Alannah allow a much-needed younger perspective on life in 2021, but she also shows how the misapprehensions and miscommunications of the 1990s are replicating themselves in the technology of the 2020s - we're still believing what we want (or need) to believe and still not connecting as often as we should.
Bruce's play is doing too much (some huge issues are introduced and left behind in a single breath) but a surfeit of ambition is not the worst problem for a playwright. She also remembers that characters come before issues and, rarely for a narrative that is not afraid of emotional highs and lows, I seldom found myself wondering if a person would really say that. Even the occasional raised eyebrow is resolved in a closing scene that may divide audiences. This reviewer found the play's finish very satisfactory indeed.
Were this a pilot for a six-parter, I'd be tuning in to see what happens next
rating
Share this article