Robert Hastie: 'a seam of love runs through the play' - interview |

reviews, news & interviews
Robert Hastie: 'a seam of love runs through the play' - interview
Robert Hastie: 'a seam of love runs through the play' - interview
The director talks about Macbeth in the candle-lit Sam Wanamaker Playhouse, cross-gender casting and the director's role
Entering the dark: Robert Hastie discusses the role of Lady Macbeth with Michelle Terry
Robert Hastie is a little late for our meeting. Directing Shakespeare's darkest tragedy in London while also running Sheffield Theatres must sometimes cause a logjam of simultaneous demands, but whatever the morning's problem in the north of England, he remains smiling, relaxed, thoughtful and gracious during a break from rehearsals.
Hastie (pictured below right © James Stewart) began as an actor. After reading English at Cambridge he won a scholarship to RADA, benefitting, he says, from a small window when the course led to a degree and there was still funding available. He was in the same class – starting in the week of 9/11 – as another recent graduate, Michelle Terry, now Artistic Director of Shakespeare's Globe. They remained friends and two years ago Hastie directed a revelatory production of Henry V at Regent's Park Open Air Theatre in which Terry played the king (pictured below left © Johan Persson).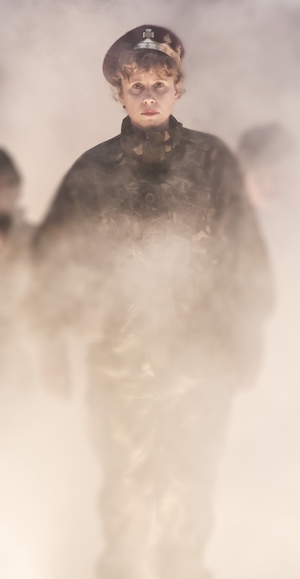 It is a mere seven years since Hastie's directing career began – surprisingly – in Westminster Abbey. In 2011, as part of 66, the Bush Theatre's mammoth celebration of the 400th anniversary of the King James Bible, he directed Simon Russell Beale and Geoffrey Streatfeild in Henry IV's death scene in the Jerusalem Chamber, the room where the real king died in 1413 and, later, committees worked on the 1611 Bible. The following year Hastie won praise for his revival of John McGrath's 1966 play about National Service, Events While Guarding the Bofors Gun, at the Finborough Theatre, and his course was set. A stint as Associate Director at the Donmar followed, during which his production of Kevin Elyot's My Night with Reg transferred to the West End. Elyot's play, like Peter Gill's The York Realist, which he directed in a Donmar-Sheffield co-production earlier this year to great acclaim, are both close to his heart. Hastie's production of Hugh Whitemore's Breaking the Code (pictured below left, Daniel Rigby as Alan Turing © Richard Davenport) won best production in the 2016 Manchester Theatre Awards and last year he succeeded Daniel Evans as artistic director of Sheffield Theatres.
There were early signs of Hastie's enthusiasm for theatre, encouraged by teachers – he name-checks them with affection – Ms Powell and Mrs Mack at Scarborough College. He was an usher at the Stephen Joseph Theatre in his holidays and first appeared on stage there, as a schoolboy in Forty Years On. Shakespeare has always fascinated him and he began his tenure at Sheffield with Julius Caesar.
And now, here he is opening Macbeth, with real-life husband and wife Paul Ready and Michelle Terry playing the bloody couple, in the candle-lit space of the Sam Wanamaker Playhouse.
HEATHER NEILL; Macbeth feels made for this theatre, doesn't it?
ROBERT HASTIE: Yes – it does feel it's been waiting for it. Macbeth is very much about darkness and light and we are making use of what the theatre gives us: if ever there was a play to be lit by candlelight, it's this one. A candle can be a warm, cosy, comforting thing or it can suddenly seem very fragile and precious and solitary. I enjoy making and seeing work where you are in the same room as the actor and performances are thrown into three dimensions. And certainly the Macbeths I've seen that I've enjoyed most have been in smaller spaces.
Have you chosen to set the production in period or given it modern political resonance?
Inevitably politics resonate, but we are not locating it, as in Henry V, very clearly in the here and now. The marriage of play and theatre is more interesting, the theatre being a psychological space, a place where you are inside the actors', the characters' heads. There is no need for parallels; there has never been a time in the past 400 years when Macbeth has not felt relevant – sadly.
Macbeth has its challenges and a reputation for being hard to pull off. Is that justified?
I imagine there are as many mediocre productions of Hamlet as there are of Macbeth, but I suppose because of the subject matter it feels that a doom attaches to it. But that's great! What you try to do with every play is approach it as if you've never come across it before and the invitation to do that is even stronger and more imperative.
Clearly additions were made after Macbeth was first presented in the open air theatre. Are you including, for instance, the Hecate scenes?
No. And which scene is by Shakespeare, which by Middleton, which by someone else, I'm not too fussed about.
Is it easier – or more difficult – for two actors who happen to be married to play the Macbeths?
You don't need to be married to play a married couple, obviously, but if you are it would be impossible not to look at the relationship, at least in part, with an awareness of your own. One thing – and I don't know if this is to do with their relationship or if we'd have discovered it with two different actors – but there's a seam of love that runs through the play. Macbeth absolutely does what he does for her. As for Lady Macbeth, we've been less interested in a Machiavellian strategist and more in two people who want something very deeply for themselves and for each other. Macbeth is a very deep and complex thinker. Thought is such an important, recurring motif in the play, you need an actor like Paul Ready, who can make thought visible. And what I love about working with Michelle is that she constantly surprises me. But what the Macbeths do and go through is very extreme and we've been very clear, the three of us, when to put that relationship down at the end of rehearsals. However, there's not much a two-year-old can't distract you from! [Ready and Terry's daughter is almost two.]
The Macbeths have previously discussed him becoming king, haven't they?
It's hard to see it as a completely new idea to them. It is one of the questions Shakespeare forces you to think about: exactly what have they talked about? I've not done a Shakespeare play in which so many important conversations are alluded to that we don't see. Usually you can trust that if you say the lines that's the information the audience, and you as an actor, need. But here there is so much that feels it needs agreement between the actors as to what their relationship has been. It is an explicit invitation to imagine those missing conversations. For instance, there is a baby mentioned, but Macbeth has no children. It's impossible not to wonder, impossible not to discuss what has happened and the way events have affected the people we see in the play, and we've found it helpful to make private decisions about what's happened to the child.
How are the Witches, the Weird Sisters, presented in your production?
We talked a lot about what we find frightening about the supernatural and how ordinary the Witches are, their mundanity. When we first see them they just seem to be making an arrangement to meet. What's odd about it to an audience steeped in blank verse is that the rhythm is all wrong at the top of the play, in the same sort of metre as nursery rhymes and incantations. It's followed by that extraordinary scene with Duncan and the bleeding captain which is full of hyperbole, rich, purple language about "unseaming from the nave to the chops", "Bellona's bridegroom" etc, gods and monsters language. Then you jump back to the Witches and they recount a petty story about a woman who had some chestnuts and refused to share, so they plan to mess up her day. They can't kill anyone: her husband's boat can be "tempest-toss'd", but it can't be lost. There's something about the limits of their power, the human pettiness, the spite of it, which is disturbing.
How have you cast them?
They are played by a different combination of the company each night. The method of assigning the Witches' roles is evolving, but what we do want, whether we share it with an audience or not, is for it to have a sense of ritual. There are only ten in the company, so there is doubling throughout anyway. Only Paul Ready plays one role.
How does cross-gender casting fit with the important theme of masculinity, what it is to be a man?
We discussed whether we should change the pronouns for Macduff [played by Anna-Maria Nabirye ] but we opted not to for that very reason. We've decided to trust to the audience's imagination to accept that Macduff is a man. From the first performances of these plays audiences have accepted that one gender can play another. In the case of Henry V it was very easy because a person walks out on to the stage and literally says: "think when we say a thing is this that it is", full stop. You can create great moments of theatre that go with the grain of the play as written but open up all sorts of possibilities and sometimes that means choosing to change a character's gender, as we did in Julius Caesar. Phyllida Lloyd put it brilliantly: these plays might prove to be the greatest dramatic achievement in human history, and, while we understand why at the moment of their creation they were man-heavy, four centuries on it's not good enough to restrict half the population to 15 per cent of the cast.
Do the Porter's references to the aftermath of the Gunpowder Plot need to be updated?
It seems to bear the hallmarks of an actor who was allowed to go off script. You sometimes see a stand-up routine but we've not done that. We've decided to stick to what's on the page and enjoy the fact that it's a character who's enjoying his own language. It's a really clear play. There's very little language that hasn't survived, that isn't comprehensible in the 21st century. The Porter is an exception, but it's such a brief moment that I think there's something enjoyable about being at sea for a moment with a character who's cheering himself up on a dark, cold night.
How would you describe the director's job? Does it help to have been an actor?
It varies from project to project. I have enormous admiration for people who, through application and achievement, have evolved a process which yields results for them every time, but I'm a long way off it! The way that we've been working on this production is to acknowledge that we have a host of people all of whom have creative intelligences and instincts. The conversation that dictates production tends to be one between the writer and the director – even and especially if the writer is dead. Having been an actor, I think the conversation that runs deepest and lasts longest is that between the writer and the actor. The way we've been working allows a greater balance in the volume of those conversations. It makes sense for someone to stand outside what we are doing, guide the people who can't tell what it looks like from within, but it's a living art form. It only happens in the moment and the moment will change night to night.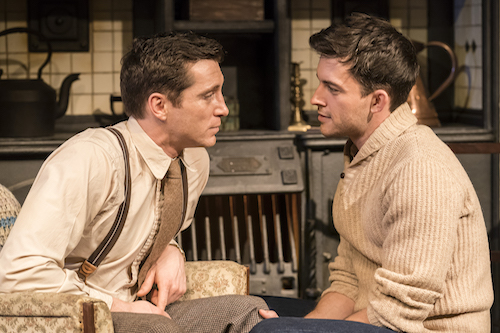 Did you particularly enjoy directing Peter Gill's The York Realist?
Peter Gill is one of the finest playwrights working today. It's astonishing that he was part of a generation that transformed British theatre – and is still writing. He will resist any speculation that The York Realist (pictured above, Ben Batt and Jonathan Bailey in The York Realist © Johan Persson) is autobiographical, but it's certainly about a young assistant director who went to work on the York Mystery Plays, which is something that Peter himself did in the 1960s. There is no indication, however, that John in the play has been an actor whereas that is how Peter started. He's a wonderful writer and director, his love of actors and acting is crystal clear in his work and I find that very inspiring.
How have you found working at the Globe?
It's a very happy place, a nice corrective to a play that is not awash with happiness. The Playhouse looks old, but it's a new build and doesn't yet have its own ghosts; we are providing our own with this play!
From the first performances of these plays audiences have accepted that one gender can play another
Explore topics
Share this article