Romeo and Juliet, National Theatre online review - a triumphant hybrid
Romeo and Juliet, National Theatre online review - a triumphant hybrid
Simon Godwin's debut film is part dressed-down rehearsal, part cinematic flourish
Jessie Buckley and Josh O'Connor in the wedding scene
Shakespeare's enduring tale of star-crossed lovers is especially pertinent in a pandemic. The fatal plot twist depends on failed communication during an outbreak of pestilence, and one of the most famous lines is Mercutio's heartfelt, "A plague on both your houses" – clearly no idle curse.
Written a couple of years after plague had closed theatres in 1593 (when
Shakespeare
turned to writing poetry) that undercurrent must have been all too real for the first audiences. It resonates still.
After the technical panache of the recent Manchester Palace version and before the Globe presents its production postponed from last summer, the National Theatre has come up with a surprising, sure-footed hybrid. The "two hours' traffic of our stage", originally planned for the Lyttelton, has become 90 helter-skelter minutes on screen, neither conventional movie nor filmed stage production.
In the opening scene, the actors gather on the empty Lyttelton stage as if for the first day of rehearsals and listen quietly while Lucian Msamati speaks the Prologue like a director explaining the plot. Soon a fight begins, intense but with play swords. In no time, knives flash and blood flows. From the start, here is the blending of real life into theatre-play and then into emotionally and physically gripping storytelling. The whole production allows the audience to share the actors' journey into the imaginary world of the play, as if we can see the bare bones of the making of theatrical experience while simultaneously losing ourselves in it.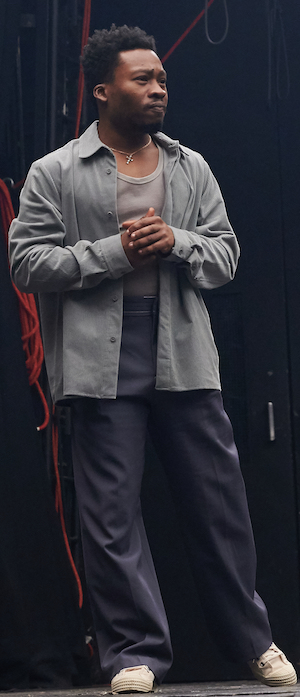 Simon Godwin, now Artistic Director of the Shakespeare Company in Washington DC, has an impressive list of credits as a stage director, including Antony and Cleopatra and Twelfth Night at the National, but this is his first film. He has acknowledged his debt to cinematographer Tim Sidell, while producer David Sabel was behind the launch of NT Live over a decade ago. They make a winning team. Godwin's feel for the emotional detail of theatre combined with cinema technique allows for revealing innovation, such as the interleaving of the frantic, blood-stained deaths of Mercutio and Tybalt with Juliet's self-absorbed, impatient anticipation of her wedding night as she speaks "Gallop apace you fiery footed steeds/ Towards Phoebus' lodging!" There is masterly use of close-up too, notably when the pair share their one precious night together. This combines an erotic urgency with lyrical dreaminess as the lighting lingers on entwined limbs. Sometimes there is a flash forward, a split-second view of a vial of liquid tumbling from Juliet's hand, bloodied fingers or a lifeless body, driving home the inevitability of the lovers' destiny.
Josh O'Connor (recently Prince Charles in The Crown) and Jessie Buckley (Chernobyl, Wild Rose, I'm Thinking of Ending Things) do not play the lovers as teenagers. They bring everyday reality, an ordinariness even, into their characterisation so that they are still themselves as well as extraordinary creatures in life-and-death circumstances. There is no place for vanity or hyperbole: Buckley, sans make-up and in simple clothes, speaks in her native Irish tones. Easy in each other's company, they have a believable chemistry underlined by the cutaways to them running, flirting, playing like delighted children during the solemn sonnet of their first encounter. There is a welcome emotional depth to these performances, especially in Buckley's nuanced Juliet, an unusual maturity and understanding in the short-lived relationship of the star-crossed lovers.
Romeo and Juliet always has a sense of rushing uncontrollably as time runs out for the lovers. Emily Burns's version intensifies this further, hurtling towards the tragic ending, while nevertheless slowly relishing some scenes on the way: the pivoting camera plays languidly on the couple's faces, lost in each other's gaze in the wedding scene, for instance, which morphs into a fantasy sequence lit by massed candles. Here – as often – Michael Bruce's music contributes another dimension to the depth of feeling.
The necessary cuts lead to a few awkwardnesses. In order to dispense with the apothecary scene, Romeo is required to filch poison from Lucian Msamati's well-meaning Friar without yet needing it. Friar Laurence himself, rather than his messenger, fails to alert Romeo to Juliet's feigned death. Oddly in the circumstances, there is no mention of plague.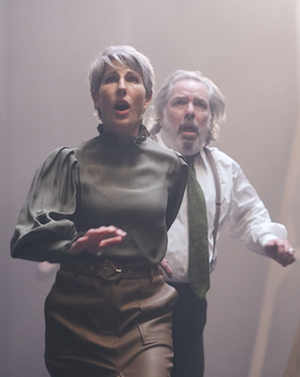 Among the supporting cast, Tamsin Greig (pictured right with Lloyd Hutchinson), playing Lady Capulet here speaking much of what is usually Capulet's part, is steely, authoritarian, a contrast to Deborah Findlay's lovable, misguided Nurse. In a bold and touching innovation, Fisayo Akinade's intense, intelligent Mercutio (pictured above, left) and Shubham Saraf's open-faced Benvolio discover a desperate love for each other to parallel that of Romeo and Juliet.
Shot over 17 days in December, in Covid-safe bubbles and with frequent testing to allow for the filming of intimate scenes and realistic fights, the production emphasises its theatrical roots in Soutra Gilmour's design, with costume racks and prop stores in full view.
It would have been good to see Simon Godwin's original Lyttelton production as planned, but what we have instead is very much more than second-best.
The two hours' traffic of the stage has become 90 helter-skelter minutes on screen, neither conventional movie nor filmed stage production
rating
Explore topics
Share this article