Springs Eternal, Orange Tree Theatre |

reviews, news & interviews
Springs Eternal, Orange Tree Theatre
Springs Eternal, Orange Tree Theatre
Forgotten American play from World War Two is at once fascinating and flawed
Monday, 16 September 2013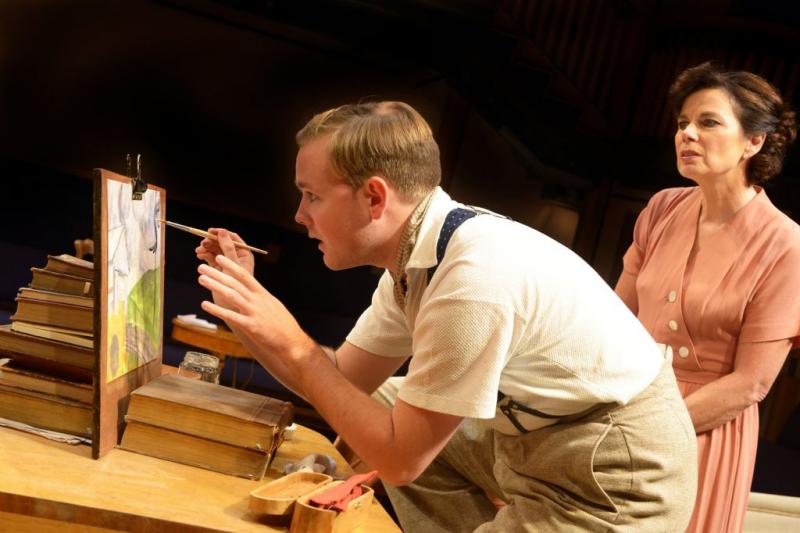 Make paint, not war: Jeremy Lloyd plays the peace-minded Jumbo, with Julia Hills (right)
The American repertoire has featured big-time on the London stage this year but perhaps nowhere more oddly than courtesy the ever-adventurous Orange Tree's staging of a World War Two play from Susan Glaspell, here receiving its world premiere.
Long (nearly three hours), defiantly peculiar and yet possessed of an intriguing (and relevant) moral debate, Sam Walters' production marks the start of this sterling artistic director's final season with a slice of the dramatic canon best thought of as one for collectors of curiosities - and at a venue that has made something of a house dramatist of this playright since 1996.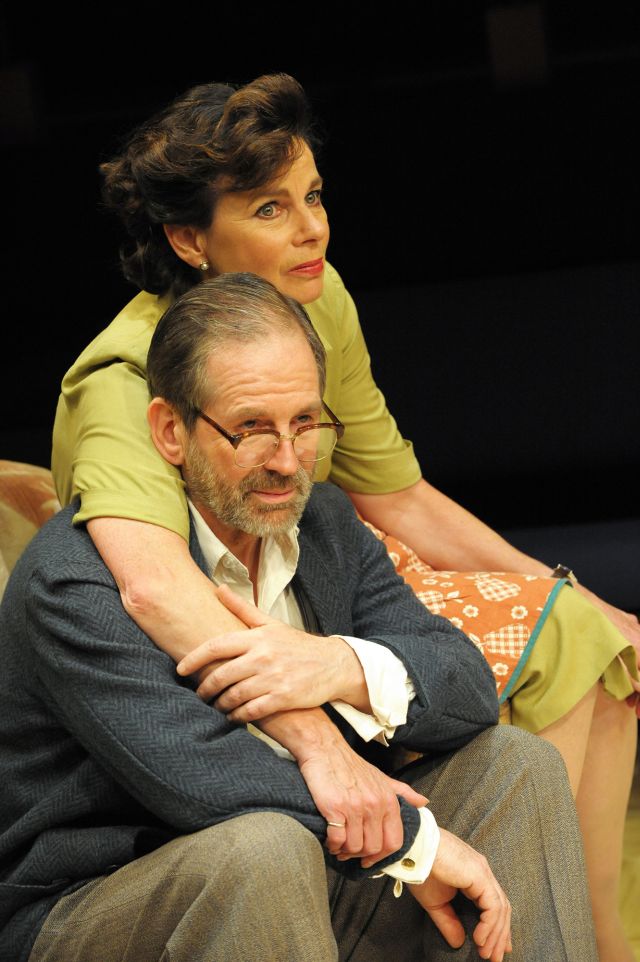 In tone and style, Glaspell's three acts (presented here with one interval) suggest in part a thematically heftier counterweight to the more madcap You Can't Take It With You, the rangy Kaufman and Hart Pulitzer prize-winner from 1936 that Glaspell presumably would have known as she was writing this play, her last, in 1943. Set in the study of the New York State home of the rancorous, politically-minded Owen (a peppery Stuart Fox) and his second wife Margaret (Julia Hills, pictured right with Fox), the play couples domestic disarray with a panoply of political points of view, alongside occasional references to the phrase that gives the play its title - one from which, you'll notice, the word "hope" is conspicuously missing.
After all, what hope is there for a country in the midst of a war that has given way to a rabid foment all its own in the extended family (and various hangers-on) with which Glaspell populates her play? The fact by which this play's characters singly identify themselves, war in Springs Eternal at differing times is seen to make either patriots, nihilists, or dead men of us all, though no position is so firmly held that it can't be amended by the time a windy script has passed through several false endings to arrive at its rather dubious conclusion.
Much of the material is played for borderline camp, or so it seems whenever Miranda Foster storms into view, playing Harry (aka Harriet), the dour Owen's first wife as well as mother to the peaceably minded Jumbo (Jeremy Lloyd, boasting the production's most relaxed American accent), a conscientious objector who would rather make pictures, not war. "Stewie told me not to come into here, so I thought I would," remarks Harry with characteristically brazen élan, which at least comes as a relief from the pile-up of adages that litter the dialogue elsewhere. We hear talk of "the always that is something, the something that is always" (huh?) preceded some while earlier by "each day is the tomorrow of another day." Small wonder it comes as a relief when the play's resident domestic (Auriol Smith, a rightly cherished Orange Tree mainstay, pictured above left with Foster in background) hoves into view to pour tea.
The play can be said to take both a comic view of dystopia and a barbed view of utopia, which gives multiple perspectives a point of view. Glaspell offers up romantic entanglements, would-be elopements, and at least one grim report from the frontline that silences the verbal stingers, however briefly. These strands are pressed into the service of a state-of-the-nation play that badly needs streamlining, but those thirsting for a time in American drama when the political and the personal were conjoined will pay due heed. And for rarity value alone, Springs Eternal remains essential viewing even if the spring in its authorial step sometimes crosses the footlights as an attenuated shuffle.
War in Susan Glaspell's 1943 play at differing times is seen to make either patriots, nihilists, or dead men of us all
rating
Explore topics
Share this article