Theatre Lockdown Special 5: A solo show for the ages, Ibsen refreshed, and yet more frolicsome cats |

reviews, news & interviews
Theatre Lockdown Special 5: A solo show for the ages, Ibsen refreshed, and yet more frolicsome cats
Theatre Lockdown Special 5: A solo show for the ages, Ibsen refreshed, and yet more frolicsome cats
From a much-traveled one-man play to a continent-spanning National Theatre premiere, the theatrical week offers plenty so savour
Child-woman: Anjana Vasan and Elliot Cowan in 'A Doll's House'
No one can accuse the gods of streaming of failing to cast a wide net. That's even more so with an array of streaming opportunities over the next week that ranges from Off West End Ibsen given a second chance to shine to an online encounter with, yes, The Encounter, and, should you wish, with its protean creator and leading man, as well.
There's a reminder onhand of a time before the recent film of
Cats
when a furry Rebel Wilson wasn't yet a collective memory, while the National's much-traveled
Barber Shop Chronicles
journeys this time right into your home. For more on these various enticements, read on.
Barber Shop Chronicles, National Theatre at Home
Inua Ellams's globe-spanning play has had a deservedly charmed life since its 2017 premiere at the National Theatre's smallest space, the Dorfman. A study in masculinity set across six barber shops – remember them? - between London and Africa, the rousing comedy-drama transferred two years later across town to the Roundhouse prior to a world tour that led to further acclaim in New York.
How wonderful, then, to find it included in the sequence of titles streaming via National Theatre at Home, thereby plunging us afresh into the foot-stomping immediacy of Bijan Sheibani's high-energy all-male production. The cast includes Fisayo Akinade, seen just recently as Eros in the NT's Antony and Cleopatra, and Hammed Animashaun, the superlative Bottom in last summer's Bridge Theatre A Midsummer Night's Dream.
You may think Cats onscreen was limited to the recent, largely reviled big-screen adaptation that prompted enough feline-related jokes to last nine lives. But in fact a previous celluloid iteration of the Andrew Lloyd Webber behemoth dates to 1998, a made-for-video recording airing this week as part of the ongoing sequence of Andrew Lloyd Webber musicals that has coupled familiar titles (The Phantom of the Opera) with such curiosities as last week's terminally twee By Jeeves.
This Cats cast (now there's a tonguetwister) couples veterans of the show like Elaine Paige and Ken Page (no relation) as Grizabella and Old Deuteronomy, respectively, with an illustrious guest appearance from the late John Mills as Gus the Theatre Cat, the furball taken by another Sir, Ian McKellen, in the Tom Hooper film. This airing is available for 48 hours globally from May 15 at 7 pm, except in the UK where it is on offer for 24 hours only.
The Encounter, Complicite online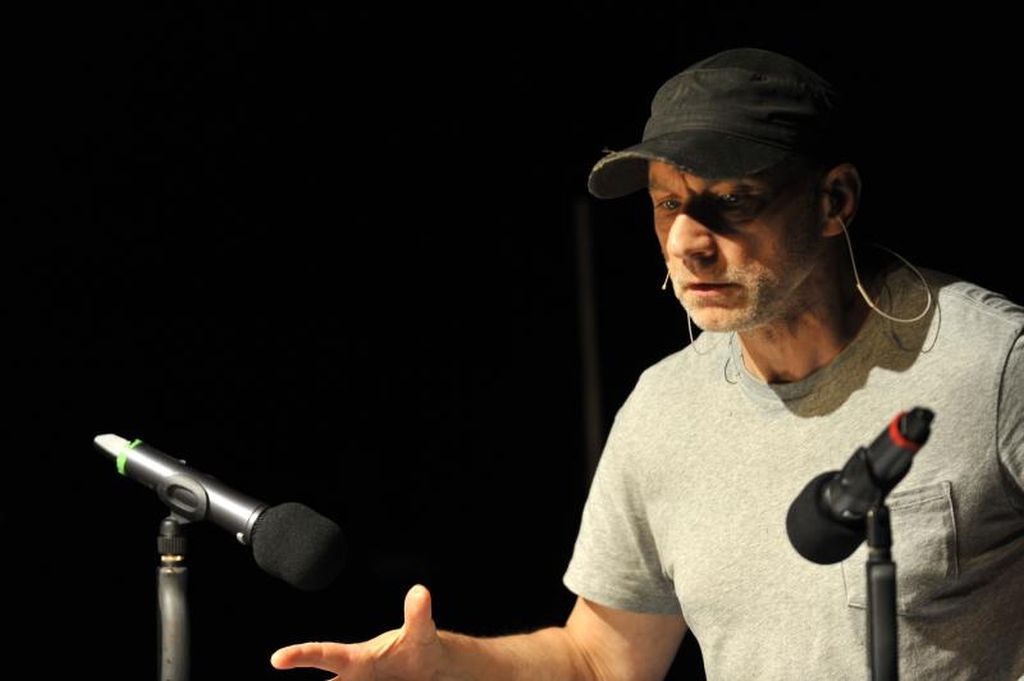 That English theatrical polymath Simon McBurney's solo performance piece about the journey into the Amazon rainforest of the American photojournalist Loren McIntyre seems ideal for our newly confounding theatrical times in ways no one could have anticipated during its London and Broadway runs.
Requiring the audience to listen deeply to the unfolding story (playgoers at the time found earphones attached to their seats), this Complicite production is an invitation to awaken and sharpen the senses, while pondering such matters as consciousness: heavy, yes, but fiercely entertaining, too, and Wed May 20 will feature a live online discussion with McBurney (pictured above, photo c. Robbie Jack) and guests. Airing 15-22 May.
A Doll's House, Lyric Hammersmith online
You have one day only (May 20, from 2 30 pm to midnight) to catch Ibsen's frequently revived play in last autumn's acclaimed Lyric Hammersmith revival directed by the theatre's artistic director, Rachel O'Riordan, who was beginning to leave a notably impressive mark on the west London venue when coronavirus struck.
That famous child-woman Nora this time round is called Niru in an adaptation of the play by Tanika Gupta that relocates the action from Norway to Calcutta whilst retaining the time period of the original. Her husband Torvald Helmer is now Tom, a colonial abroad whom Elliott Cowan plays like a colossus looming over the diminutive Anjana Vasan, whose Niru earned her an Evening Standard Theatre Award nomination last year for best actress.
O'Riordan, incidentally, will host a master class for emerging directors on Monday 18 May to coincide with the death of the theatre's legendary designer, Frank Matcham. The topic will be working within a proscenium arch theatre, of which this venue remains a shining example.
Simon McBurney's 'The Encounter' is an invitation to awaken and sharpen the senses
Explore topics
Share this article