The Tiger Lillies' Christmas Carol: A Victorian Gutter, Southbank Centre review - cult band get inside Scrooge's head |

reviews, news & interviews
The Tiger Lillies' Christmas Carol: A Victorian Gutter, Southbank Centre review - cult band get inside Scrooge's head
The Tiger Lillies' Christmas Carol: A Victorian Gutter, Southbank Centre review - cult band get inside Scrooge's head
The Tiger Lillies tell a familiar story in their own inimitable style
Saturday, 18 December 2021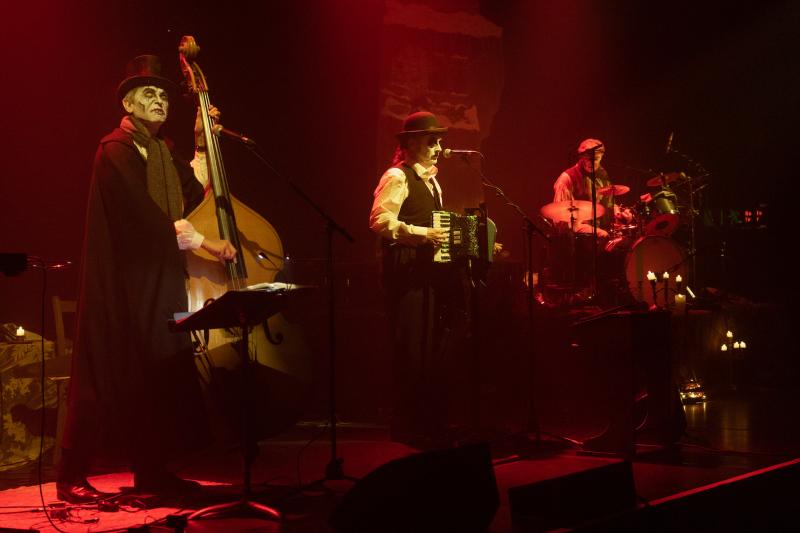 You wouldn't want to meet them in your dreams - The Tiger Lillies
Charles Dickens and Martyn Jacques is a marriage made in heaven (well, hell I suppose): the Victorian novelist touring the rookeries of Clerkenwell the better to fire his imagination and, 150 years or so later, the post-punk maestro mining London's netherworlds for his tales of misfits and misdeeds.
So it's no surprise to see The Tiger Lillies bring their unique sensibility to A Christmas Carol, Jacques' song cycle taking us into the head of the miser, Ebenezer Scrooge, paring the tale back to its psychological trauma and its bitter social critique. The Lillies' leader is front and centre, of course, but, with Adrian Stout snarling at latecomers and fearful of ghosts as Scrooge himself, and Budi Butenop playing a jaunty Bob Cratchit and mournful Tiny Tim, Jacques' bandmates prove to be much more than backing musicians.
Now in his sixties, age has taken some of Jacques' falsetto away from him, but there's a baleful quality to his voice these days and an extraordinary control. It's gruesomely seductive tone is still one of the most extraordinary sounds to be heard on a stage anywhere in the world.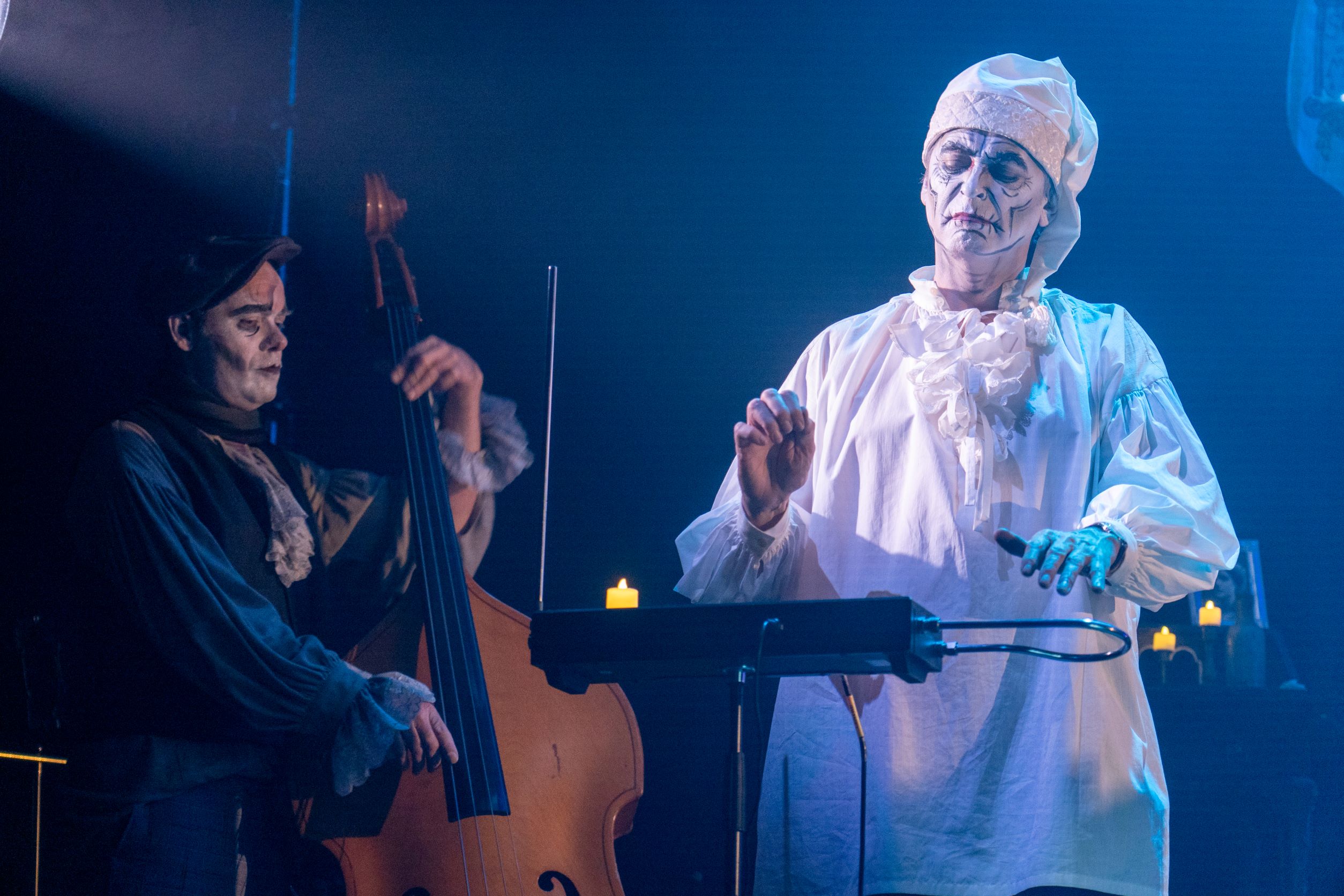 With its roots in music hall, Jacques' music is always halfway to the Victorian gutter that the show's title promises. Growing up artistically in the 80s Soho chronicled so memorably and accurately by Jeffrey Bernard in his Low Life columns, the despair, the misery and, most of all, the poverty that sits outside Scrooge's window has long animated Jacques' conscience, and songs evoking that shared worldview speak as much to the 2020s as the 1840s. Dark humour runs under the whole show, like the Fleet River en route to the Thames.
We also go deep into Scrooge's neuroses, songs about how greed and a singleminded pursuit of money can hollow out a soul, the warning of Marley's chains underlined again and again, Scrooge's defence of "Humbug!" taken apart as he sees the damage done by his obsession, not just to those around him, but also to his own fracturing psyche.
It's here that the multi-instrumentalists come to the fore, the music telling the story at least as much as the acerbic lyrics, with Stout's saw and theremin (pictured above) all eerie pathos and Jacques' (tiniest ever) ukulele a jaunty counterpoint. Butenop judges his percussion beautifully, much played-with brushes, the drums all atmospheric accompaniment rather than overpowering backbeat.
Phil Eddolls provides a fine chiaroscuro set and the puppets that loom in Scrooge's dreams and in our vision. Despite the hi-tech theremin (more than offset by the lo-tech accordion) the whole show retains its Victorian ambience, with the songs taking us into that grubby gutter. But, in the magnificently realised coda, Scrooge's redemption sends us out looking at the stars.
With its roots in music hall, Jacques' music is always halfway to the Victorian gutter the show's title promises
rating
Explore topics
Share this article