Titus Andronicus, Sam Wanamaker Playhouse review - notorious play hits and misses |

reviews, news & interviews
Titus Andronicus, Sam Wanamaker Playhouse review - notorious play hits and misses
Titus Andronicus, Sam Wanamaker Playhouse review - notorious play hits and misses
Tricksy staging distracts and disappoints
C'mon baby, light my candle: Kirsten Foster as Tamora in 'Titus Andronicus'
If All's Well That Ends Well, Measure for Measure and Troilus and Cressida have earned the sobriquet "'problem plays", what price Titus Andronicus? Does a director seek out a Saw vibe for the horror? Do they go for a deadpan Spinal Tap's disappearing drummers for the demises?
Do you go hard and locate the
murders
within the atrocities being committed on European soil right now? In her radical interpretation, Jude Christian never quite finds the consistency of tone that the three-hour long evening requires
–
we get the discomfort intended, but it's distracting not disturbing.
We open on our flawed hero returning to a Rome shorn of its Caesar and, as a consequence of his decade-long successful campaign against the Goths, Titus is invited to be Emperor. Citing his age, he declines and nominates the impetuous elder son of the dead emperor, Saturninus, for the throne, to the chagrin of his calmer younger brother Bassianus – the, if I dare use the word these days, spare. Appealing to the Gods, Titus sacrifices Tamora, Queen of the Goths, which is dangerous indeed when Saturninus takes her for his bride, bringing her two psychotic sons and scheming, Iagoish lover, Aaron, into the court. The body count is already up and running and there's time for plenty more, and, boy, do we get them - though not quite in the style we may have expected.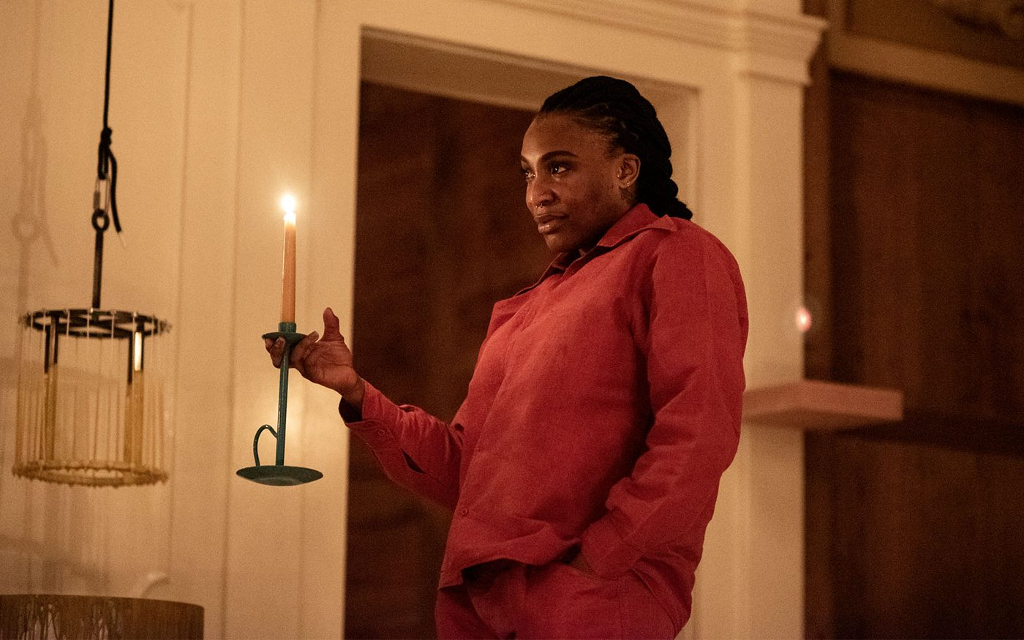 Some performances manage to steer a course through the miasma of Christian's tonal shifts. Kibong Tanji (pictured above) is magnificent as the smart and cruel Aaron, the Moor who meets Rome's raw racism with revenge served both hot and cold. Beau Holland gives us a range of comic characters in an Irish brogue (think of a succession of Father Dougal McGuires, but in a charnel house, not a priest's house). Lucy McCormick's watchable, mad-eyed adolescent Emperor Saturninus owes something to John Hurt's Caligula in the BBC's I, Claudius, albeit with a pathos due to his vulnerability.
If a cast (all female / non-binary) absurdly clad in Marks and Spencer pyjamas – tasteful pastel shades – did not excise most of the terror that we were promised in a framing device that comprised a jolly singalong to George Heyworth and Liv Morris's opening song, the staging of the deaths certainly does. Each character is represented by a candle that is extinguished (and sometimes violently destroyed) when they die. The sensational horror that Shakespeare intended (as popular in the 1590s as the Scream slasher franchise was in the 1990s) is reduced to a kind of half-hearted Edward Scissorhands snip and walk-off. Of course, not all theatre needs to be literal, but after all those trigger warnings and the macabre murder ballad that The Tiger Lillies would have enjoyed, surely a bit of gore was in order?
That said, the pantomime elements fade into the background and the laughs shrivel in the throat when we see the trauma of Lavinia (Georgia-Mae Myers), raped and mutilated and allowed to live long enough in order to be murdered by her father, Titus (Katy Stephens). How can her fate be intermittently shoehorned into a narrative we were chuckling along with not a few moments ago? Not like this, that's for sure.
I was about 12 years of age when first I heard of Titus Andronicus, in the context of the splendid British black comedy, Theatre Of Blood. As an actor exacts revenge on the press in a series of murders each borrowing from a Shakespeare play, Robert Morley's pompous critic is tricked into eating his beloved poodles baked into a pie – this play the source.
Late on a Friday night in the 1970s, that film was a regular on the BBC's midnight movie rota, its appeal rooted in the deliciously transgressive feeling that "I know I shouldn't laugh, but I did". Too much of this 2023 production's bold hotchpotch of good and bad taste targets that emotion, but it's more a matter of "I know I shouldn't laugh, and I didn't".