Trevor Nunn: 'I'm amazed by Harley Granville Barker's prescience and extraordinary modernity' |

reviews, news & interviews
Trevor Nunn: 'I'm amazed by Harley Granville Barker's prescience and extraordinary modernity'
Trevor Nunn: 'I'm amazed by Harley Granville Barker's prescience and extraordinary modernity'
The veteran director introduces the London premiere of the English dramatist's heretofore unknown play, 'Agnes Colander'
Trevor Nunn: `Laughter and tears overlap, almost inseparably'
So here we are with another edition of IQ, and the subject this week is theatre. Question one: which actor originated several leading roles in the plays of George Bernard Shaw, including Marchbanks in Candida, Dubedat in The Doctor's Dilemma, and Jack Tanner in Man and Superman? Answer: Harley Granville Barker.
Question two: which writer originated the use of the
Royal Court Theatre
in Sloane Square as a home for new plays and rediscovered classics? Answer: Harley Granville Barker. Question three: which activist/essayist campaigned for a
National Theatre
to be an ensemble playing in repertoire and proposed the necessity of subsidy for the arts? Answer: Harley Granville Barker.
Continuing right along: which director revolutionised the presentation of Shakespeare in the 20h century, stripping away painted scenery and recreating the original bare stage of the Elizabethan theatre? And who then wrote five volumes of introduction to the Shakespeare canon – for the first time combining scholarship with analysis of the plays in performance, ie. "the stage and not the page"? Still further: which playwright of the early 20th century had his plays banned by the Lord Chamberlain as they set out to expose corruption and double standards in high places and amongst the ruling class? And, finally, which young dramatist wrote a groundbreaking play proposing the necessity for women to have independence from and equality with men, while debating what he described as "the sex question"?
The answer, indeed, to all of the above is Granville Barker (1877-1946), in that last instance with a play from 1900 that he titled eponymously Agnes Colander but which was never published and, until last March at the Theatre Royal, Bath's Ustinov Studio, had never been performed.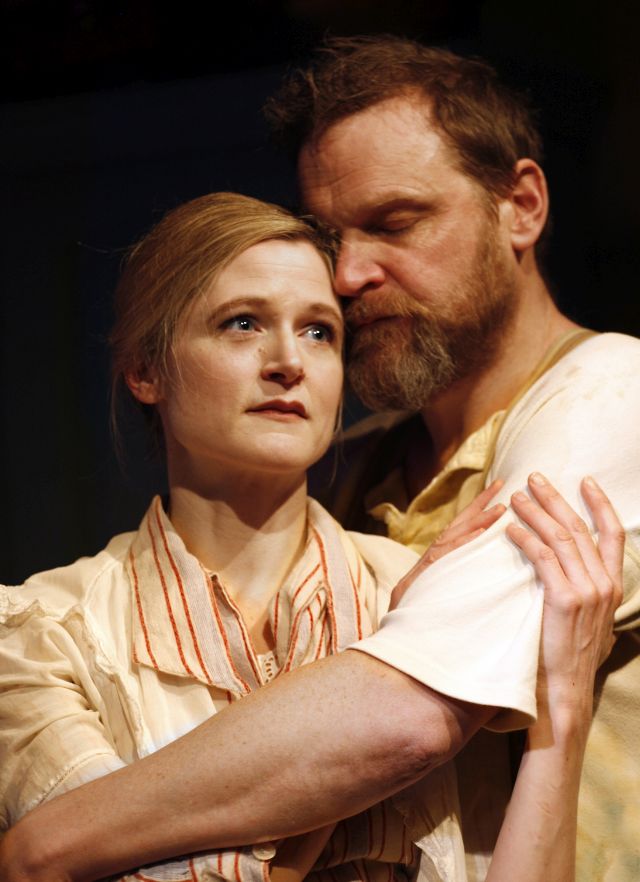 I suspect some readers would have got the dreaded "minus 20" score from the Mastermind Quizmaster, however well-read on theatre history. It is, of course, inevitable that fame gained in the theatre should be ephemeral and fleeting. Even so, it is surely surprising that a man who engendered so much of what we now a century later take for granted should not be more generally known and celebrated. But everybody could be excused for having no knowledge of the above-named play because quite simply, until very recently, nobody knew of its existence. I have had the unimaginable honour of directing the world premiere of Agnes Colander, written by the young master when he was 22. (Naomi Frederick in the title role, with Matthew Flynn, pictured above: production photos by Simon Annand)
When I first heard that two friends of mine, the American dramatist Richard Nelson and the erstwhile RSC dramaturg Colin Chambers, had found an unknown Granville Barker play, I was electrified. But even given the thrilling detective story of its discovery, I was secretly reluctant to believe that what they had unearthed could be more than a jotting or, at best, an unworkable draft. When I was a given a copy of the long-lost typescript to read, I realised in awe that my friends had discovered buried treasure.
By the time Barker came to this play he had already written a highly unusual comedy of manners, The Marrying of Ann Leete (presented very successfully by the RSC in 1975), in which the heroine refused to comply with a marriage carefully arranged by her wealthy family because she had fallen in love with a gardener on the estate. For a young idealist at the time, it must have seemed that anything and everything was possible, just as the possibility of a better, fairer world seemed so attainable as the new century dawned for us in 2000.
In 1900, women had no right to vote or to instigate a divorce, very little right of inheritance, and generally had the status of second-class citizens. Twenty or so years before, Ibsen had shocked audiences in A Doll's House with Nora slamming the door on her husband and children but, not surprisingly, that incendiary work had been banned in England. And so it must have been apparent to the young Barker that attempting to present a confrontational play about the place of women in society would have stood little chance of escaping the censor's guillotine.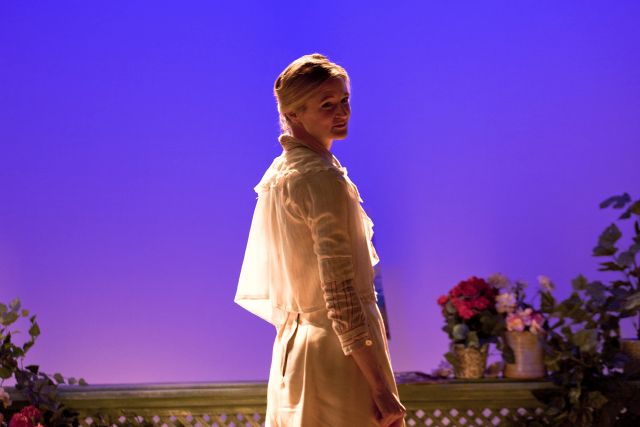 Undeterred, a rebellious Barker wrote his own protest play, presenting a woman (Naomi Frederick, pictured above) who walks out of her unsatisfactory marriage to pursue an independent life as an artist, unconstrained by the damning judgments of society. Perhaps, as he put his complete (but unrevised) play in a drawer, he hoped that inexorable social change would soon arrive and that his prophetic conclusions would see both the light of day and the lights of a stage production. Not many years later, Barker achieved both national fame and notoriety with his plays The Voysey Inheritance, Waste, and The Madras House and for a while was considered the equal of his close colleague, George Bernard Shaw. But for complex reasons he gave up writing for the stage, moved abroad, and died in 1946, long before what he had hoped to see became any sort of reality.
As we work on this impassioned text, Barker's characters are essentially in private conversation, with no awareness of and certainly without inclusion of an audience. Laughter and tears overlap, almost inseparably, in the undeclamatory style of Chekhov. Probing the same naturalistic territory, the young Englishman with his play seems to urge an intimate, unprojected performance, with characters in close-up relationship with each other. He seems to want his audience to feel that we are overhearing personal revelations and painful thought processes.
I suspect that after we have performed Agnes Colander in London, Barker will be no better-known than he has been for the last 50 years. But amazed by his prescience, and extraordinary modernity, I believe that he should be revered as a national (and, indeed, National) hero. Where is the monument to this great man? Let it at least be a continued celebration, offstage and on, of his groundbreaking, trailblazing achievements.
Granville Barker wants his audience to feel that we are overhearing personal revelations and painful thought processes
Share this article