Twelfth Night, Shakespeare's Globe review - foot-stompingly good fun |

reviews, news & interviews
Twelfth Night, Shakespeare's Globe review - foot-stompingly good fun
Twelfth Night, Shakespeare's Globe review - foot-stompingly good fun
Michelle Terry is gunning for a second Olivier with her first Viola
Wednesday, 11 August 2021
Infectious joy: the cast of 'Twelfth Night'
The best version of Twelfth Night I've seen is not called Twelfth Night. For sheer knockabout entertainment, nothing beats the 2006 film She's the Man. But Sean Holmes' production for the Globe's summer season, brimming with song and physical comedy, comes a worthy second.
Michelle Terry (pictured below) is endlessly charismatic, drawing us into caring about Viola from the moment she darts out of the groundlings dressed as Elizabeth I. Not many people can pull off enormous green and yellow breeches; Terry makes it look easy. (And she's the Globe's Artistic Director, so she's running the whole place at the same time.) She has great comic chemistry with Shona Babayemi's regal Olivia – and with everyone, to be honest.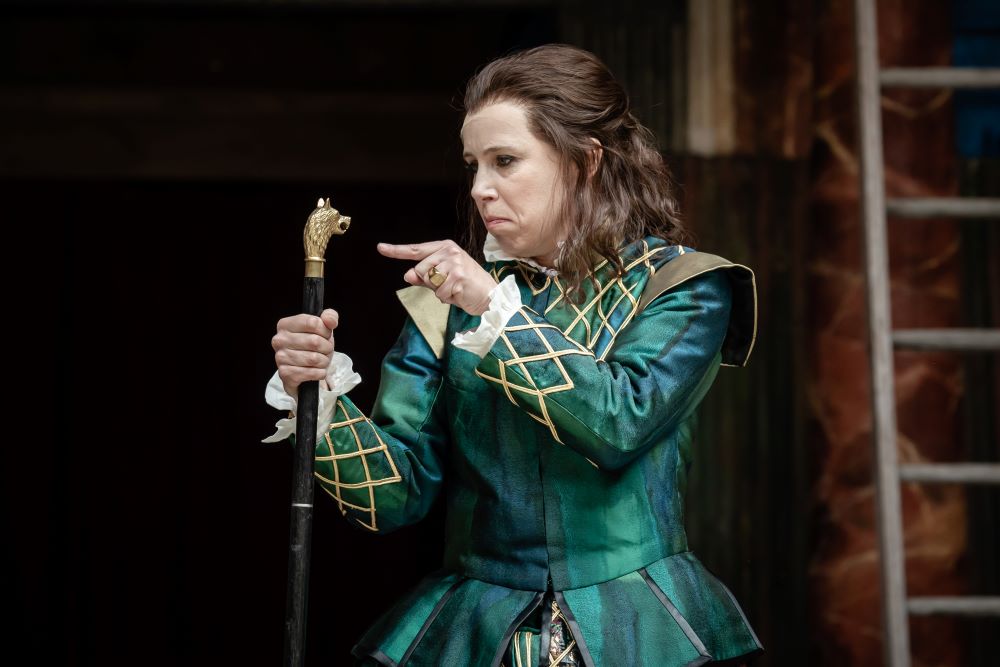 The terrible trio – Toby Belch (Nadine Higgin), Andrew Aguecheek (George Fouracres) and Maria (Nadi Kemp-Sayfi) – are crowd-pleasers too, rolling around cracking beers and warbling in Italian. Higgin and Aguecheek's facial expressions are extraordinary. But the standout of the minor characters is Feste, played with bombastic Geordie charm by Victoria Elliott (pictured below right). She slips out of a wig and heels for Orsino's court and into a baseball outfit for Olivia's, equally happy barking like a drunken lad and crooning love songs. Turning Shakespeare's "What Is Love" into the "baby don't hurt me" version may be low-hanging fruit for a modern staging, but Elliott still makes a great jam out of it.
These days, Malvolio's yellow cross-gartered stockings have to be bigger and bolder than the traditional knee-highs. Like Simon Godwin at the National Theatre in 2017, Holmes and designer Jean Chan have gone for a full bodysuit, in lurid yellow, of course. With her tall dark quiff, Sophie Russell looks like Elvis crossed with a banana. It's brilliant.
This is the first Globe show with actual groundlings since the pandemic started, and by God do they make a difference. The Globe's greatest strength is its sense of community: everybody's invited into its massive circle. When Malvolio catches Belch, Aguecheek and Maria drinking and carousing outside Olivia's window, Russell tells us all off.
Cross-dressing can feel like the most conservative part of Shakespeare's comedies – you're allowed to pretend to be another gender, but only for a short time, and only out of necessity. But these days, it seems strangely modern. Olivia and Orsino's feelings for Cesario, transgressive from different angles, aren't really resolved. Viola doesn't change out of her Cesario garb before the play's end, which has interesting implications for her future relationship with Orsino. In a lot of ways, we're still catching up with Shakespeare. And in Twelfth Night, we're catching up with Feste: it's Elliott's world, we're just living in it.
Like most Globe comedies, this ends in a rollicking dance, whipped up by Elliott's foot stomping on the wooden O's boards. Babayemi and Terry drift towards each other as if there's nobody else there, embodying a complication in the simple narrative journey from queer to straight, transgressive to mainstream. Some of the elements don't quite pull together – the Americana-infused set doesn't seem to serve much of a purpose, and the musicians are dressed like the band in Back to the Future for no discernible reason. The dead hart hanging from the rafters is also difficult to make sense of. But Holmes' production is so full of infectious joy that the idiosyncrasies are easy to forgive.