Violet, Charing Cross Theatre review - Jeanine Tesori's faith musical is a gentle pleasure |

reviews, news & interviews
Violet, Charing Cross Theatre review - Jeanine Tesori's faith musical is a gentle pleasure
Violet, Charing Cross Theatre review - Jeanine Tesori's faith musical is a gentle pleasure
This intimate work unveils the miracle of acceptance
I'm a believer: Violet (Kaisa Hammarlund) prays for transformation
Following Caroline, or Change and Fun Home, the UK is blessed with another work from American composer Jeanine Tesori; this is the British premiere of her 1997 musical Violet, which had a Sutton Foster-starring Broadway production in 2014.
If not as refined as that exquisite duo, it's still a compelling piece, thanks to a ravishing score and a dynamite central performance.
It's 1964, and Violet (Kaisa Hammarlund, pictured below right) is travelling on a Greyhound bus from her small town in North Carolina to Tulsa, Oklahoma, in hopes of having her facial scar – caused by a loose axe head – healed by a televangelist (Kenneth Avery-Clark). Her bus companions include two soldiers, boyishly arrogant Monty (Matthew Harvey) and more sensitive, African-American Flick (Jay Marsh), whose growing interest in Violet creates a loose love triangle.
In a clever conceit, we never see Violet's horrific disfigurement – only the shocked revulsion of those who encounter her. It means we're ahead of the pack at glimpsing the bright, funny and loving young woman beneath the reportedly plain features and violent scar, and demonstrates that her "difference" is really more of a social construct. That gives her a natural connection with fellow outsider Flick, who might also wish for a physical transformation, but who has vital self-belief – articulated gorgeously by Marsh in the anthemic "Let It Sing".
Tesori's score is a warm, immersive treat, mixing country, folk, bluegrass, gospel and honky-tonk. Together with Jonathan Lipman's period costumes and Howard Hudson's golden light, it creates an irresistible sense of time and place. There's an effective range of numbers, too, from the big set-pieces like gospel-driven "Raise Me Up" (with the fabulous Simbi Akande almost literally raising the roof) to the sultry "Anyone Would Do", witty, poker-based "Luck of the Draw", and softly vulnerable "Lay Down Your Head".
The latter is particularly effective in Hammarlund's superb performance, contrasting as it does with the almost feral quality she gives Violet. Physically, she's a clear tomboy – the product of being raised on a farm by a single father – but more than that, there's a learned defensiveness; her scar means she's had to figure out how to throw the first punch. Yet there's still an unwavering faith in the potential for change, which Hammarlund plays not as cutely angelic, but as a fierce, fiery belief that stirs those around her.
She leads a vocally impressive cast, although the sound balance needs adjustment. Configuring the audience on two sides, plus facing balconies, gives the Charing Cross Theatre a welcome intimacy, so it's a shame the singers are sometimes fighting to be heard over the (likewise terrific) band. A neon Greyhound symbol also seems more of a distraction, but otherwise Morgan Large's set suits the low-key, spontaneous feel of Shuntaro Fujita's production, with packing crates easily reconfigured, and the past blurring with the present.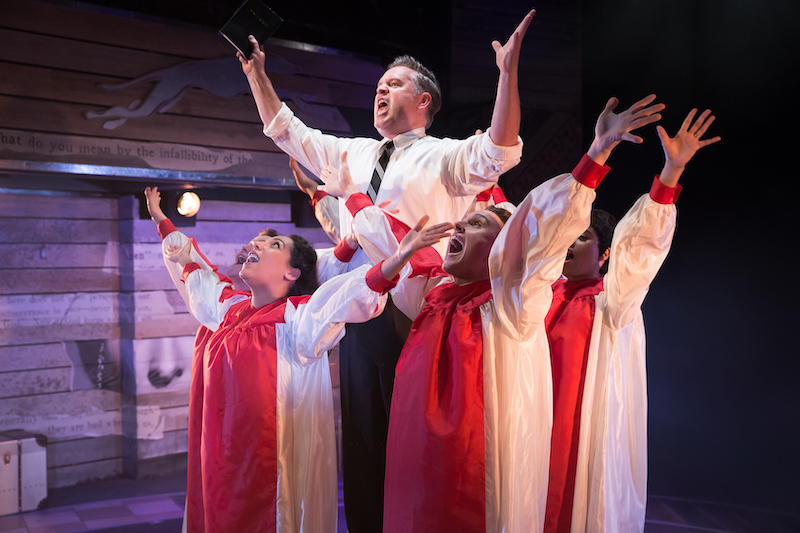 On press night, Amy Mepham brought wonderful texture to the younger Violet, though diction was occasionally an issue, and there are strong turns from Avery-Clark as the theatrical fraudster preacher (pictured above), Harvey as an increasingly ardent Monty, and Keiron Crook as Violet's well-meaning father. Harvey and Marsh do well to fill in some of the gaps of Brian Crawley's book, in which their characters' evolution occurs in fits and starts. Crawley's work is more successful in its details, like the sickening description of Violet's face being sewn up roughly "like a pair of old boots", or her wry observation that Ingrid Bergman "made a career out of cheekbones".
Violet was reconceived for its latest American incarnation as one act, and that's the form we have here. At approximately 105 minutes, it's a challenging running time with no interval, and structurally, it sags slightly in the middle. Part of that momentum issue comes from the inevitability of its fable-like conclusion and big message about different forms of faith and healing, yet it's played here with enough sincerity and passion to be genuinely affecting. And with Vietnam looming at the climax, any happiness snatched feels all the more miraculous.