Hadestown, National Theatre review - new folk musical is hotter than hell |

reviews, news & interviews
Hadestown, National Theatre review - new folk musical is hotter than hell
Hadestown, National Theatre review - new folk musical is hotter than hell
An alternative take on a classic myth produces sizzling results
Wednesday, 14 November 2018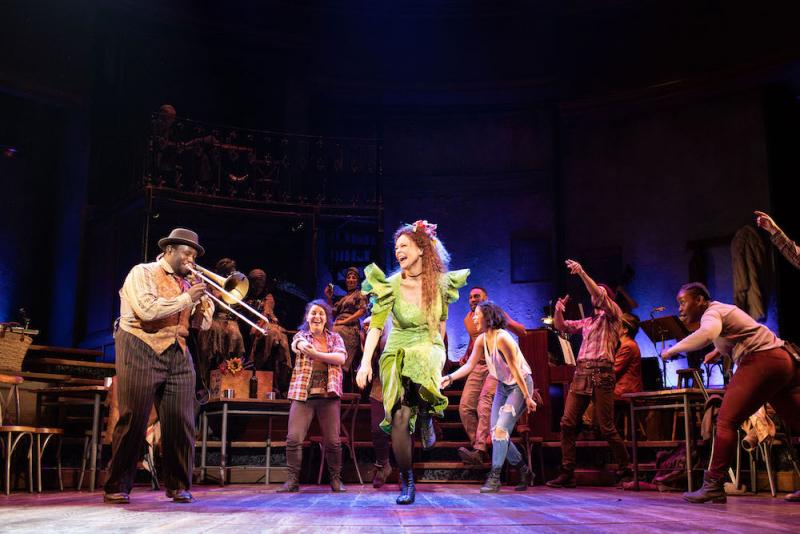 Spring has sprung: Persephone (Amber Gray) celebrates her return from the Underworld, with Nathaniel Cross on trombone
The road to full musical theatre production has been a long one for Hadestown. It began back in 2006, with Anaïs Mitchell's song cycle – a folk/jazz take on the Orpheus and Eurydice myth – toured around Vermont in a school bus, then grew into an ecstatically received concept album in 2010, and has gone through further development with director Rachel Chavkin in Off-Broadway and Canadian stagings.
Now, it comes to the
National
ahead of a Broadway run.
Whatever its past or future forms, Chavkin's staging is a superb fit for the Olivier. Rachel Hauck's spare, multi-level speakeasy set, which houses the terrific band, puts the emphasis on choral cooperation and fluid, organic storytelling – aided by meaningful use of the revolves and descending platform. That fluidity is vital for the sung-through work, while the unfussy framing retains its folk-based intimacy.
The bare bones of the story are familiar, but Mitchell puts an interesting spin on them. We're in an unnamed dystopian realm, albeit one with a generous helping of Depression-era New Orleans aesthetics, mood and sound. The mythic power is retained, along with gods and the Underworld, however the outlook is distinctly contemporary and some key updates supply the female characters with more agency. It's a neat balancing act that Chavkin managed in Natasha, Pierre & the Great Comet of 1812, giving us a more immediate connection to an historic tale.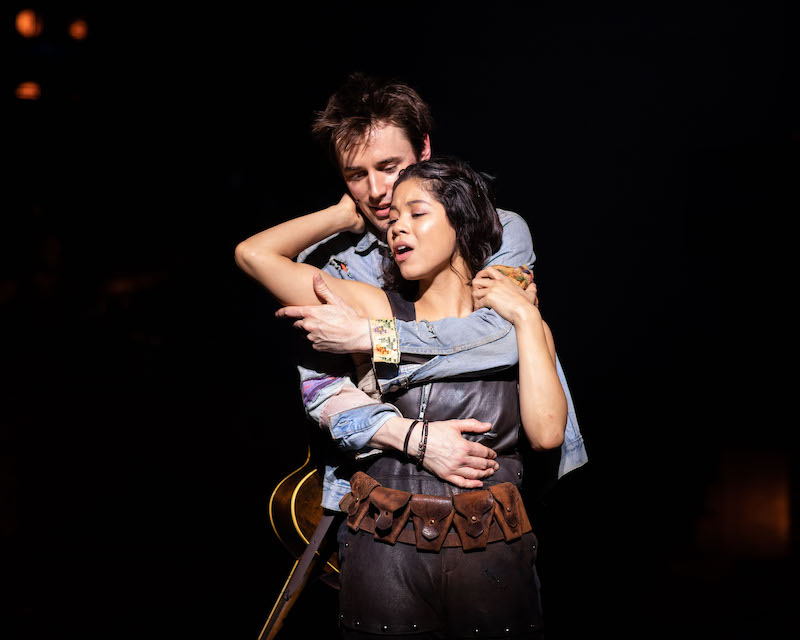 Other events have given new meaning to the show. Hades, an autocratic businessman who makes false promises, exploits industrial workers, and has a passion for both entrapping women and building a wall that keeps out the poor, is now inescapably Trumpian. Although the show's vein of optimism – in what is otherwise a tragedy – demonstrates that this guy, at least, has the capacity to change and grow.
The driving force of that change is Orpheus (Reeve Carney, pictured above with Eva Noblezada), who "could make you see how the world could be" through his singing and guitar-strumming. It helps him win over a sceptical Eurydice (Noblezada), who's more focused on pure survival, but only temporarily; when Hades (Patrick Page) – growing unsatisfied with his six-monthly possession of Persephone (Amber Gray, main image) – offers her a permanent escape from cold and hunger, she takes it. Her lover follows her into the Underworld, and sincere art does battle with cynical tyranny.
There's a pleasurable complexity to this quartet. Though Orpheus is ostensibly the hero, he still exhibits the flaky self-absorption of the dreaming artist, while Eurydice is no mere victim, but someone making hard choices, with flawed information. Hades' actions are villainous, yet stemming partly from an absence of love; his relationship with Persephone is a more mature, thorny version of the young paramours'. There are real-world consequences to Hades' restlessness, as both his mining projects and snatching back Persephone early lead to seasonal disruption and natural disasters – contemporary nods to climate change.
Carney brings a winning earnestness and distinctive crooning rocker voice to Orpheus, while Noblezada is blazingly good, giving Eurydice a wisecracking toughness challenged first by love, then by devastating disillusionment – with textured, powerhouse vocals throughout. But the devil (and his missus) may well get the best tunes here. Page's seductive, smoky bass goes deeper than the bowels of hell (both spot on character-wise, and a great running gag), while Gray brings vaudevillian anarchy and a fabulous bluesy wail to her tottering Persephone, who numbs the pain of Hadestown with moonshine.
Guiding both the audience and the lovers is the messenger god Hermes – a flamboyant turn by André De Shields, sleek in a shiny silver suit and at one point twirling a fringed umbrella. There's also sensational work from the trio of Fates (Carly Mercedes Dyer, Rosie Fletcher and Gloria Onitiri, pictured above right), who supply dynamic vocals, accordion and violin-playing, and the slinky flair needed to pull off bristling feathered collars. A hard-working company offers story and vocal support (in one effective instance, amplifying Orpheus's song to show its significance), with propulsive, grounded movement by David Neumann – featuring elements of street dance, stepping and swing.
Mitchell's score is gripping throughout, leaping from jazz to blues rock to indie folk to operatic and anthemic. Vintage mics add retro dynamics, while the band – under MD Liam Robinson – are phenomenal, particularly trombonist Nathaniel Cross and drummer Brad Webb. However, the show's unusual development is sometimes apparent in passages where the music causes the story to stall, or where commentary overtakes character journey – particularly in the second half, where tension isn't quite sustained, and a fight sequence falls flat. With a cast this strong, it could do with less telling (via ploddingly rhymed lyrics).
The atmospheric staging mostly compensates, however, with great use of immersive lighting (Bradley King) – including a compelling section punctuated by miners' headlamps – and a fervent commitment to the soulful messages of humanity over corporate might, empathy over greed, and the unwavering belief in creating a better world together. Recent political developments might make that feel almost too on-the-nose, but its necessity, and the hellishly good way in which it's framed, makes this a must-see.
Hadestown at the National Theatre until 26 January, 2019
Hades, an autocratic businessman with a passion for both entrapping women and building a wall, is now inescapably Trumpian
rating
Share this article