Twelfth Night, Young Vic review - Kwame Kwei-Armah makes a big-hearted return home |

reviews, news & interviews
Twelfth Night, Young Vic review - Kwame Kwei-Armah makes a big-hearted return home
Twelfth Night, Young Vic review - Kwame Kwei-Armah makes a big-hearted return home
Shakespeare sings in buoyant if sometimes strenuous UK premiere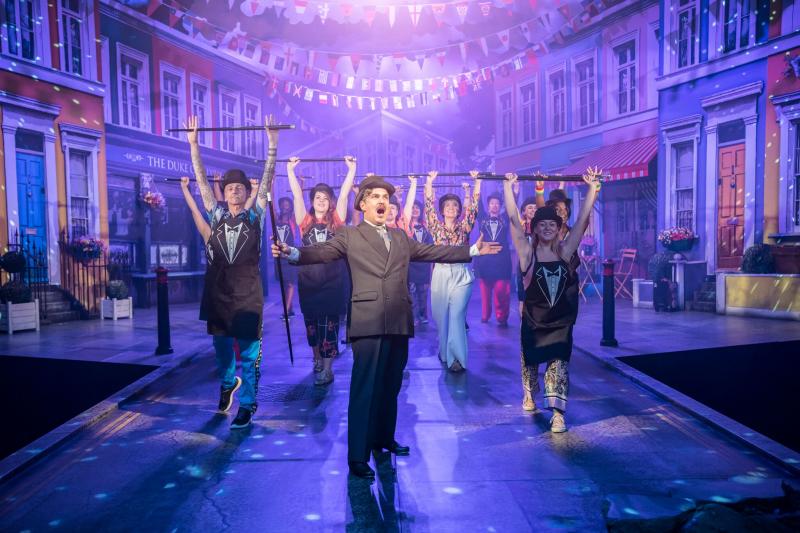 Vanity not-so-fair: Gerard Carey as Malvolio and the company of 'Twelfth Night'
What better way to celebrate a homecoming than with a party? That is the capacious-hearted thinking behind this new musical version of Twelfth Night, which additionally marks Kwame Kwei-Armah's debut production at the helm of that undeniable dynamo otherwise known as the Young Vic.
Resident of late Stateside where he was running Baltimore's Center Stage, Kwei-Armah has posited as his opening production a show that celebrates London in a giddy spirit of inclusion that seems a necessary antidote to our mean-spirited times.
And if Kwei-Armah's production, credited to him and the powerhouse American impresario Oskar Eustis, under whose New York Shakespeare Festival auspices the show first began, can sometimes get a bit clap-happy for its own good, one can only submit to the abundant cheer of a show that must be a hoot and a holler to be in. Sure, Shakespeare himself sometimes gets tossed aside in the interest of filleting a complex meditation on sexual and social fluidity into 95 largely-frolicsome minutes. (And choice lines do remain: Silas Wyatt-Barke's sinewy Andrew Aguecheek does still inform us that he was "adored once".)
But I can imagine Sadiq Khan making the production mandatory viewing as a template of what London can be, and often is, not least in the hands of artists. Newbies to the Bard may wonder what exactly is going on and why everyone is talking about Illyria (its name here carries over to the corner pub) when we are clearly in pre-Carnival Notting Hill. (That said, the use late-on of an épée makes a nice change from talk about knife crime.) Luckily, the supremely gifted Shaina Taub, the show's composer-lyricist, folds Shakespeare's language in with her own in a multi-purpose and often thrilling score that represents the evening's real occasion: Taub has been tapped to compose the forthcoming stage musical version of The Devil Wears Prada, which gives proper cause for hope.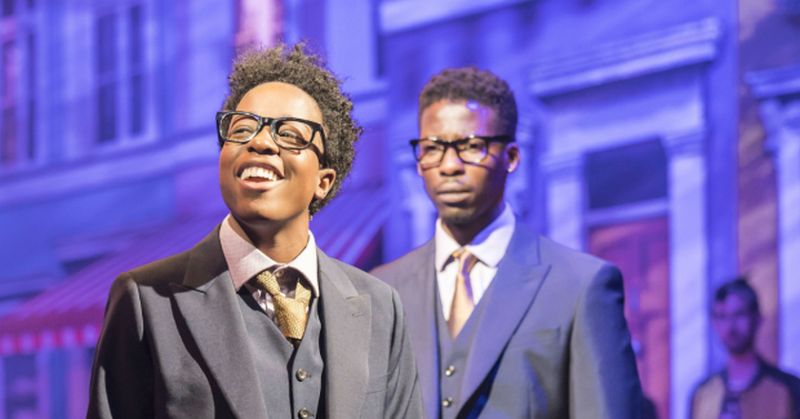 Twelfth Night, in turn, allows room for grief: the opening image of a hearse sets the scene for the mournful Olivia (the ever-delightful Natalie Dew), who is resistent to the advances of Orsino – though quite why, given the effortless charm of Rupert Young in the role, is open for debate. Olivia's diffidence allows her to fall hard instead for Orsino's newly-recruited emissary, Cesario, who is in fact the shipwrecked Viola – though don't look for much talk here of shipwrecks – in bespectacled disguise, Selfridges bag in tow. That defining part, in turn, is taken by a clarion-voiced newcomer, Gabrielle Brooks (pictured above, left), who sings of being liberated by concealment: "I'm the girl who's never had the chance to get the guy," she laments, optimistic in her newly-trousered persona that her luck may change.
This central trio are wonderful, singly and collectively, and share some of the more plaintive harmonies of a score that makes one wonder what Taub might bring to the landscape of Chekhov, given her apparent affinity to the realm of heartache. But as is the way of the source material, disruption arrives in the form of the vainglorious Malvolio, a character who somehow always reads better on paper than he plays onstage. Turning him into a song-and-dance man with a bullying complex and a signature "I want" number to call his own doesn't make him any less tiresome, no matter how much smarmy vigour the showstopping Gerard Carey brings to the part. Not for the first time one feels Malvolio unbalancing a play from which he won't make a quiet exit – and doesn't here.
The production is at its best when sweetest and least strenuous: when, for instance, a gossip-minded subset of the community chorus that are part of the company takes centre-stage to inform us of "the word on the street", or at moments that find Dew's erotically reawakened Olivia chasing a half-dressed bedmate outdoors, unaware that she has her mysterious intermediary confused with the unrecognisable Viola's hot-to-trot twin, Sebastian (played winningly by Jyuddah Jaymes). Melissa Allan's powerfully-sung Feste does still ponder the "whirligig of time", but I suspect most audience members will take away the insistence in the closing lyric on love: a landscape of the mind that anyone capable of reaching it will on this evidence be more than happy to call home.