White Christmas, Dominion Theatre review - breezy but bland |

reviews, news & interviews
White Christmas, Dominion Theatre review - breezy but bland
White Christmas, Dominion Theatre review - breezy but bland
Seasonal entertainment is cheerful if essentially dull
Thursday, 28 November 2019
Stocking stuffer: the company of 'White Christmas'
Nostalgia for things that probably never were is an animating theme in politics these days.
Nostalgia for things that probably never were is an animating theme in politics these days. Much the same feeling displaced to the realm of showbiz, lends a vaguely dampening air to White Christmas, this latest stage retread of the 1954 Bing Crosby-Danny Kaye film that its beloved more for its songs, really, than for any inherent durability.
The Dominion hosted a colourless iteration of this very title five years ago, with Aled Jones and Tom Chambers in the bromance-heavy central roles. The current upgrade of the material benefits from an altogether more appealing cast, headed by Danny Mac, who do what they can to turn the random flakes allowed by the material into a proper theatrical snowfall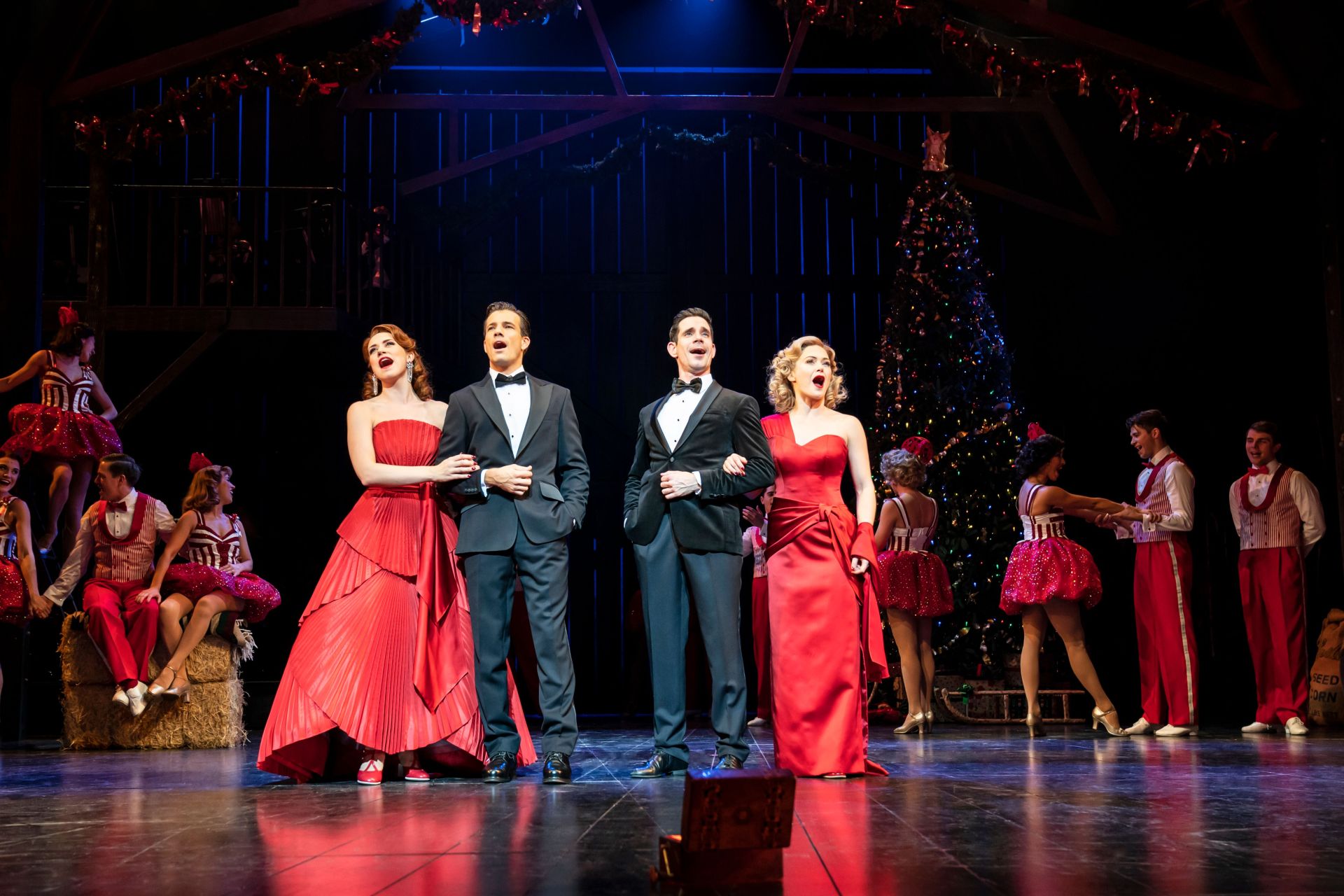 The plot is so thin that it would barely support a Christmas ornament. Having served in World War II for a gruff but kindly general (played by Michael Brandon, who chugs his way through a few bars of music himself), two former serviceman-turned-theatre stars pitch up in peacetime to abet their former boss's failing Vermont inn. Along the way they fall into the arms of a pair of sisters, even if one couple – Mac and the darker-haired of the duo, Danielle Hope's beautifully sung Betty Haynes – has a bumpier time of it than the other.
Better, really, to forget the story and focus on the Irving Berlin music, much of it, of course, carried over from the film, alongside other numbers ("Blue Skies", "Let Yourself Go") intended to elicit an instant swoon from the audience. As he showed two years ago in the alfresco Regent's Park environs of On the Town, Strictly Come Dancing alumnus Mac is a genuine musical theatre natural and can croon with the best of them while cutting loose as expected on Stephen Mear's buoyant dance routines. Alongside him is onetime Olivier nominee Dan Burton, late of Gypsy, who joins that tap-dancing dynamo Clare Halse in a formidably nimble version of I Love A Piano that is best not attempted at home. I found myself wondering at one point what this exact same quartet of leads (pictured above) might be like in a decade or two in some future iteration of Follies: it says something about the material on view here that the mind does on occasion drift.
Halse, for her part, led the recent wow of a West End revival of 42nd Street , which brings back memories of a trip down memory lane that delivered the goods on a scale of which this offering, under Nikolai Foster's direction, can only dream. Brenda Edwards, too, is on hand to lend full-on sass, heading up a supporting cast several of whom lapse into tedious shtick (you know who you are). Still, the time-honoured music is there to be savoured alongside a climactic shower of snow, at which point you might want to bring a mac while also watching one onstage.