Brave New World, Sky 1 review - Aldous Huxley's novel doesn't look very happy on TV |

reviews, news & interviews
Brave New World, Sky 1 review - Aldous Huxley's novel doesn't look very happy on TV
Brave New World, Sky 1 review - Aldous Huxley's novel doesn't look very happy on TV
Lame adaptation enlivened by gratuitous slaughter
Saturday, 10 October 2020
Bernard (Harry Lloyd) and Lenina (Jessica Brown Findlay) slum it in the Savage Lands
Famous dystopian novels are reliably popular with TV adapters, so it's strange that this is the first time Aldous Huxley's treatise on a society controlled by technology and psychological manipulation has been turned into a TV series.
Of course, these days you need a pretty good
fictional
dystopia to surpass the one already running amok outside your window. Still, this is written and produced by David Wiener, one of the masterminds of
Fear the Walking Dead
, so you might at least hope for a generous helping of horror and massed blood-letting.
But last week's first episode of Brave New World (Sky 1) disastrously walked into every known pitfall of trying to turn what is essentially a philosophical discourse into gripping drama. Even mediocre drama would have been a start. The sterile, dehumanised world of New London looked almost as daringly futuristic as Milton Keynes, and the depictions of the brainwashed inhabitants purporting to "enjoy" massed sexual relations (privacy, family and monogamy are banned in this suffocating dead zone) resembled a Tupperware and wife-swapping party round at Barbie and Ken's. Star quality was sorely lacking, with Jessica Brown Findlay brittle and cheesy as supposed "heroine" Lenina Crowne, while her boyfriend Bernard Marx (Harry "Viserys Targaryen" Lloyd) looked as if everyone had ganged up on him at school. Marx and Lenina – nuanced it ain't. Actors declaimed their lines as though trying to read cue cards at long range without their spectacles. Perversely, the show's one real star, Demi Moore (playing Linda, pictured below), was left parked off screen for most of the running time.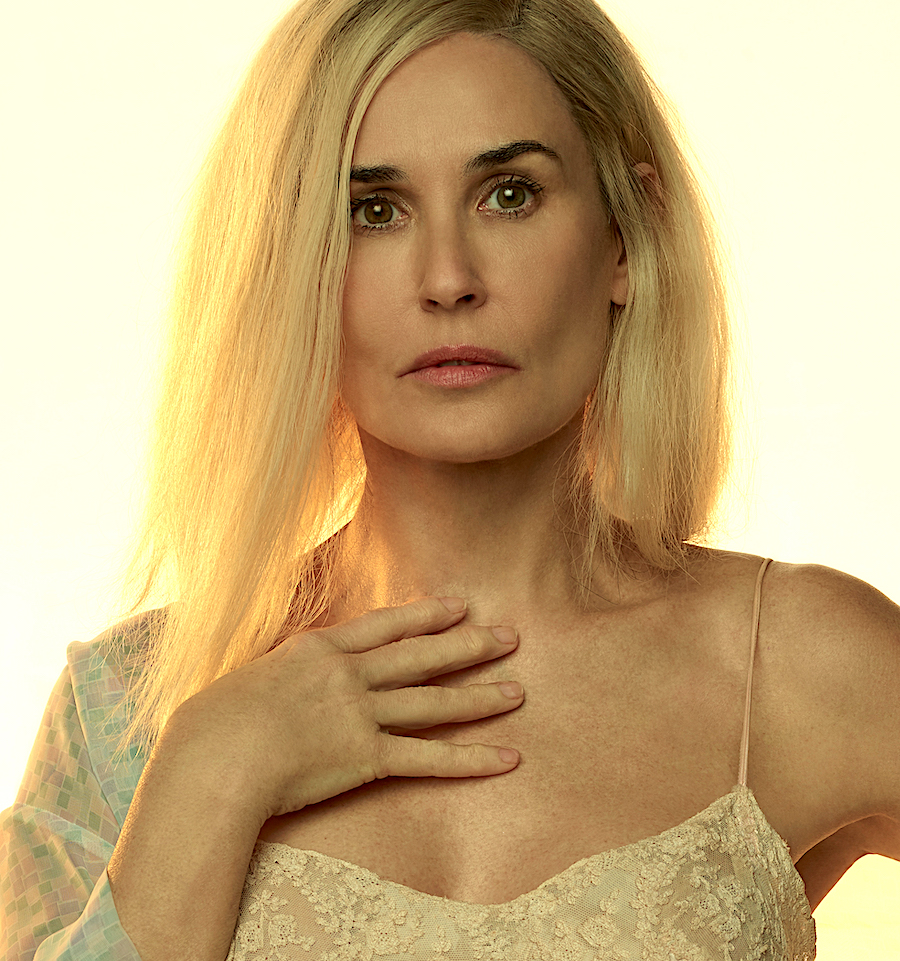 Happily, things took a turn for the better in episode two. We still didn't see much of Demi, who seems to be a sort of Blanche DuBois figure stuck in a derelict shack with a sullen younger man called John (Alden Ehrenreich), but by virtue of the production abandoning any pretence of filming Huxley's book and charging berserkly off the reservation, at least we got a few cheap thrills. The storyline was that Lenina and Bernard had blasted off on a rocket-powered weekender to the Savage Lands, a cautionary rednecks-in-dustbowl-hell theme park where assorted hicks and crackers live out their absurd little lives, rather like the real-life inhabitants of Louisiana or Oklahoma.
The air of smirking, entitled condescension emitted by the visiting New London elitists was delightfully rewarded when the Savagistas went on a vengeful rampage with pickup trucks and automatic weapons, slaughtering the tourists in the streets and not hesitating to finish off the wounded with a crisp double-tap to the head. Kate Fleetwood looks ominous as the baleful and seemingly merciless Sheila, who might have been named Cassandra.
Suddenly Brave New World had become Westworld, though (we can only hope) without the tangled layers of meta-whataboutery ladled all over the latter by Jonathan Nolan. What happens next might be slightly more interesting than we'd feared.