Imagine Anselm Kiefer, BBC One |

reviews, news & interviews
Imagine... Anselm Kiefer, BBC One
Imagine... Anselm Kiefer, BBC One
Entertaining but two-dimensional, Alan Yentob's account glosses over the artist's flaws
Tuesday, 18 November 2014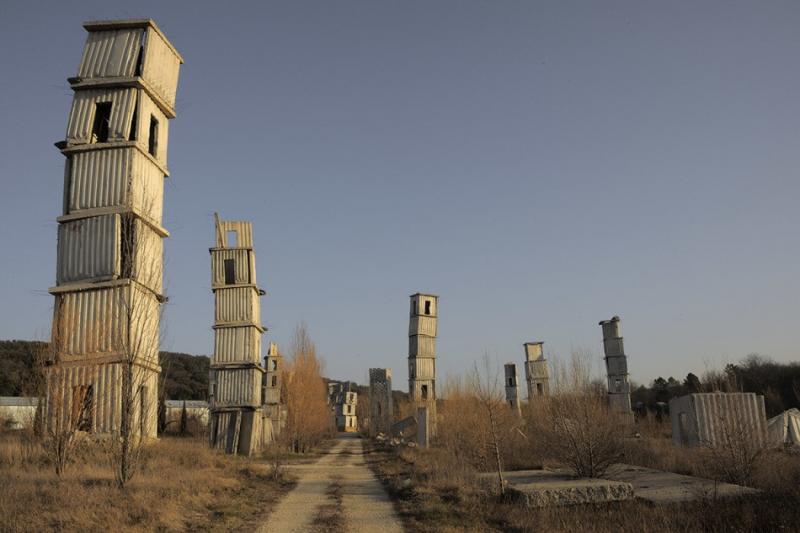 Anselm Kiefer's 200-acre studio at Barjac, in the south of France
Anselm Kiefer reminds me a bit of someone I once worked for. Totally unpredictable, and possessed of a formidable intelligence and creativity, his mental leaps can be bewilderingly hard to follow, leading occasionally to truly breathtaking results, but crashing and burning just as often.
Everyone else, like me, or in Kiefer's case his long-suffering assistant Tony, not to mention poor old Alan Yentob, has to trot along behind, barely able to keep up with the barrage of ideas, questions and orders, let alone judge whether any of it is any good.
Early on, Yentob was struggling to keep abreast of his interviewee (pictured below), either physically or intellectually. Kiefer seems pretty athletic, striding through the many tunnels and passageways that run through his oldest studio, a disused brick factory in Buchen, Germany. When they eventually stopped for a breather, Kiefer commented that in addition to earth, ash and straw, he sometimes uses diamonds in his work, "like Valentino". Yentob wasn't sure what to say: "The dress designer?" he offered, hopefully. "NO, no, no, no," scolded Kiefer, he had been referring to the other Valentino, the one from the second century AD.
This tendency to pursue the arcane and then to assume, high-handedly, that everyone has followed his train of thought, however convoluted, obscure and bombastic, is, of course, rather characteristic of Kiefer's art. An occupational hazard of being concerned exclusively with the Big Questions is that he is forever negotiating that treacherous and well-trodden line between the sublime and the ridiculous.
Yentob steered well clear of any critical engagement with Kiefer's work, however, and there was no attempt to locate the artist in the narrative of postwar art, aside from a few aggrandising platitudes from the likes of arch-sycophant, Simon Schama. It was inadequate to speak of Kiefer's attempts to reclaim German culture and mythology from the Nazis and to broach the taboo of Germany's recent past, without mentioning that other artists, like Gerhard Richter, Georg Baselitz and even Kiefer's sometime teacher Joseph Beuys were, albeit in very different ways, engaged in related projects.
We first encountered Kiefer in his Paris studio, assaulting a vast canvas with a large palette knife, not dissimilar to the knives they use in kebab shops to shave pieces off the elephant leg. He was hacking back layer upon layer of paint, thick accretions – impasto hardly covers it – built up over time, to expose the very first applications of paint. It takes a degree of self-assurance to see your own activities as in any way comparable to the origins of the universe, but Kiefer was in his element: "It's like in the cosmos, it's always construction, demolition, reconstruction." Even the boxes of paint debris he keeps after these demolition sprees were imbued with a grand significance. "When the stars explode, all the material goes into the cosmos... God doesn't forget it, and then one day it will be recomposed as another star… and so I keep it all." It all makes perfect sense, but it would be equally at home in Private Eye's Pseuds' Corner.
For someone so prone to talking big, his use of the term 'studio' is a curious understatement
Yentob's interviews took place as Kiefer prepared for his Royal Academy retrospective, confirming that Kiefer's biggest statements are, without doubt, his three immense studios. For someone so prone to talking big, his use of the term "studio" is a curious understatement along the lines of calling Buckingham Palace a house. The Barjac site in the south of France, all 200 acres of it (main picture), is like some mad-cap theme park, full of tunnels and towers that in their derelict state recall the bombed-out ruins of Kiefer's childhood.
Here too, Kiefer's activities often descended into the downright farcical. Sporting the sort of cotton flat cap beloved of pensioners everywhere, he showed that he may be one of the greatest artists alive, but he has absolutely no idea how to drive a car. When the car played up, Kiefer's reaction was, inexplicably, to batter the horn, before admitting that he had left the handbrake on.
For all the absurdity of the man, these vast sites, dedicated to his art and with little or no commercial function – and in many ways the real subject of Yentob's narrative – do nothing if not confirm that in his ambition and artistic vision he is entirely genuine, however flawed his work might often be. That his art often fails to hit the mark, is surely an inevitable consequence of the grand scale of his project, and in failing to address this, Alan Yentob's analysis ignored an important aspect of Anselm Kiefer's artistic persona.
It takes a degree of self-assurance to see your own activities as in any way comparable to the origins of the universe, but Kiefer was in his element
rating
Share this article