Mad Men, Series 4, BBC Four |

reviews, news & interviews
Mad Men, Series 4, BBC Four
Mad Men, Series 4, BBC Four
So slick and moreish you don't even realise it's an advert
Wednesday, 08 September 2010
That sobbing musical theme resumes, so does that hospital-white dreamlike cartoon of a male figure tumbling in a Hitchcockian fall from grace past huge ads of poster girls. Actually it's almost as much Milton as it is Hitchcock. I say that to be deliberately pretentious, because the secret of Mad Men's addictive draw is the human profundity you try to read into this fascinatingly surfaced drama about an empty man who doesn't know who he is. This is the ultimate advert for TV, a series so slick and so moreish you don't even know it's an advert.
If you are already hooked on Mad Men, you don't need me to tell you that last night's first episode in series four, "Public Relations", set off a whole race of hares, and you and I will share the pleasure of hunting each and every one of these down over the next 12 Wednesdays. But I'd love to persuade you to switch onto Mad Men if you haven't already.
Mad means Madison Avenue, the home of New York advertising in the early Sixties, where, with a shuddering crunch of debris, the careful Fifties are smashing into the heedless Sixties, and at the epicentre of this storm is the Sterling Cooper ad agency, where the mesmerising hunk called Donald Draper works. In fact, the agency now bears his name too, as at the end of the last series he and his colleagues boldly quit the corporate international agency where they'd drunk gallons of elevenses bourbon and smoked dozens of cigarettes every day for 20 years, and set it up small, lean and fast.
We resumed in the same psychological territory - the opening line of last night's episode was "Who is Donald Draper?" - but in a very much less glossy geographical territory, a cramped, bland little office where the new guerrilla agency has premises (and pretends to have a grander second floor). The question was being posed by a reporter for Advertising Age, an empty question that didn't expect a full answer - but in this series that question happily took us back into the circular formula that is why we watch Mad Men. Few things on television bother to deal with the panic that many successful people feel about who they are under their trappings, and the writing of Draper's character is particularly picaresque. In previous series we have been slowly let in on the fact that he is indeed someone else, that more like a fool than a spy he stole a dead man's identity, and has been trying to find out who he himself thinks he is ever since. Odds are that he will detonate, but the humanity in the writing will, if it matches the past, make this a bitter-tasting experience, not a sentimental one.
Jon Hamm, who plays Draper, is so sumptuously matinee-idol in his looks that it's extraordinary to think that his career was relatively anonymous before Mad Men. Not so surprising when you look hard at all those loving close-ups that director Phil Abraham and mastermind writer Matthew Weiner prescribe. Hamm's face barely moves, it's emotionally Botoxed, that tiny perplexed frown between the eyebrows and the tight, mistrustful smile. It must counter any actor's instincts to keep locking down, but what Hamm achieves is that you keep reading Don Draper things into his immobility: regret, self-loathing, boredom, suppressed agony.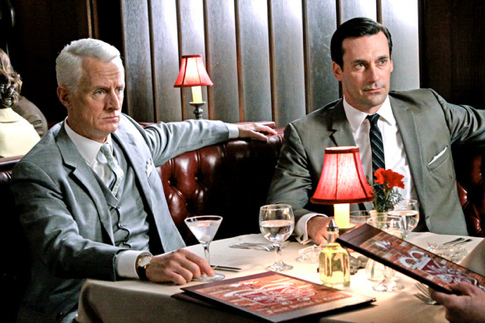 The story resumed last night with Draper awkwardly giving an interview. The reporter had a wooden leg: "They can't even afford a whole reporter," grumbled the fabulously incorrect Roger Sterling (pictured left, with Draper), in a joy of a performance by John Slattery. (One of the most frightful potential upsets in the last series was when Sterling threatened to die of a heart attack.) The absurdist detail about the missing leg, lost in Korea, may be a metaphor for Draper's unnervingly unstable life, also lost in both Korea and his career, which surely this fourth series has to provide a Miltonic denouement for. The fascination of the reporters with the enigmatic "man from a town with no name" infuriates the irresistibly exhibitionist fiftysomething Sterling, because he thinks it's the agency the PR should be focusing on.
True, it's one of the things the writers have to focus on too - and they have a lot of allegorical fun with the demure female-centredness of Sixties ad campaigns. Peggy's "Mark Your Man" copy-line for lipstick in the previous series was a stroke of genius, and the new agency has just made its name with the "Glo-Coat" floor polish TV campaign. Draper's coat still glows like a duck's back, impermeably shedding all weather, but Hamm's gift is that he never bores, he never quite becomes dull. Even when he was doing banal, routine things, like pitching politely to a prudish company who wanted to avoid calling their bikinis anything other than "two-piece swimsuits for women", or bedding expensive prostitutes, he dropped tiny, acid little clues to a ticking bomb in the neighbourhood. He suddenly chucked the furniture at the stupid clients, demanded the prostitute slap his face hard, hard, hard, while they were copulating. We saw him lonely and even more ferociously sexy in his bachelor apartment, watching his own ads on TV, smoking in the dark. He never reads. He is a perfect illusion.
The worry about the last series ending in his divorce was that we might lose the iridescent January Jones as his wife Betty, chronically passive, the vessel of dreams, a Hitchcock blonde par excellence. Having now married a dull man who she's fairly sure she knows the identity of, she has turned into a frump, abandoning her heedless Eva Marie Saint waves for a spray-do, her flouncy wide skirts for a shapeless senator's wife suit. Jones is extraordinary in the role, as empty and indefinite as her ex-husband, trapped in appearances and female conventions, tragically undereducated, mercilessly bad-parenting their daughter (who is turning promisingly into a teenage basket case).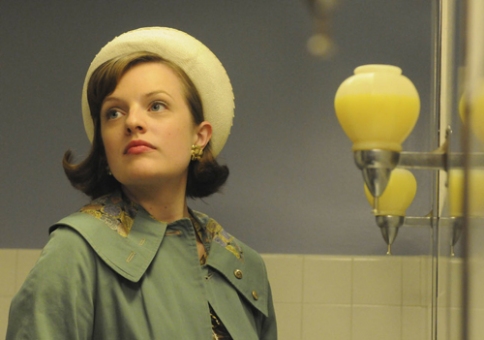 Betty's opposite from the start was Peggy, the office frump, whom the writers have cunningly rescued from the whining descent into self-pity that could have been called for by her mistakes in the previous series. With very 21st-century acuity, they have made her do the reverse journey from Betty's: she appears to be surviving impregnation and fattist comments around the office by discovering empowerment, a flattering new hairdresser and power pussycat bows (a big outward sign of career women). She's sensed the Sixties message - unlike Don - and drawn a line under her regrets. She's now shaping up as a natural Machiavellian hack propagandist, prepared to stop at nothing for her job, and will probably be Hillary Clinton in 20 years. Am I going to enjoy this baleful and bossy Peggy quite as much as the stumbling wallflower of previous years? I suspect I am. (Elisabeth Moss, pictured above right)
Don't be put off by the hype. The eggtimer-bodied Joan Harris (Christina Hendricks) is the icon of the moment for women, and Mad Men fashions are everywhere, but there's much more than simple surface in this series. The lure of personality in the writing continues, as does the whip-fast storytelling, the stylishness and individual attractiveness of an ensemble who know that over 13 episodes all of them will have their moment. There is very little live theatre to compete at this level.