Rules of the Game, BBC One review - feminist workplace drama topples into farce |

reviews, news & interviews
Rules of the Game, BBC One review - feminist workplace drama topples into farce
Rules of the Game, BBC One review - feminist workplace drama topples into farce
Screenwriter Ruth Fowler's characters turn into caricatures
Thursday, 13 January 2022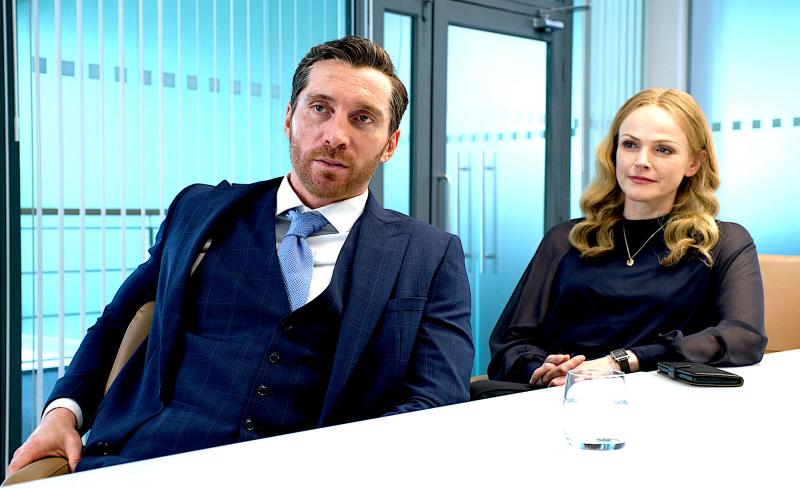 Bad company: Owen Jenkins (Ben Batt) and Sam Thompson (Maxine Peake)
The BBC have billed this as a "four-part thriller about sexual politics in the modern workplace", which is slightly misleading because it looks as though it's taking place in about 1983.
The action centres on a sportswear company called Fly Dynamic, based somewhere in the north of England, a company which began as a market stall and now allegedly threatens the supremacy of JD Sports. It's doing so well it's about to float on the stock exchange.
Screenwriter Ruth Fowler has evidently steeped herself in the history of #MeToo, the abuse of female employees and the deplorable "toxic masculinity" of too many men in powerful positions, but in case that sounded a tiny bit dreary she'd taken the precaution of kicking off episode one with a good old-fashioned murder mystery. When Sam Thompson (Maxine Peake) comes to work one morning, mysteriously dressed in a red kimono suit and a pair of powder-puff slippers, she's horrified to find splatters of blood and a mangled corpse in the foyer. The deceased (so far unidentified) evidently fell, or was pushed, from several floors above. Soon, cops are swarming all over the scene, though their investigation only proceeds rather reluctantly in intermittent flashes.
The show's guiding notion is that Fly Dynamic is an unstable empire based on lies and heinous crimes, riddled with guilt and dirty secrets. The CCTV even catches employees slipping away for a quick shag in the boardroom. It's certainly difficult to believe that its dysfunctional crew of selfish, arrogant males and downtrodden women could ever have turned itself into such a commercial powerhouse.
The company is currently run by the sons of the founder, Owen and Gareth Jenkins (Ben Batt and Kieran Bew, pictured above), both hilarious caricatures of boorish, lecherous Northern Man. It's reminiscent of the imperishable Harry Enfield sketch where he plays an unreconstructed working-class Yorkshire chauvinist, who finds himself in a room full of preening, pony-tailed advertising creatives ("Don't talk to me about sophistication – I've been to Leeds!").
Everything about these people is like a list of cliches from daytime TV. The wives get together for suburban "cheese parties", and spend their days either getting botoxed, detoxed and blow-tried or being neurotic about their weight. Peake's character, who's been with the company since she was 16 and is now COO (Chief Operating Officer), exudes an air of abrasive impatience with anyone who fails to stop moaning and muck in, but her very chequered past (and apparently present) with the slavering Gareth Jenkins looks liable to blow up in her face at any moment. Gareth himself treats his depressed wife Carys (Katherine Pearce) with patronising condescension when not amusing himself with other women or gruesome torture-porn.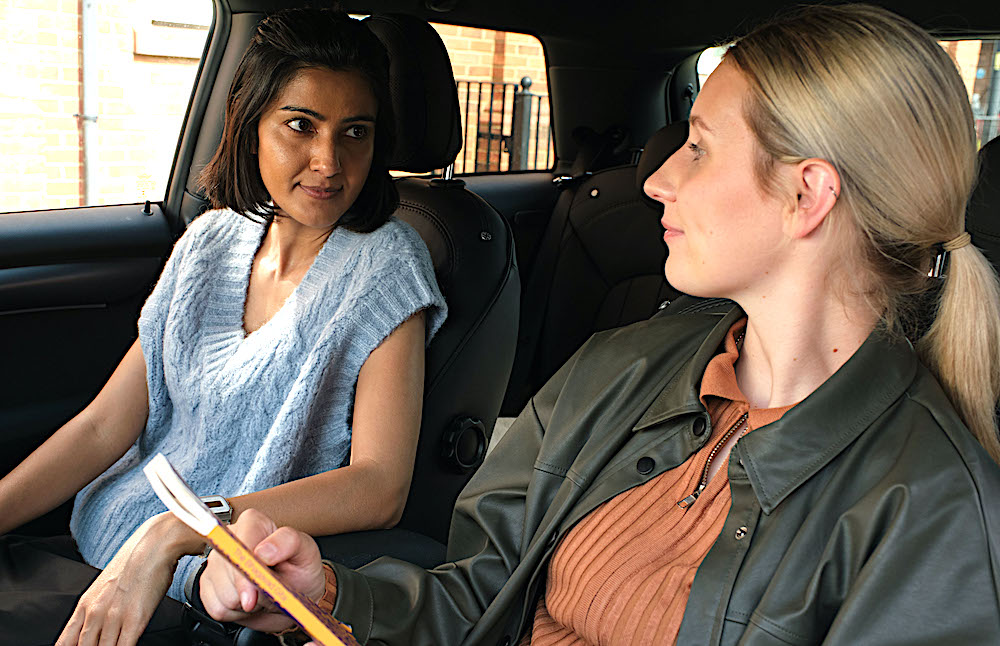 In a risible attempt to make a token gesture of moving with the times, the company has hired itself a new HR (that's Human Resources, acronym fans) manager, Maya Benshaw (Rakhee Thakrar). Earnest Maya chides people primly for using terms like "hottie" ("it's marginalising"), and thinks she can shake things up by instituting company bonding activities and encouraging a stimulating turnover of staff, but nobody else has the faintest idea what she's talking about. When Maya hears about the horrific abuse Tess (Callie Cooke, pictured above with Thakrar) has suffered at the company, it seems to signal that her days are already numbered, because she starts lapsing into the depressive, neurotic state which forced her to leave her previous high-pressure job in London. Reader, no-one here gets out alive.
Fly Dynamic itself will be lucky not to implode before its Initial Public Offering, since before episode one was out Fowler had brought us news of yet another sinister death in the family, though this one dated back 10 years. This was a young employee called Amy, who collapsed in the street outside the club where the company were holding a riotous party. It seems she died from a stupefying cocktail of drugs and alcohol, but then Sam experienced a strange flashback-hallucination (actually there's a bit too much of this sort of thing in Rules of the Game) which suggested that the disgraced Hugh – an ex-employee who, suspiciously, is still on the payroll – may have played a sinister role in the tragedy. If you can't wait, the whole overcooked, underwhelming mess is up on iPlayer.