Screenwriter Adam Price on 'Ride Upon the Storm' - 'If we discuss faith, we will possibly not kill each other' |

reviews, news & interviews
Screenwriter Adam Price on 'Ride Upon the Storm' - 'If we discuss faith, we will possibly not kill each other'
Screenwriter Adam Price on 'Ride Upon the Storm' - 'If we discuss faith, we will possibly not kill each other'
Lars Mikkelsen stars in new Channel 4 drama Ride Upon the Storm about a flawed priest battling his many demons
Saturday, 26 January 2019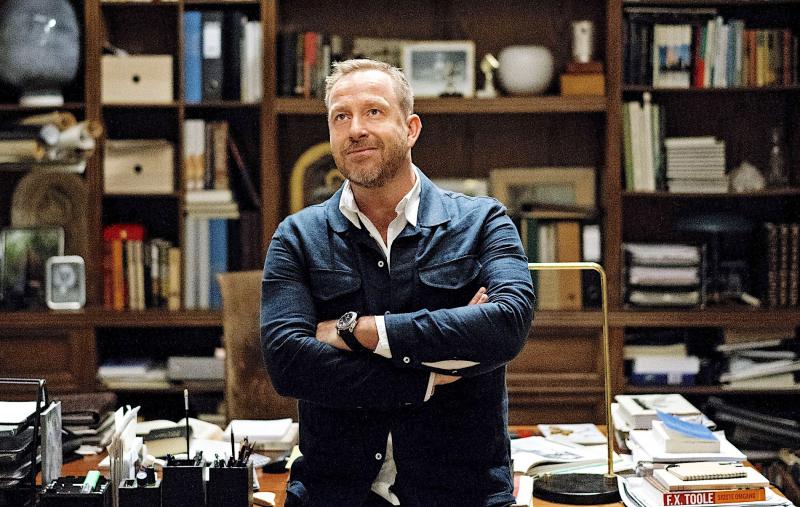 Adam Price, TV dramatist as well as TV chef
Apparently in Denmark they pronounce screenwriter Adam Price's surname as "Preece", but its English-looking spelling stems from the fact that his ancestors moved from London to Denmark in the 18th century.
He came storming back into the British consciousness with the Copenhagen-based political drama
Borgen
, which happened to coincide with the
"Nordic Noir"
boom but managed to succeed without the latter's obligatory diet of eccentric detectives and ghoulish serial killers. Instead, it wrought its ratings-winning magic from the professional machinations and private preoccupations of Danish politicians (not least Prime Minister Birgitte Nyborg), journalists and spin-doctors.
Now he's back with a new series, Ride Upon the Storm, made for Denmark's public service broadcaster DR and now arriving on Channel 4. It centres on the turbulent career and combustible family relationships of Johannes Krogh, a Copenhagen priest who we first meet as he's trying to win the election to become Bishop of Copenhagen. Played with simmering intensity by Lars Mikkelsen (pictured below), Johannes is a fiery, contradictory character who's prone to violent mood-swings, sexual promiscuity and far too much alcohol – how very different from our own dear Justin Welby. "We have had very great men and women of the church who have been very important culturally in Denmark, but some of them have been like artists, people with huge personalities and also huge flaws," Price points out. When not embroiled in dramatising messy domestic relationships and thorny philosophical questions, the ebullient and voluble Price has a second life as a popular TV chef and restaurateur. His roast bacon and parsley sauce comes highly recommended.
He was in London this week for the launch of Ride Upon the Storm, and was quizzed in front of a bevy of journalists by Walter Iuzzolino, curator of Channel 4's Walter Presents strand of international TV drama. The conversation went like this...
WALTER IUZZOLINO: Were you mad when you thought of Ride Upon the Storm? In the world of television, faith and religion are almost dirty words.
ADAM PRICE: I was writing the last season of Borgen and late one night I was driving home and I was listening to the news, and they were broadcasting bits of an election campaign for people who wanted to become bishops. I thought this is so interesting because we're actually electing the figurehead of the church of Denmark, and they have election campaigns financed by themselves and they are politicians under God. I thought it was kind of a bridge into a world that is possibly even more political than politics. But in this series we are not only discussing the clash between Islam and the cultural Christian West, I really want to debate faith. I think it's important to discuss faith, because if we discuss it we will possibly not kill each other. I think we definitely need that debate.
How do you evolve the show around this sort of really flawed hero, Johannes Krogh, because he's a really interesting central character?
It was kind of a difficult pitch at first – I want to write about the church, oh yeah? But then again the wonderful thing with DR being the main Danish public service provider is that they are almost obliged to take on the difficult stories. And the Head of Drama at that time was also personally very interested in faith and religion and the church as an institution. If we roughly look at statistics there are around 2.5 billion muslims, 2.5 billion Christians, and if you only look at the three monotheistic religions there are 14 million jews, a very small number compared to the other two great religions. Religion influences so many things in our society and yet the core question, does God exist or not, that argument will go on forever. Faith is such a lighthouse in our lives, and a huge question-mark, and this series wants to debate it on a theological and an ethical and human and philosophical level. It's also a family driven story, a character driven story, and at the very centre is the character of Johannes, portrayed in the most unimaginably beautiful way by Lars Mikkelsen.
You said you had written the final draft of episode one by the time you started casting and Lars came on board, and yet when you watch the show he's so integral to it. You can feel that it's an incredible creative contribution.
When Lars came in everything changed. Because he just brought so much pain, so much joy, so many more dimensions to the part, it was just like the part all of a sudden grew and we knew that it had to be him. Lars is a very demanding actor so he is not necessarily satisfied with the third or the fourth draft of the scene, and sometimes he participates himself because he's so passionate about it. He has also gone through a huge development as an actor during the shooting of this, and he has been quite public about it so I might just add that Lars as an actor comes from a very secular background. He actually comes from a communist background in Denmark, where religion was basically the opium of the people to quote Lenin, so it's as secular as you could possibly get. Slowly Lars has embraced religion, not without any criticism – he is still very much in doubt, but he has been able to embrace the part in a way where he has actually chosen to be baptised during his work with this show. Which is amazing. But this is not to claim that Lars is now a religious person, but he has been moved by the part and his work with the part, and it says a lot about his incredible dedication to the show.
It also says a lot about the strength of the concept. You were talking about the themes which are philosophical and intellectual and could be dry, and the show is the exact opposite because it is actually a family melodrama in many ways. It's a family unravelling or growing up.
Yes, we tried of course to build many of the main driving ideas of the show on Christian myths, for instance the myth around Cain and Abel, because obviously there's a brother story. Also the Old Testament story of Abraham and Isaac, how much are you willing to sacrifice? Basically this is a good old-fashioned family, mum and dad and two sons, but one son (Christian) has been greatly disappointed by his father and has accordingly decided to disappoint his father as well. He has kind of left the path, has left studying theology and, basically to spite his father, has decided to study business instead. So moving from the cathedral to the marketplace, which annoys his father tremendously obviously. And you have you have the weaker, the softer son (August) possibly more influenced by his mother's more emotional qualities, who follows in the footsteps of his father, and that is kind of the nucleus of the story (pictured below, Morton Hee Andersen as August and Simon Sears as Christian).There's also a huge story around this marriage, because yes Lars portrays a priest, but in a way we've tried to write him as a rock star, as an artist. In Denmark we have very independent priests, and Johannes is very much a rock star in his parish, he's a famous character.
And he likes a bit of controversy.
He does, and he's a man who's haunted very much because he's a very flawed character. He has huge demons. He would never go to a psychiatrist because he hates psychiatry obviously, but if he ever did he would probably be diagnosed as a manic depressive or something like that. When he's up there he's manic and he's riding the wave. But then he is hit by his demons, and they pull him down. He's also an alcoholic and he gets extremely depressed when he has had one of his high rides. Then he gets the low ride and that is terrible for the family, and you really feel that these people have been living with this, they've been victims of this great man. Behind every great man is a wrecked family! So the story takes us on a long arc which is also the fall of a patriarch. And something emerges in his wife. A smell of rebellion, of being something on her own. You have this body of intellectual theological questions, but it's all very much a family driven story and it's a story of a marriage.
Was anybody outraged by it in Denmark?
It's the first time a series has portayed the church, so you have the obvious cases of priests imagining that it's a story about them personally. They go "oh this is very unrealistic, I've never fallen into a grave when drunk", and then we say "OK but do you know which of your colleagues has actually done that? We have the names!" The church has actually embraced the series, it stirred a lot of positive debate around the church and focussed attention on an institution that sometimes seems a little elderly and grey and anonymous, even though locally because of the independence of our priests the church can be very strong.
Why are audiences internationally responding to the series so strongly?
I think the character universe is strong and universal, because of our amazing actors. I think that was possibly also the case with Borgen, that even though you weren't particularly interested in Danish coalition politics, you kind of bought into the world of Birgitte Nyborg (Sidse Babett Knudsen, pictured above) and her colleagues and their family issues. All of a sudden it felt that the politics, even though they were Danish, also had kind of universal qualities. I very much hope that the issues around faith and family and the personal issues of these characters are strong enough to carry international interest as well. It seems so anyway. It's been sold to 72 countries.
Ride Upon the Storm begins on Channel 4 at 11pm on Sunday 27 January, after which the whole series is available on All 4.
In Denmark we have very independent priests, and Johannes is very much a rock star in his parish, he's a famous character
Share this article