Tigertail review, Netflix - a story of immigrant opportunities, taken and missed |

reviews, news & interviews
Tigertail review, Netflix - a story of immigrant opportunities, taken and missed
Tigertail review, Netflix - a story of immigrant opportunities, taken and missed
From Taiwan to NYC: Alan Yang's first feature film honours his father's experience
America calls: Pin-Jui and Yuan as children in Taiwan
"Crying never solves anything.
"Crying never solves anything. Be strong." An admonishment from a stern grandmother haunts this low key first feature film by Alan Yang (Parks and Recreation, Master of None), loosely based on his father's 1950s immigrant experience of leaving Taiwan and coming to New York City (his father does the voice-over in the film) and on Yang's own recent trip to Taiwan with his father.
No tigers in evidence here, kings, tails or otherwise. It's a gentle, elegiac Asian-American story of lost love and emotional repression, told, in Mandarin and English, from the perspective of a disappointed middle-aged man (a wonderful Tzi Ma; The Farewell, Man in the High Castle) looking back at his marriage.
Determined to rescue his feisty mum and himself from the grind of sugar-factory labour in Taiwan by finding a better life in America, Pin-Jui (played as a young man by Hong-Chi Lee, pictured below with his wife Zhenzhen) agrees to a loveless marriage arranged by his boss and leaves behind Yuan, the free-spirited girl he loves and first met when he was a child, living with the stern granny in the rice paddies.
In spite of his efforts to uproot his mother – she's not one for displays of affection, but the jokey bond between them is finely drawn – she also stays put in Taiwan, sticking with the life she knows. Judging by her son's stoic, joyless struggle in the new world, she may have made the right decision, but he could have done with her bracing presence at his side – and it might have lightened the load for the viewer.
The tone is a bit unrelenting but there are lovely moments – Pin-Jui running through the rice fields as a child, singing The Dock of The Bay with Yuan, attempting to improve life in New York for his lonely wife Zhenzhen (Konjue Li) by buying her a piano keyboard. They know so little about each other that he asks her, "Do you dance at all?" When she tells him no, she's too embarrassed, you know fun isn't going to be high on the agenda.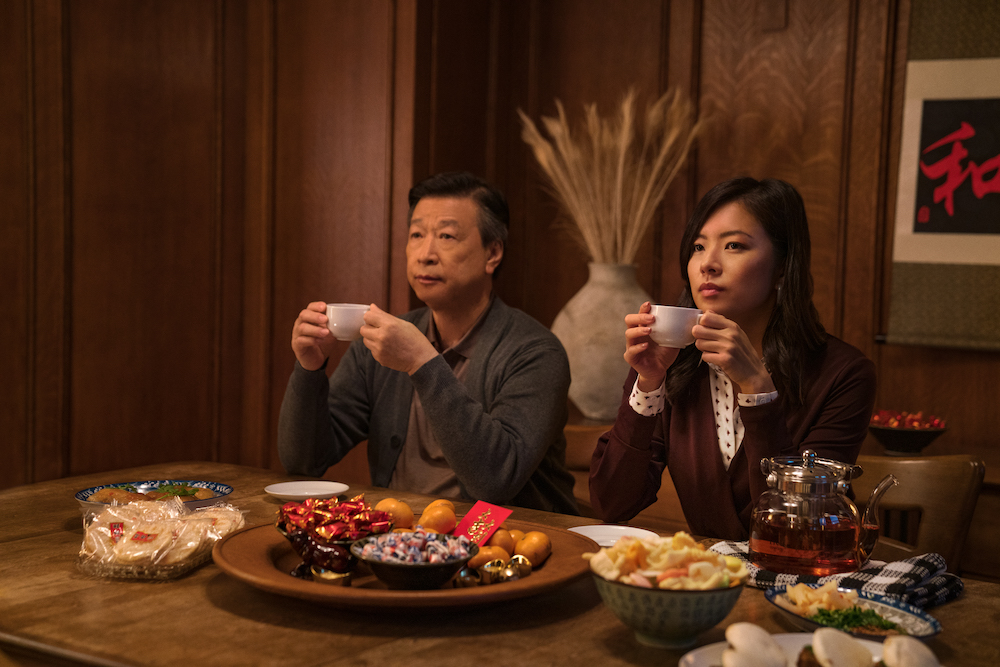 His relationship with his grown-up daughter Angela (Christine Ko, pictured above with Tzi Ma as Pin-Jui) is excruciatingly withholding and monosyllabic – they're so alienated from each other that it takes a while to grasp that they're father and daughter – except when he's making disapproving remarks about her lifestyle. "He makes me happy," she says of her fiancé. "You really think that's enough?" he asks. He seems to get more satisfaction from his beautifully aligned tea ritual than any human interaction. But his rare smiles, a joy to behold, increase after his wife – an independent spirit, it turns out – leaves him and he meets Yuan (Joan Chen) again, leading you to wonder how he kept himself buttoned down for so long.
It's beautifully shot by Nigel Bluck – even the decrepit NYC apartment where the young couple starts out looks luscious and colour-saturated, and the Taiwan scenes are stunning. But there's a lack of specificity and a static feel that hangs heavy, although Pin-Jui's return to his homeland with Angela – it emerges, without fanfare, that Tigertail is a place, and it's where he finally lets tears fall – offers a final, softening note of redemption.