Tom Clancy's Jack Ryan, Season 4, Prime Video review - final outing for John Krasinski's CIA hero |

reviews, news & interviews
Tom Clancy's Jack Ryan, Season 4, Prime Video review - final outing for John Krasinski's CIA hero
Tom Clancy's Jack Ryan, Season 4, Prime Video review - final outing for John Krasinski's CIA hero
In which the Agency battles a treasonous conspiracy
John Krasinski (centre) as Jack Ryan, with Betty Gabriel and Wendell Pierce
This fourth season of Prime's reworking of Tom Clancy's fictional CIA man is supposedly the last (to avoid any confusion they've dubbed it The Final Mission). It maintains its tradition of deluxe production values, globe-hopping locations and the kind of labyrinthine plotting liable to prompt frequent recourse to the rewind button.
Clancy's novels have fuelled a string of movies starring Harrison Ford, Ben Affleck, Alec Baldwin and Chris Pine, but the TV show's creators Carlton Cuse and Graham Roland (veterans of such small-screen hits as Lost, Fringe and Prison Break) wanted to create a Ryan-universe custom built for television.
With John Krasinski in the title role, the results combine immersive movie-like world building with speedy TV-style narratives. Howard the Duck is probably more lifelike, but it's done skilfully enough to keep you gripped until the credits roll (pictured below, Krasinski with Michael Peña).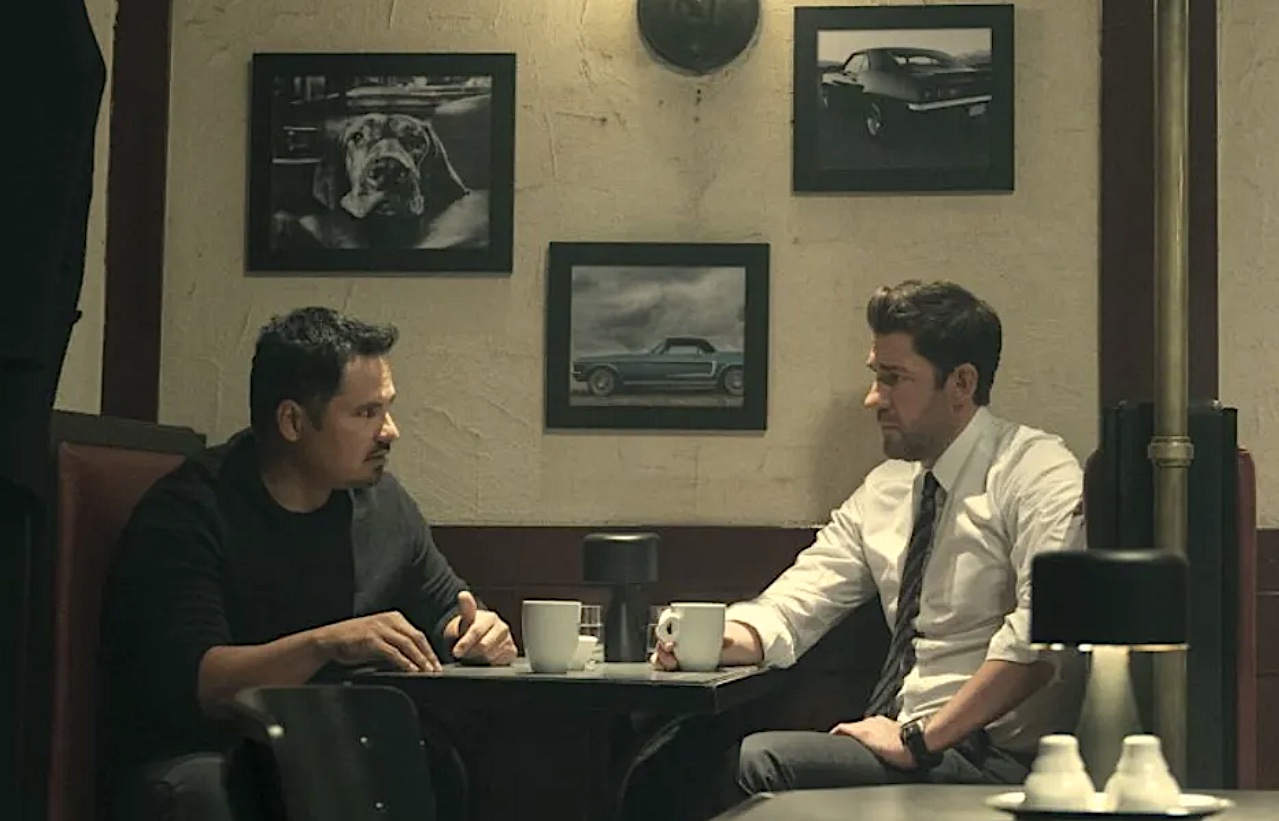 The preceding series have involved Islamic extremists trying to poison the US President, political warfare in Venezuela and a plot to recreate the Soviet Union by starting a nuclear war in Europe. For this new series, the inexhaustible Ryan finds himself trying to unravel the connections between the Silver Lotus triad in Myanmar, a Mexican drug cartel and some treacherous secret operations implemented by a former CIA chief.
There's no knowing how far the ramifications of all this might extend. Episode one opened – after a brief and unexplained flash-forward of the luckless Ryan being strung up and tortured with electric cables – with a black-clad hit squad murdering a man who turned out to be the President of Nigeria. Then the raiders themselves were ambushed, and one of them proved to be an American "asset".
This is proving tricky for Ryan. He's no longer the lowly CIA analyst of Season 1, but has now soared to the lofty heights of acting deputy director of the Agency. He's being pressed by US President Bachler (David Bedella) about what the hell happened in Lagos, but since he doesn't know, the best he can do is promise to investigate and winkle out the truth. It's "an ongoing process", he tells the President, who, under the circumstances, reacts with commendable reasonableness.
As plots will, this one thickens rapidly. It soon becomes apparent that former Agency boss Thomas Miller (John Schwab) has left an alarming collection of skeletons in his closet, including no less than nine clandestine operations which have been carefully concealed in "obscured" files. It seems he's been using Agency black ops squads in a cunning plan to help the Myanmar triad establish a drugs-and-terrorism network with the Marquez cartel in Yucatan, and the Nigerian connection fits in here somewhere. Meanwhile vengeful undercover agent Domingo Chavez (Michael Peña) is prowling in the shadows. He's been used and abused by Miller in the mysterious Operation Pluto and is seeking payback of his own.
But never mind all that. The main thing is that it's the perfect opportunity to reunite Ryan with his good buddies, veteran Agency man Jim Greer (Wendell Pierce) and his trusty fixer and right-hand man Mike November (Michael Kelley), who are used to digging Ryan out of seemingly insoluble crises. Also back on deck is Ryan's love interest Dr Cathy Mueller (Abbie Cornish, pictured above), an expert in infectious diseases who manages to find a bit of down time to spend with Jack in between attending important-sounding WHO conferences. And Jack has a very simpatico relationship with Elizabeth Wright (Betty Gabriel), who's hoping all this clandestine murkiness won't prevent her being confirmed as the new CIA director. I reckon Ryan will fix it.
Episodes 3 and 4 will be available on Amazon Prime Video on Friday 7 July, and 5 and 6 on 14 July