Westworld, Season 3 Finale, Sky Atlantic review - Dolores's plans come to fruition |

reviews, news & interviews
Westworld, Season 3 Finale, Sky Atlantic review - Dolores's plans come to fruition
Westworld, Season 3 Finale, Sky Atlantic review - Dolores's plans come to fruition
Explosive finale exposes some of the season's weaknesses
Saving the day: Thandie Newton as Maeve
After a season that sought to redefine what Westworld could become, the finale exposed the confused arc, before limping towards an emotionally weak ending.
This season began by recoding itself into something schlockier, more high-octane, and arguably more mainstream than before – somewhere between a Jason Bourne film and
The Matrix.
Whether a glossy, high budget HBO show (on
Sky Atlantic
) could ever be classed as anything other than mainstream is a fair question, and the feature-length finale was no different.
If Game of Thrones taught us anything, it was to not get too attached to characters. Westworld has a more slippery approach. When a consciousness can be compacted into a silver pearl the size of a golf ball and slipped into a new skin suit, people don't really stay dead for long.
Without naming names, we never really know if those who fell in this action-packed finale are truly gone – unless of course, they were human. But this a show where we're also never quite sure who's a cyborg and who's human anyway. The Rubik's Cube plotting of past seasons has made us suspicious, even jaded, viewers. We'll always ask: is there a backup somewhere? And that's only if we've managed to keep track of which version of a host is in which skin suit.
The thrust of this season was to play out the question of what the hosts might do if they had their freedom. Initially, Dolores seemed to be in takeover mode – out to make the world burn and humanity with it, leaving her and the other hosts their own space. But she wasn't. Dolores, as we have seen across the seasons, may have been forced to witness the ugliness of the world, but she also chooses to see the beauty. She had other plans.
And so, the pseudo-Bond villain Serac (Vincent Cassell), who sought to stave off the end of the world by removing any "outliers" from society, is foiled. His quantum AI Rohohohoboam gets turned off, made all the more thrilling by doing it in the middle of a gunfight, where the katana-wielding Maeve steps up to save the day. Meanwhile, Caleb is appointed the John Connor of Westworld, tasked with leading the humans in a revolution towards freedom… or oblivion? It's hard to tell (pictured below, Caleb and Dolores on the warpath).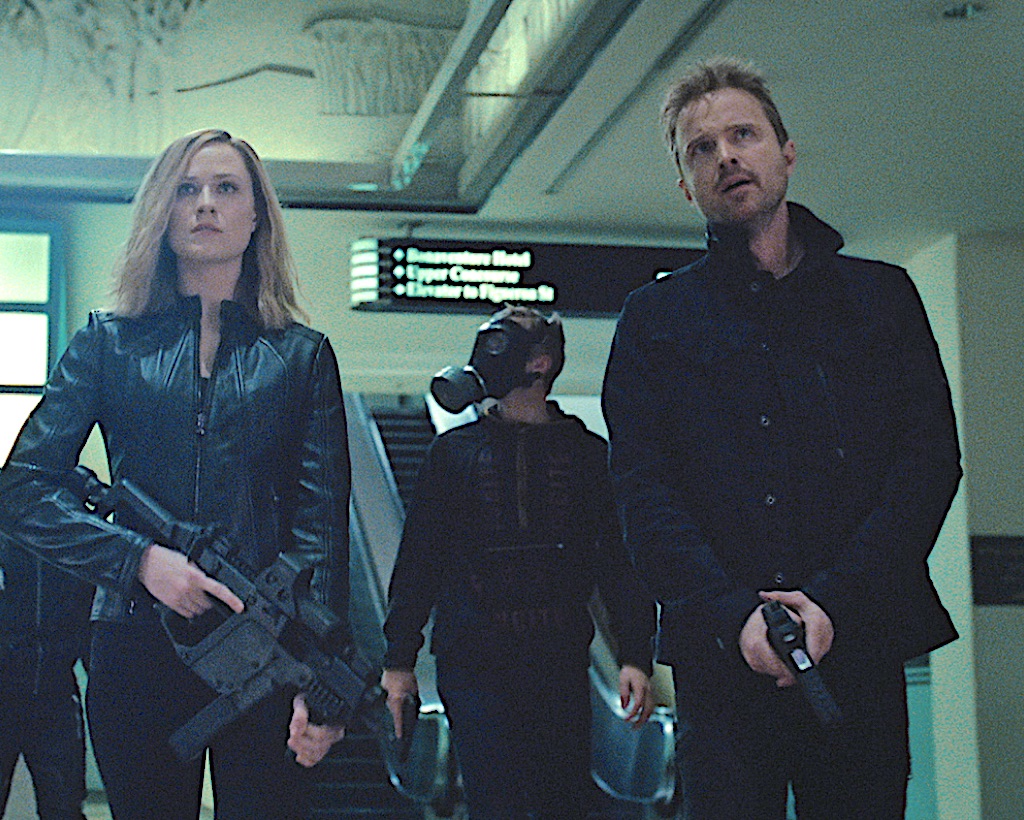 The beginning of the season hit a hard reset. With this conclusion, Lisa Joy and Jonathan Nolan have decided to reformat the entire thing. The world is now burning. The revolution has begun. But against what and who we aren't exactly sure.
Bernard (the impeccable Jeffrey Wright) and Stubbs (Luke Hemsworth) were still given short shrift. At least Bernard was given his moment when he was reunited with his past in a beautifully constructed scene that had more emotional weight than the entire rest of the episode.
Then, from the ashes, in a Marvel-worthy double-ending, a new enemy arises, a fire-scarred Hale/Dolores (Tessa Thompson) whose trauma has singed away her strings. She's no longer a Dolores carbon-copy puppet. Now she's going to be the psychotic big baddie for the recently announced season four. It feels like HBO decided to give Joy and Nolan a last-minute reprieve, forcing the writers to hastily sort out a second ending.
This explosive finale exposed some of the weaknesses of the overarching plot of the season. The fact that we can never know if the characters are really dead weakens the emotional investment, and there's a propensity to dispose of previously significant plot points (remember the maze from season one? The park itself seems like a distant memory). There's a confusion that leaves you feeling the show has become befuddled in its own ideas.
Still, Westworld, for all the faults of the end of season three, remains potent viewing, even if that potency has dwindled. In the wake of Alex Garland's Devs (available in the UK on BBC iPlayer), similar themes are being tackled with fresh insight, and you just hope that Joy and Nolan up the stakes in season four, getting back to the core code that made Westworld such a triumph.