Written By Mrs Bach, BBC Four |

reviews, news & interviews
Written By Mrs Bach, BBC Four
Written By Mrs Bach, BBC Four
Did Anna Magdalena compose some of her husband's best-loved masterpieces?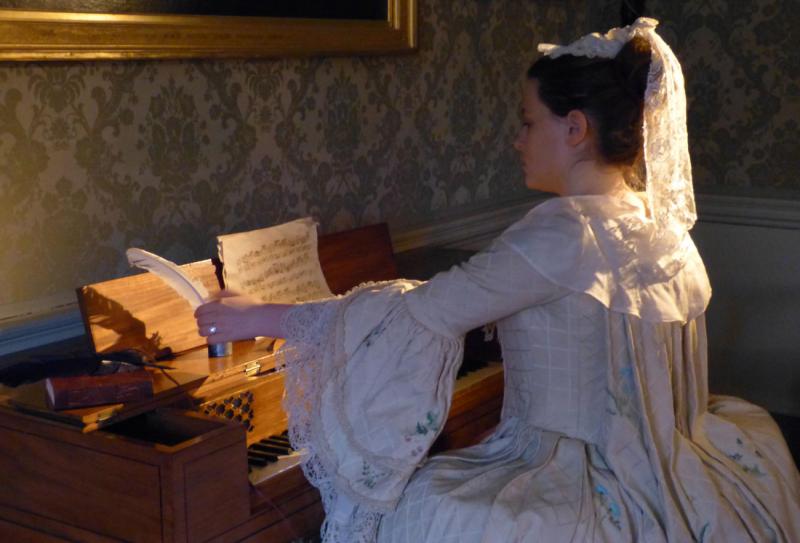 Frau Bach at the keyboard – could she have composed the 'Goldberg Variations'?
The Australian musician and musicologist Martin Jarvis, connected with Charles Darwin University in the Northern Territory, has been obsessed for the past 25 years with proving that Anna Magdalena Wilcke, Johann Sebastian Bach's second wife, was not only muse, inspiration, and copyist but a composer of pieces that now bear her husband's name. He claimed that she created the cello suites which are among the masterpieces of 18th-century music, among other contributions, including, perhaps, the tune that is the basis for Bach's Goldberg Variations.
Jarvis enlisted the professional help of a forensic graphologist, the American academic Heidi Harralson, to examine scores and signatures. Visits were made to Harvard University, Weimar, Leipzig, Cöthen and Karlsbad, speculating all the way with occasional demonstrations of computer analyses of signatures and music scores. To show that he had travelled far from Oz in his quest, the professor was seen walking quickly down various streets in various cities trundling his carry-on roller bag.
The participants may have enjoyed their investigatory travels, but for the viewer it was a free ride to nowhere
The whole was commented upon by the distinguished Scottish composer Sally Beamish. Ms Beamish was perhaps chosen because of the fashionable and understandable attempts to find behind every creative man a creative woman, to perhaps indeed rewrite (as she breathlessly asserted) the whole history of music. There were occasional musical intervals by an Australian musician, a lady with a lot of hair whose name this reviewer never caught, who played Bach on a harpsichord improbably sited on a terrace at the dramatic seaside Sydney Opera House, overlooking the rippling waters of the bay.
We were told that Bach (or whoever) composed all his finest work after his second marriage; that Anna Magdalena bore 13 children, of whom only six survived into adulthood; that her eldest stepdaughter was only five years younger than her stepmother, and therefore must have detested Anna Magdalena, who was buried as a mendicant widow in an unmarked grave in Leipzig. Johann Sebastian's adult musician sons had deserted their stepmother after Bach's death, and it was one of those musicians, Carl Philip Emanuel, who spun his father's life story to Bach's first biographer, 50 years later.
These rather random facts popped up from time to time in a narrative that attempted to appear purposeful but was a curious meander with no solid core. Evidence as to who did what was not convincing, and did not seem to matter all that much as musicians of the period were jacks – or jills – of all trades in the world of music, from composing to playing to conducting.
Nor was any back story offered as to why Martin Jarvis was himself so concerned with attempting to ferret out Anna Magdalena's story, to the point of prurient speculation as to whether before their marriage Anna Magdalena and Bach had had an affair in the fashionable spa town of Karlsbad. This was the cue for scenes of 21st-century end-of-festival parties to show what jolly japes there were. However, Jarvis did tell us his father was a senior Welsh policeman, and sleuthing was in his genes (the party-going JS Bach, pictured below).
There were glimpses of lush Australian landscape to show Jarvis's habitat, and a flutter of some Bach being played by some Australian musicians rather improbably in an art gallery hung with bland abstract paintings, haphazardly conducted by Jarvis (to show his musicianly credentials no doubt). As punctuation, there were glimpses of the mute Anna Magdalena penning her compositions – left handed – while being driven through the countryside in a coach, gazing soulfully at nothing in particular, tiny tableaux which were there for atmosphere but served only to irritate.
Rather than illuminating the world of music in the 18th century in general and Bach's career in particular, let alone Anna Magdalena's, the film neither arrived at any further understanding, nor any firm conclusions. The participants in this programme may have enjoyed their investigatory travels across the world, but for the viewer it was a free ride to nowhere.
Subscribe to theartsdesk.com
Thank you for continuing to read our work on theartsdesk.com. For unlimited access to every article in its entirety, including our archive of more than 10,000 pieces, we're asking for £3.95 per month or £30 per year. We feel it's a very good deal, and hope you do too.
To take an annual subscription now simply click here.
And if you're looking for that extra gift for a friend or family member, why not treat them to a theartsdesk.com gift subscription?