Anna Maria Maiolino: Making Love Revolutionary, Whitechapel Gallery review – a gentle rebellion |

reviews, news & interviews
Anna Maria Maiolino: Making Love Revolutionary, Whitechapel Gallery review – a gentle rebellion
Anna Maria Maiolino: Making Love Revolutionary, Whitechapel Gallery review – a gentle rebellion
A career that evolves from silent resistance to celebration
Thursday, 10 October 2019
Between Lives by Anna Maria Maiolino, from the series "Photopoemaction" 1981/ 2010
Now in her mid-seventies, Anna Maria Maiolino has been making work for six decades. Its a long stretch to cover in an exhibition, especially when the artist is not well known. Perhaps inevitably, then, this Whitechapel Gallery retrospective seems somewhat sketchy and opaque, a feeling compounded by having titles in Portuguese.
The work is so interesting and so diverse, though, that engaging with it is well worth the effort.
Puzzling over this odd feeling of disconnect, it occurred to me that it is central to Maiolino's practice. Born in Italy, she moved to Venezuela at the age of 12, to Brazil in 1960 aged 18 and then to the States before returning to Brazil in 1971. Every few years, then, she was confronted with the challenge of learning a new language and adjusting to a new culture, and that experience of otherness infiltrates her work.
In New York, unable to speak English and stuck at home looking after her children, she began keeping a journal documenting mundane domestic tasks in drawings she described as a "record of existing". Not able to engage fully with the social and cultural scene, she focused attention on her immediate experiences. And to this day, activities traditionally associated with "women's work", such as sewing, making pastry and baking, are an ongoing sources of inspiration.
Traces, 2000-2013 is an exquisite set of drawings made with black and red thread stitched through paper to create double sided images reminiscent of the dot to dot drawings I loved as a child. Parallel lines, zig zags and crosses create intricate webs whose endless variety is a sheer delight. Elsewhere paper becomes a sculptural material which she cuts, folds, tears, burns and layers into reliefs that feel both robust and vulnerable. In Untitled 1977, black thread is sewn across a tear to read both as a line drawing and a suture repairing a wound. Cut and burned out of black paper, the silhouettes of Italy and South America are like an exorcism – acts of controlled fury mingled with regret.
Made from unfired clay, her most recent sculptures are like celebrations of the body and its many desires. She kneads, rolls, coils, balls and slices the clay into shapes resembling sausages, pastries and pasta. Some of these treats are laid out like market produce (pictured below: Nine Segments 1998. Photo: Everton Ballardin), while others are piled on the floor or propped against the wall. Just inside the door is nearly a ton of clay shaped into phallic loops. Piled up and left to dry, crack and eventually crumble into dust, this visceral heap evokes the journey made by foodstuffs from field to market to table and from mouth to anus, and also the cycle of life (dust to dust).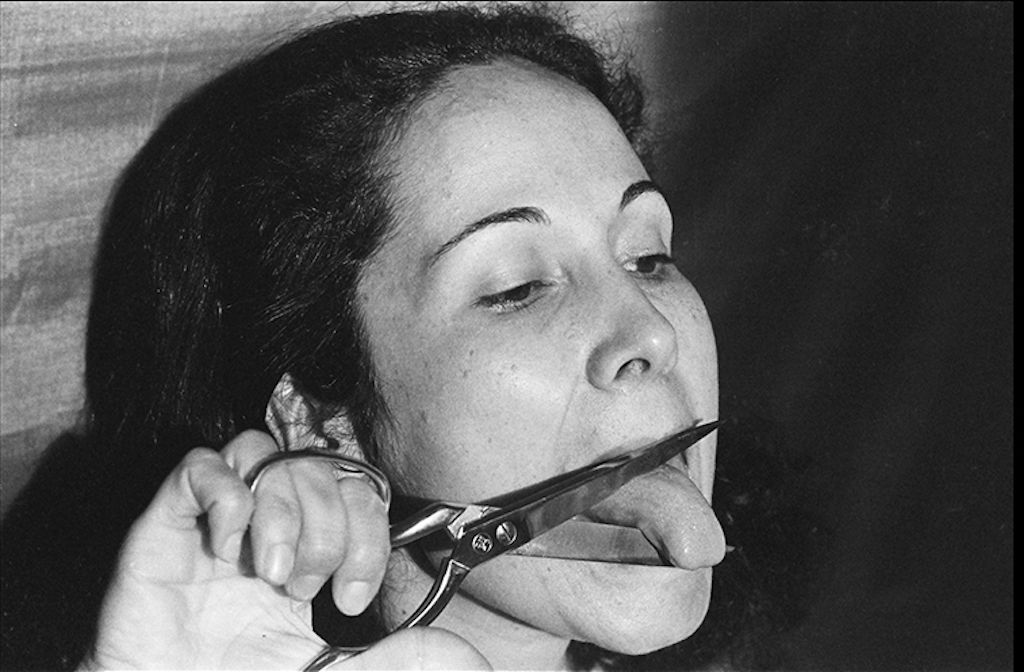 Some sculptures are like mini landscapes. One block resembles a limestone pavement shaped by rainwater into spiky protuberances and convoluted runnels; others seem infested by insects that have nibbled out a warren of intersecting chambers.
Language, or the difficulty of communication, Is another recurring theme. A series of pictograms, made by dropping ink onto paper, invite you to decipher them, if only you had the key (pictured above right: Maiolino with Untitled, 2000 from the series Drop Marks). Maiolino lived through twenty years of military dictatorship (1964-85) when secrecy and self censorship were essential for survival. In a series of photographs, she appears gagged and blindfolded and, more dramatically still, enacts cutting off her nose and tongue. (Pictured above left: What is Left Over, from the series Photopoemaction. Photo by Max Nauenberg). In the silent film In-Out, 1973/2000 she hones in on the mouths of a man and woman who smile, grimace, purse their lips and bear their teeth – going through the motions, without actually communicating anything. Its a surreal experience – like trying to understand a foreign language by reading someone's lips – that evokes the disconnect of being silenced.
Most memorable of all is a photograph taken in 1981 of the artist walking barefoot across a field of eggs, literally walking on eggshells (main picture). The three frames show her traversing this delicate minefield and almost reaching the other side; but before one gets too triumphalist about overcoming adversity, it does well to recall that Brazilians have recently elected into power another right wing regime, which makes this exhibition of Maiolino's poetic work especially relevant and timely.
Brazilians have recently elected into power another right wing regime, which makes this exhibition of Maiolino's poetic work especially relevant and timely
rating
Share this article