Donna Fleming: Apocalypse, The Pie Factory, Margate review - personal passions and intense feelings |

reviews, news & interviews
Donna Fleming: Apocalypse, The Pie Factory, Margate review - personal passions and intense feelings
Donna Fleming: Apocalypse, The Pie Factory, Margate review - personal passions and intense feelings
Six years of work expressed through mercurial changes of medium
Donna Fleming's 'Julia with rescued sheep'
Donna Fleming's exhibition at the Pie Factory Gallery in Margate is called Apocalypse, which is confusing because it has nothing to do with the end of the world. Fleming does not even watch the news because she "does not want to think about miserable things". Instead the title refers back to the Greek word that apocalypse is derived from, apokalypsis, which means uncovering.
At first it's not exactly clear what is being uncovered. There's a lot to take in. There is six years' worth of work in the show and Fleming is prolific, working in a wild array of different media. She trained at the RCA as a sculptor in the late Nineties and there is plenty of three-dimensional work, in stone, metal, wire and other materials, but there are also drawings, still life and portraits, and paintings.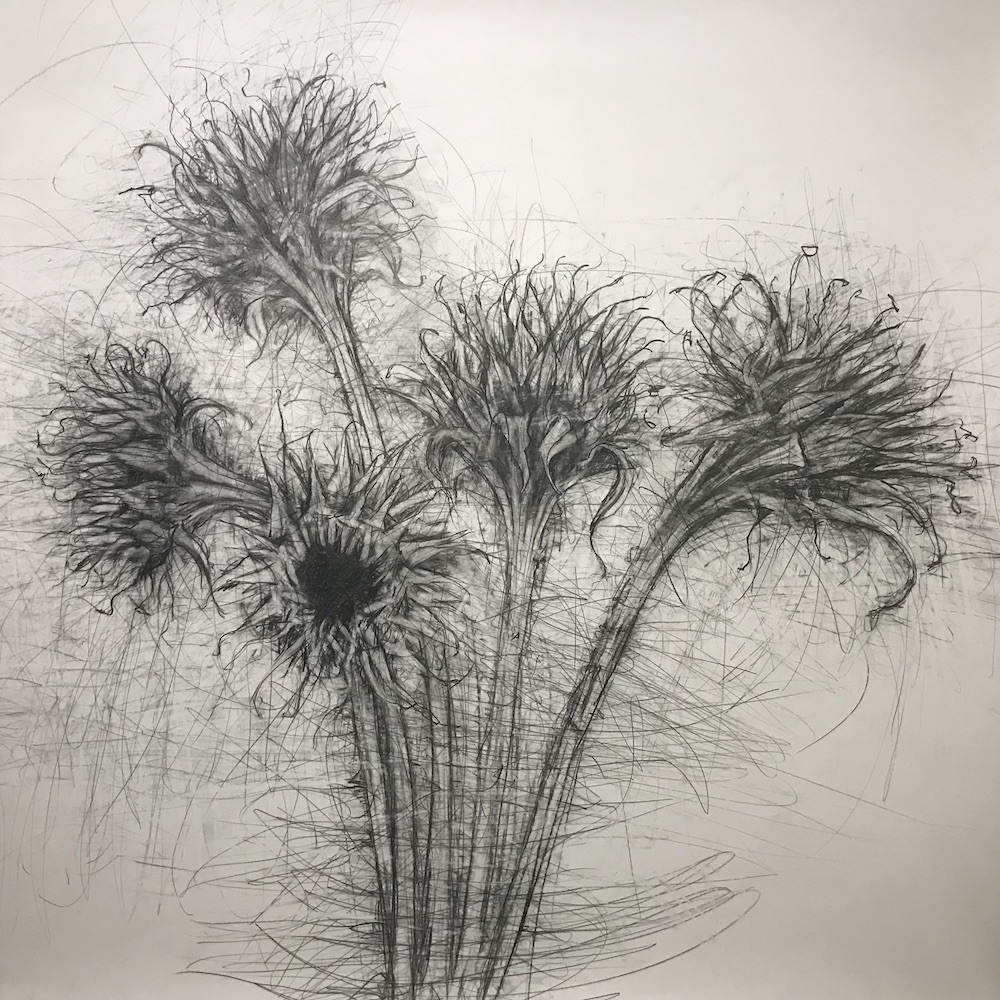 Very quickly though, themes and tropes begin to appear that span and unite the different genres. In a corner, a fuzzy black chair sits in a column of hazy black wire mesh. On the wall next to it a detailed, impeccable pencil drawing of a bunch of dried sunflowers seems to be swirling in a vortex of horizontal pencil lines (pictured left). Deeper into the exhibition, a portrait of a boy with his dog emerges from a graduated frenzy of ink lines. What connects them all is Fleming's fascination with the idea that the world is not solid, that matter is not solid and that we live surrounded by an invisible sea of energy.
She began to explore this realm while she was a student. A tutor, commenting on her spiky and energetic style of drawing, suggested she should look into Daoism and the concept of Qi, but the only book she could find in the pre-internet library was called The Dao of Physics. Undaunted, she plunged in and discovered the world of quantum physics. "The idea," she says, "that at the quantum level everything is just energy connected with my obsession with fuzzy-looking objects. It's about making visible the invisible filaments of energy that connect everything."
Her changes from medium to medium are mercurial – "it depends on what you need at any given time." But the inspiration remains the same. "When I am stone carving it's a slower process, but I am still fascinated by the force you see going through a shell or a pine cone creating a pattern. When I am carving I am repeating a pattern and I keep going until it looks like it's moving."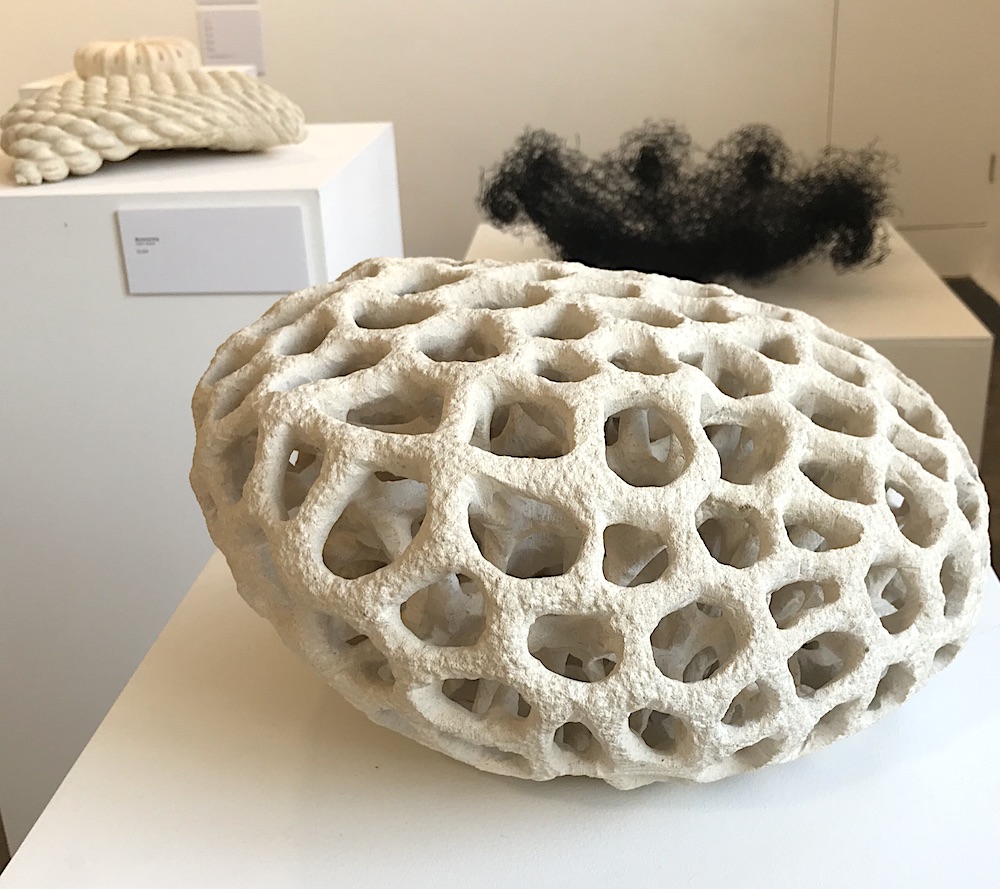 The finished stone sculptures come in a variety of organic shapes; circular ammonite-like ones, patterns radiating out from the centre, a "ball" of stone sliced with even lines, a piece like bleached coral, tunnelled through with myriad holes. All sharing the same consuming attention to detail in texture and pattern (pictured right, Stone Carving 3).
However, it is not the stone 3-D work that carries the emotional punch. That belongs to the black pieces in wire and welded metal that have a more threatening and threatened quality, with sharp and jagged textures. They seem more intense and personal and connect more obviously with the drawings and paintings.
As you go through the show you become increasingly aware that, quantum physics aside, Donna Fleming's work wears its heart on its sleeve. By the second room in the Pie Factory you are in a zone of personal passions, especially for animals, and intense personal feelings. The self-portrait Life Drawing, with its dark hard lines and contorted pose, is one of several images that touch nerves of emotional anguish. And the same sort of feeling can be experienced from a collection of sketch-books that show the often obsessive psychology of the raw material behind the bigger works.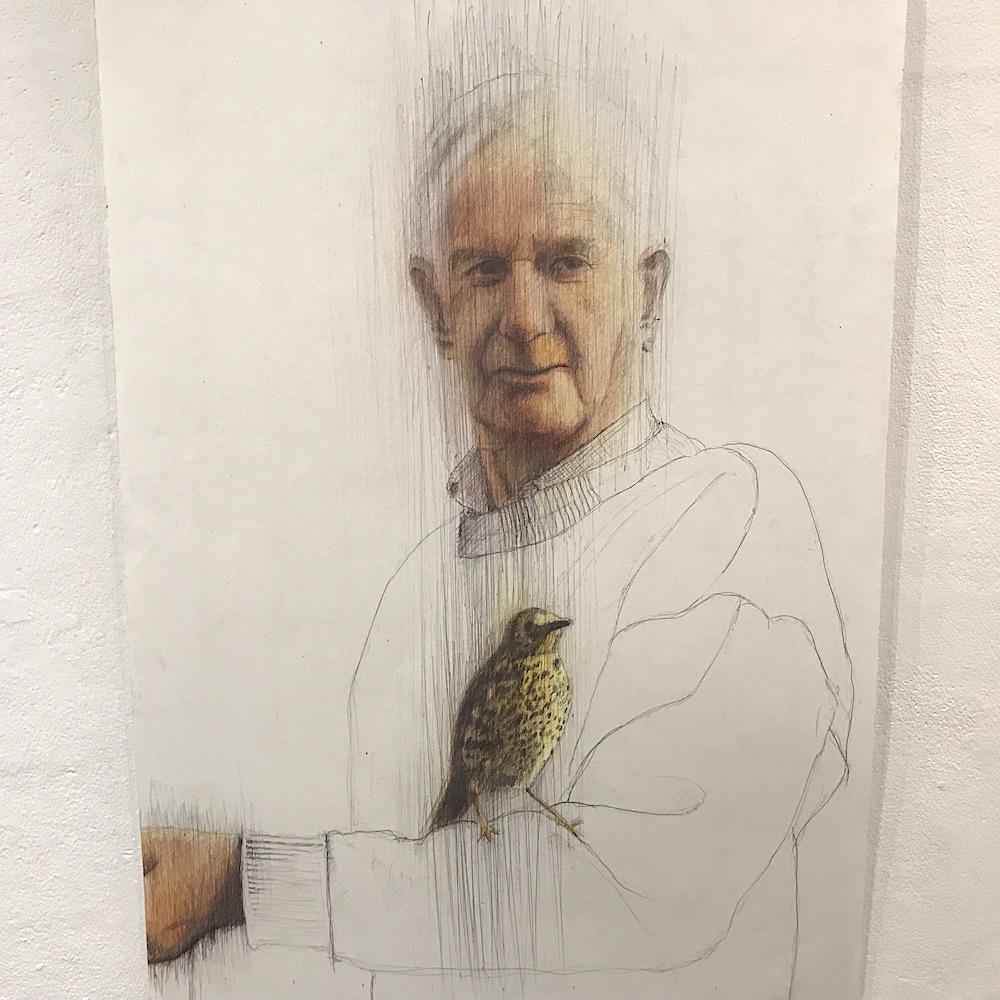 But arguably the most effective and affecting part of the exhibition is the set of portraits of friends and members of Fleming's family, often with animals and birds in the pictures, exquisitely rendered in a mixture of biro and coloured pencil. They have a real warmth and emotional depth and they bring together the threads of Donna Fleming as a character and as an artist. They combine her ideas about energy and matter with her passions and her deep emotions about family and relationships.
One (pictured left) is a portrait of her dad sitting with a rescued bird on his arm (bird rescuing is a Fleming family pastime that Donna continues to indulge in), and another depicts him standing in front of a greenhouse with a greyhound. Both are simple and ordinary images based on photographs elevated and transformed by technique and skill, the lines, the invisible filaments, into statements about love, loss and memory.
Apocalypse is at The Pie Factory, Margate until 16 November